Rudi's Holiday Recipe: Linzer Short Cookies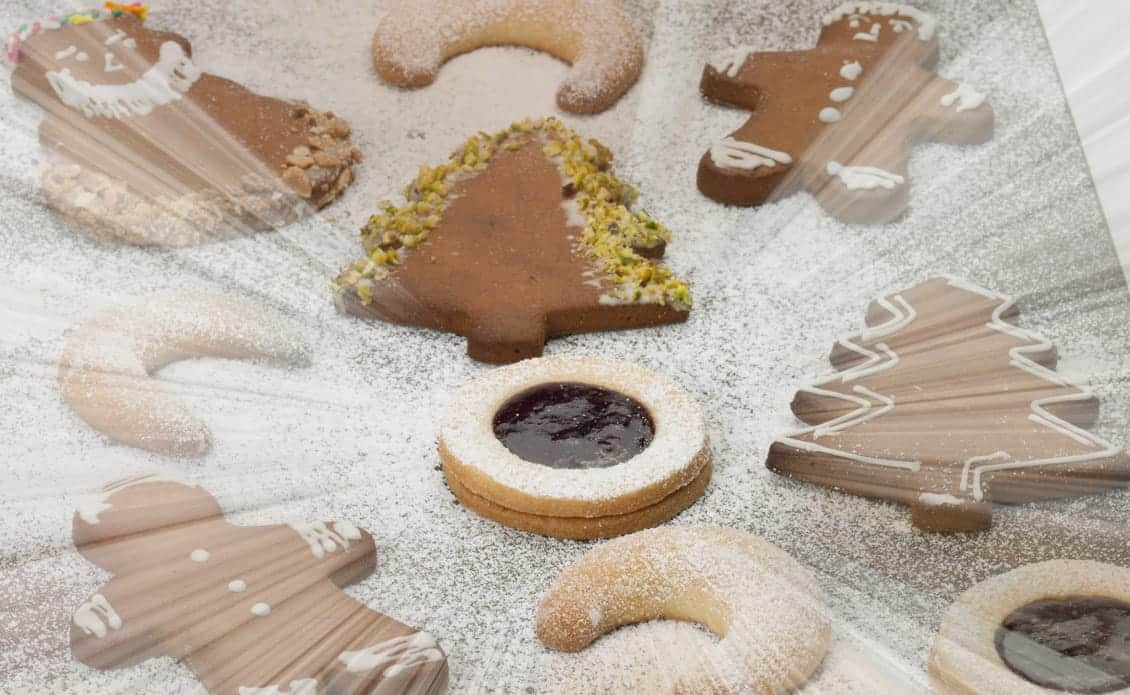 Tomorrow is National Cookie Day, and we're baking our way through the holiday season with some delicious recipes from our Master Chef Rudi Sodamin. A Linzer cookie is a traditional Austrian cookie that is buttery and filled with jam. There's no one better to share his Linzer recipe than our Austrian-born chef!
INGREDIENTS
1 cup of almonds, toasted and grounded

2 cups of flour, sieved

1/2 teaspoon of cinnamon

1/4 teaspoon of salt

2 sticks of butter, softened

2/3 cup of sugar

1 teaspoon of vanilla extract

2 eggs

1 lemon, fine zest

2 cups of raspberry preserve
DIRECTIONS
1. In the bowl using the paddle, beat the butter and sugar until light and fluffy approximately 3 minutes. Beat in the vanilla extract, egg yolks and lemon zest. Beat in the ground nuts. Add the flour cinnamon and salt just until incorporated. Divide the dough in half and shape into two rectangles about 1/2 inch thick. Wrap the two rectangles of dough in plastic wrap and refrigerate at least one hour.
2. Remove one rectangle of dough from the refrigerator. On a lightly floured surface roll out the dough until its about 1/4 inch thick. Using a 2- to 3-inch round cookie cutter, cut out the dough. Place the cookies about 1 inch apart on a lined baking sheet. Use a smaller cookie cutter, 3/4 to 1 inch, to cut out the centers of half of the cookies on the baking sheet. You will be sandwiching two cookies together and there will be a small 'window or cut out' on the top cookie so you can see the jam underneath.
3. Reroll any scraps and cut out the cookies. Remove the other half of dough from the refrigerator and roll and cut out the rest of the cookies. Back the cookies at 350 F for 12-14 minutes or until they are very lightly browned. Remove from oven and place on a wire rack to cool.
4. While the cookies are cooling, place the raspberry preserve in a small saucepan and heat gently until it has thickened slightly and cool down.
5. To assemble cookies: Place the cookies with the cut-outs on a wire rack and lightly dust the tops with the confection sugar.
6. On the surface of the full cookie spread with about a 1/4-1/2 teaspoon of jam. Place the cut-out cookie on top and gently sandwich them together. Using a small spoon, fill the cut-out with a little more jam.
What cookies do you make each holiday season?