America's Test Kitchen Recipe: Wild Mushroom Pasta Filling and Brown Butter & Pine Nut Sauce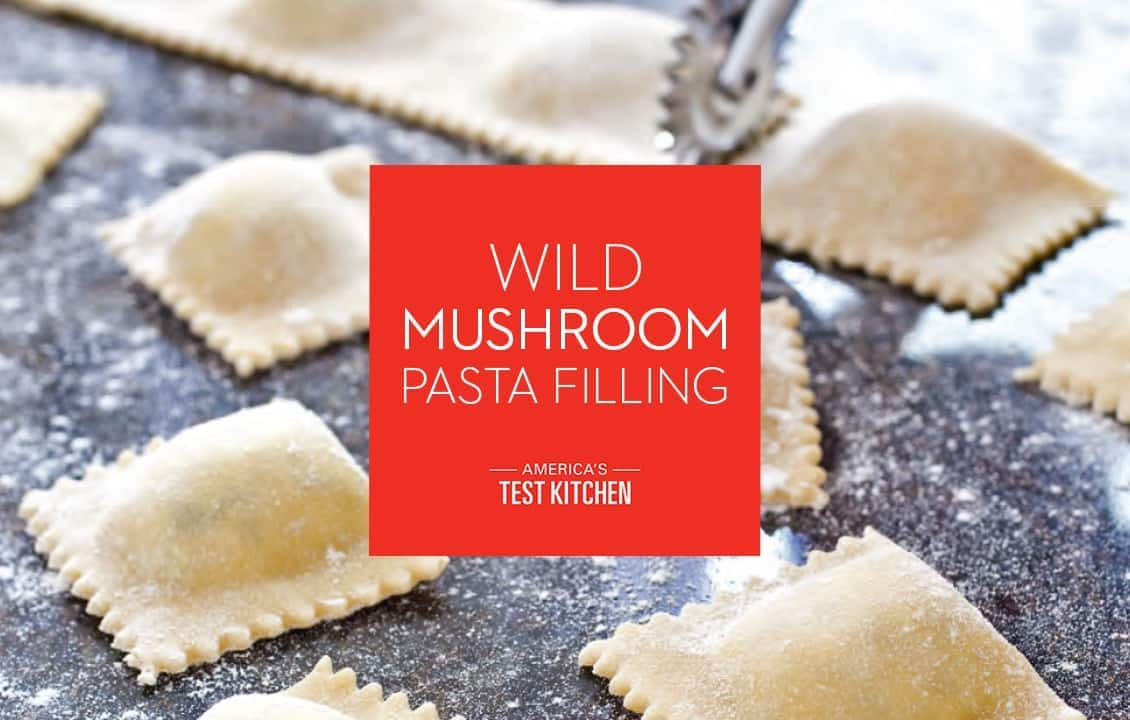 Wild Mushroom Filling and Brown Butter & Pine Nut Sauce: From America's Test Kitchen to Yours
Food allows us to experience the world and bring a piece of it into our homes. Inspired by the rich, earthy flavors often found in Italian cooking, both the Wild Mushroom Filling and Brown Butter & Pine Nut Sauce can be used in any of your favorite pasta shapes, from ravioli and tortellini to mezzelune and even pierogi for an Eastern European finish.
WILD MUSHROOM FILLING
SERVINGS:
Makes about 2 1⁄2 cups
NOTE: Reserve the porcini soaking liquid for soups or rice dishes.
INGREDIENTS:
1 ounce dried porcini mushroom
2 tablespoons olive oil
2 garlic cloves, minced
10 ounces fresh domestic mushrooms or fresh wild mushrooms, cleaned and minced
1/4 cup minced fresh parsley
Salt and pepper
1 cup ricotta cheese
1/3 cup grated Parmesan cheese
1 egg yolk
DIRECTIONS:
1. Cover porcini with boiling water and soak 30 minutes. Drain and reserve liquid for another use. Mince porcini and set aside.
2. Heat oil in 10-inch skillet over medium heat until shimmering. Add garlic and cook until golden, about 2 minutes. Add fresh mushrooms and cook until wilted, about 4 minutes. Stir in parsley, porcini, 1⁄4 teaspoon salt and 1⁄8 teaspoon pepper and cook until liquid evaporates, about 2 minutes.
3. Off heat, stir in ricotta, Parmesan and egg yolk. Season with salt and pepper to taste; set aside. Filling can be covered and refrigerated overnight.
BROWN BUTTER & PINE NUT SAUCE
SERVINGS:
Makes about 1 cup
INGREDIENTS:
1/2 cup pine nuts
8 tablespoons butter
Salt
1/4 cup minced fresh parsley
Grated Parmesan cheese
DIRECTIONS:
1. Adjust oven rack to middle position and heat oven to 325 degrees. Toast nuts on rimmed baking sheet until golden and fragrant, about 5 minutes; set aside.
2. Melt butter in 10-inch skillet over medium heat and cook, swirling constantly, until butter turns golden brown, about 5 minutes. Stir in reserved nuts, parsley and 1⁄2 teaspoon salt. Toss with pasta and serve with grated Parmesan cheese.
AMERICA'S TEST KITCHEN FEATURE CRUISES:
Hungry for a more hands-on cooking experience? Join editors, authors and special guest experts aboard one of our new culinary themed America's Test Kitchen cruises to get in on cooking shows, recipe development presentations, culinary trivia (with prizes!), intimate Q&A sessions and book signings. Until then, happy cooking!
Explore the itineraries:
10-day Panama Canal Sunfarer, sailing November 5-15, 2017, on Zuiderdam
7-day Roundtrip Vancouver, sailing May 6-13, 2018, on Westerdam
14-day Northern Isles, sailing July 7-21, 2018, on Zuiderdam
7-day Canada & NE Discovery, sailing September 22-29, 2018, on Veendam