Rudi Sodamin's Bread Pudding Recipe
We received this plaintive cry for help and just couldn't resist the opportunity to share a Rudi Sodamin recipe with you:
We have sailed on the Westerdam before and loved the trip and the bread pudding. I know I found the recipe on line before but can't find it now. Could you tell me how to find it or e-mail it to me. I would be soo grateful.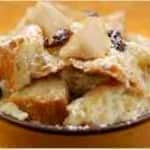 Here's the recipe for Classic Bread-and-Butter Pudding from Rudi's "A Taste of Excellence" cookbook:
Ingredients:
1.5 pounds good-quality day-old sliced white bread, crust trimmed and slices cut into cubes
6 tablespoons unsalted butter, melted
1 quart whole milk
6 eggs, beaten
3 egg yolks, beaten
3/4 cup sugar
1 teaspoon vanilla extract
3/4 cup raisins
confectioner's sugar for sprinkling
Note:
Try soaking the raisins in a little rum or cognac for 30 minutes before adding them. Or instead of raisins, substitute dried cherries or chocolate chips.
Recipe:
Preheat oven to 325 degrees F. Butter 8 12-ounce ramekins or a 9×13-inch baking dish. Have on hand a roasting pan large enough to hold the ramekins or baking dish, and line it with a folded kitchen towel.
Place bread cubes in a bowl. Drizzle and toss with the melted butter. Spread out on a baking sheet and toast in the oven, stirring once, until lightly golden, about 8 to 10 minutes.
Custard sauce: In a saucepan, bring milk to simmer over medium heat. Meanwhile, in a large bowl whisk whole eggs, egg yolks and sugar until blended. Gradually whisk in hot milk. Stir in vanilla.
Divide half the bread cubes among prepared ramekins or layer in prepared baking dish. Top with half the raisins. Cover with remaining bread cubes and raisins. Ladle custard evenly over bread cubes and raisins. Let stand until some custard is absorbed, about 20 minutes.
Bring a large kettle of water to boil. Place ramekins or baking dish in roasting pan and transfer to oven. Add enough boiling water to reach halfway up the side of ramekins or baking dish. Bake pudding in over for 45 minutes or until puffed and just set. Carefully remove roasting pan from oven and remove cooking dish(es). Let cool slightly and serve while still warm, sprinkled with confectioner's sugar.
You may also sweeten up this classic version with sauces such as your favorite vanilla custard, chocolate sauce or the whiskey sauce from Rudi's popular twist on traditional bread pudding, "Chocolate and Raisin Bread Pudding with Whiskey Sauce" featured in the related post below. Enjoy!
UPDATE: Vanilla Custard Recipe
Ingredients:
6 large egg yolks
1/2 cup sugar
1/4 cup cornstarch
1 1/2 cups whole milk
1/2 cup heavy whipping cream
1 vanilla bean split lengthwise
1 tablespoon dark rum.
Instructions:
In a large bowl combine the egg yolks, sugar and cornstarch; whisk until light in color and well blended. Set aside.
In a heavy, medium saucepan, bring the milk and cream to a simmer over medium heat. As it heats, use a blunt-ended knife to scrape the seeds from the vanilla bean into the pan and then add the whole bean, too.
As soon as the milk mixture simmers, remove the vanilla bean. Gradually whisk 1 cup of the milk mixture into the yolk mixture in a slow stream, then add the remaining milk, whisking constantly. With a spatula, scrap the custard back into the saucepan and cook it over medium heat, whisking constantly, until it becomes thick and starts to bubble, about 8 minutes. Allow the custard to cool slightly and whisk in the rum. Cover the surface directly with plastic wrap (to keep skin from forming) and refrigerate until cold, at least 6 hours. (The custard can keep, covered, in the refrigerator for up to 24 hours.)