Fact & Lore of Half Moon Cay: The Geography
Half Moon Cay is Holland America Line's award-winning private island in the Bahamas. Know for its pristine beaches, abundance of family-friendly activities, private villas and cabanas, and unparalleled beauty, there's a reason why it's our most popular port in the Caribbean. This series of "Fact & Lore" blog posts about Half Moon Cay takes you deeper into the island's history, geography and more. Remember that all Caribbean cruises out of Fort Lauderdale include a call at Half Moon Cay, so there are plenty of opportunities to visit this memorable destination.
Half Moon Cay is a historic place known throughout the Bahamas as a natural treasure. Beyond the soft white sand and clear seas are vast wild areas where birds, including rare species, are undisturbed and free to flourish. And beneath the shifting sands, on or just off the 2,400-acre island, are reminders of the humans who lived here or stopped by to fish, through the centuries.
The story of Half Moon Cay is an intricate one that dates back centuries and includes long periods when the island was uninhabited. Much of the history has been forgotten. Did pirates roam the shores, drawn by the abundance of bonefish in the lagoon and perhaps seeking places to bury their treasure? In unexplored territory of the island, their secrets remain hidden.
GEOGRAPHY
• Half Moon Cay – officially and historically known as Little San Salvador — is one of more than 700 islands in the Atlantic that make up the Bahamas Islands. The island is located between Eleuthera and Cat Island. Like the rest of the Bahamas Islands, Half Moon Cay was formed by limestone rather than volcanic activity. Most of the island is craggy white rocks and outcrops covered in thick vegetation including cactus and prickly vines.
• Cruise passengers only visit the western part of the island. The rest belongs to Mother Nature. Only 65 acres, or less than 3 percent of Half Moon Cay has been developed. Most is wilderness – including seven miles of shoreline, a natural, inland saltwater lagoon and surrounding mangroves, old growth forest and deep bush.
• A two-mile beach with carefully combed sand welcomes guests who are free to explore, stopping and relaxing in lounge chairs and hammocks along the way. Beyond the beach are seven miles of undisturbed, rugged coastline.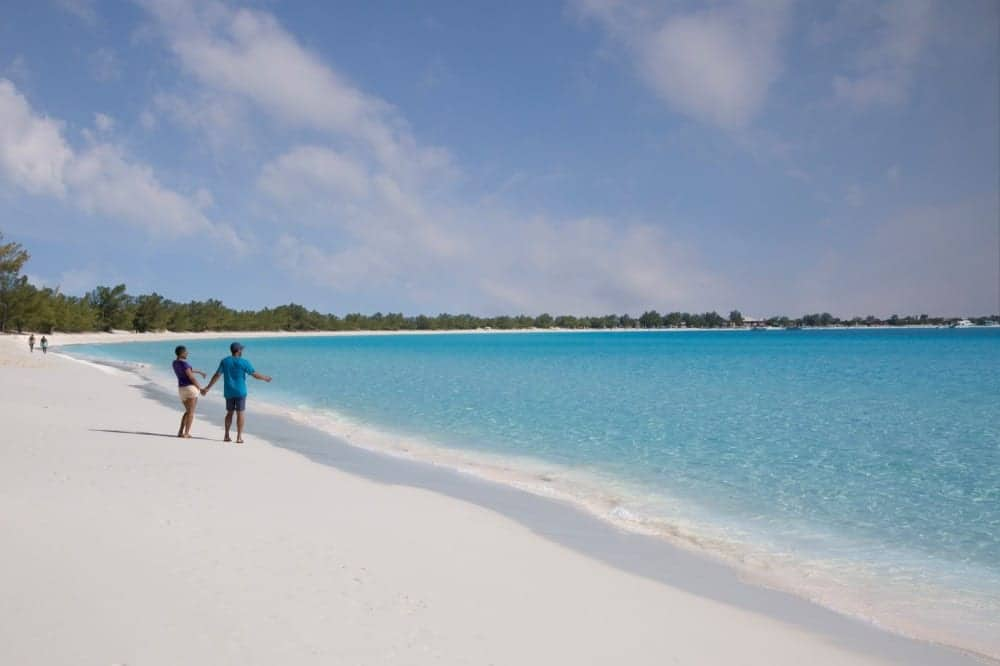 • The island's highest point is 60 feet, while the shallowest part of the lagoon is only six to eight inches.
• The 700-acre saltwater lagoon in the center of the island is well-known as a breeding ground for bonefish, sharks and turtles. It is both an important wetland and prime birding area. Birds also congregate around the two saline ponds on the island's north shore. In the developed area of the island are paved roads and hard-packed sand trails. Because of thick vegetation, the rest of the island is difficult to explore.
Next in the "Fact & Lore of Half Moon Cay" series is the history of the island. Stay tuned…