Holland America Line is Nominated in USA Today's 2022 10Best Readers' Choice Awards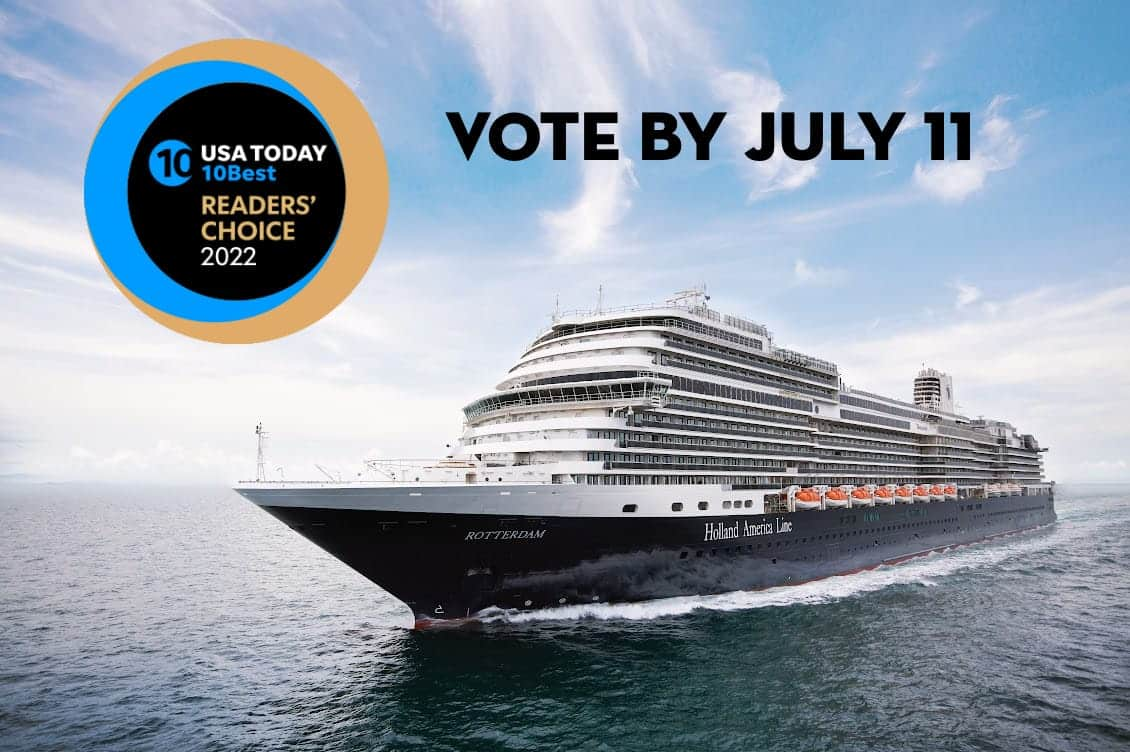 Voting is underway for the USA TODAY 2022 10Best Readers' Choice awards, and Holland America Line is excited to be nominated for five awards in three categories! Not only were we selected by an esteemed panel of experts for the "Best Ocean Cruise Line" category, but Koningsdam is nominated for "Best Ship for Dining" and all three of our Pinnacle Class ships earned a nomination for "Best Mid-Sized Ship."
We would be honored if you voted for Holland America Line in any of the categories you believe we deserve to win. You can vote once per day in each category, so make your voice heard! Voting end Monday, July 11, and the winners will be announced on Friday, July 22.
BEST OCEAN CRUISE LINE: HOLLAND AMERICA LINE
At Holland America Line, we believe travel has the power to change the world. We consider it our higher purpose to help make the world a better place through opening minds, building connections and inspiring a shared humanity. For 149 years, we have been a recognized leader in cruising. We offer some of the most spacious and comfortable ships at sea, award-winning service from the friendliest team members at sea, exquisite dining, extensive activities and enrichment programs, and compelling worldwide itineraries.
Our fleet of 11 modern, classic ships offers more than 500 sailings a year visiting all seven continents. Cruises include both popular and less-traveled ports in the Caribbean, Alaska, Europe, Mexico, South America, the Panama Canal, Australia, New Zealand and Asia — as well as unique voyages to the Amazon, Antarctica and our extended Grand Voyages.
Cast your vote for Holland America Line as "Best Ocean Cruise Line."
BEST SHIP FOR DINING: KONINGSDAM
Aboard Koningsdam, guests can indulge in a culinary adventure that will delight foodies and those who simply love epicurean adventures, alike. The grand Dining Room is our flagship dining experience in a sophisticated setting where guests enjoy a multicourse meal. For casual dining, guests can visit Lido Market, with a wide range of food options for breakfast, lunch and dinner … and even a late-night snack! New York Deli and Pizza serves everything from breakfast bagels and sandwiches to made-to-order pizzas, while Dive-In offers gourmet burgers and hot dogs, including Beyond Meat options for vegetarians. For a sweet treat, Gelato serves homemade flavors like cheery, coffee and pistachio. A guest favorite, Grand Dutch Cafe is at the heart of the ship around the atrium, a nod to our Dutch heritage serving specialty coffee, beer and Dutch snacks.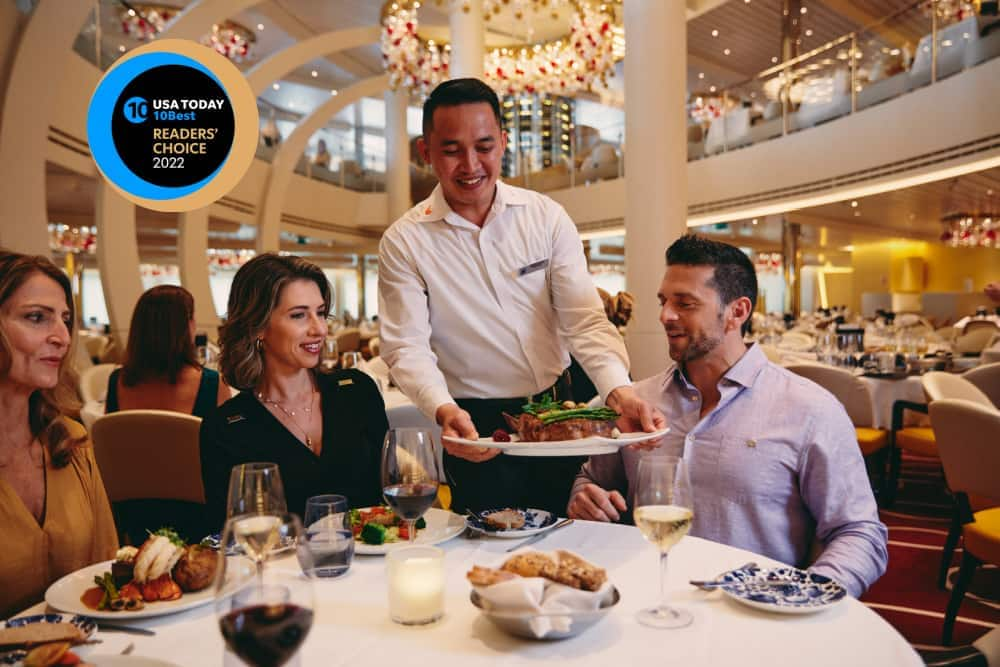 Specialty restaurants are plentiful aboard the ship and touch flavors and culinary traditions from around the globe. Rudi's Sel de Mer — the namesake venue of Holland America Line's Master Chef Rudi Sodamin — is an intimate French brasserie serving a selection of classic seafood dishes with a modern twist. Pinnacle Grill remains the ultimate steakhouse at sea with prime steaks, seafood and wine, along with exclusive dishes by Culinary Council Member David Burke. Tamarind offers Pan-Asian favorites, with Nami Sushi showcasing a menu crafted by our Sushi Master Andy Matsuda. Canaletto is Italian family-style dining, while Club Orange is an exclusive restaurant for Pinnacle and Neptune Suite guests, as well as guests who purchased the Cub Orange program
Cast your vote for Koningsdam as "Best Ship for Dining."
BEST MID-SIZED SHIPS: ROTTERDAM, NIEUW STATENDAM AND KONINGSDAM
All three of our Pinnacle Class ships have been nominated in the "Best Mid-Sized Ships" category. Rotterdam, Nieuw Statendam and Koningsdam showcase the Holland America Line hallmarks that drive one of the highest guest repeat rates in the industry: exquisite cuisine guided by seven of the world's leading chefs; gracious, award-winning service; and superbly appointed staterooms and suites, including family and single accommodations.
Delivering the best live music at sea, the ships feature an exclusive collection of world-class performances nightly at Rolling Stone Rock Room with classic rock hits; Lincoln Center Stage, offering chamber music; Billboard Onboard, where live musicians entertain the crowd with chart-topping hits; and the popular B.B. King's Blues Club, bringing the best of Memphis music to sea. With the 270-degree LED projection at World Stage, guests are immersed in panoramic visual and sound effects for evening entertainment and afternoon presentations.
In addition to the impressive Dining Room, our Pinnacle Class ships feature all special dining venues: Rudi's Sel de Mer, Tamarind, Nami Sushi, Pinnacle Grill, Canaletto and Club Orange. Grand Dutch Cafe is the perfect meeting spot to grab a coffee, beer or Dutch treat like Split Pea Soup, Apple and Bacon Pannenkoek or Dutch Poffertjes.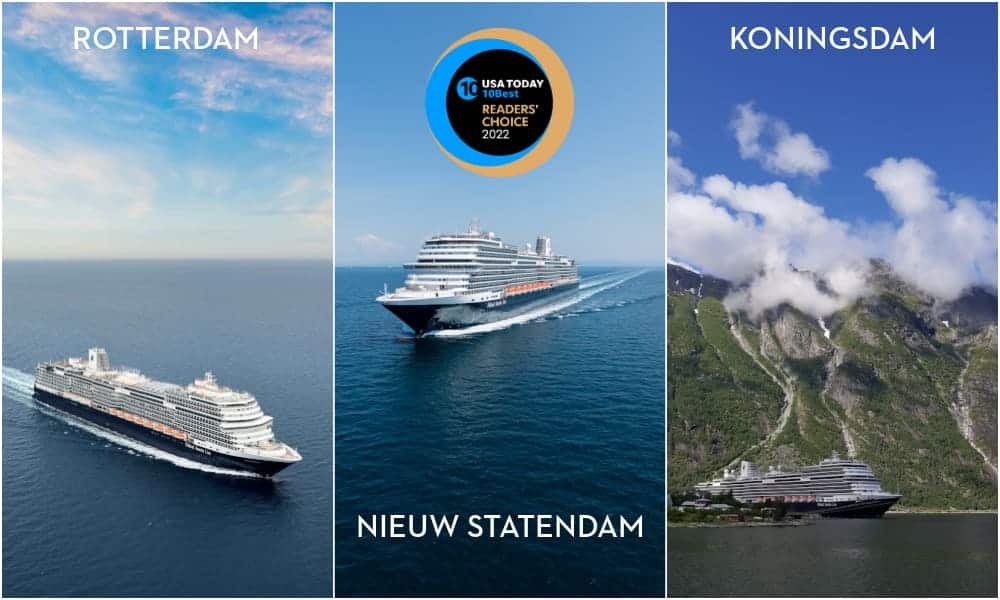 Cast your vote for Rotterdam for "Best Mid-Sized Ship."
Cast your vote for Nieuw Statendam for "Best Mid-Sized Ship."
Cast your vote for Koningsdam for "Best Mid-Sized Ship."
Remember, voting runs through July 11 and you can vote once a day in each category. Thank you for your support!