Top 5 Tips for Making the Most of Your First Day On Board
You've been counting down the days until your Holland America Line cruise and the day has finally arrived! Filled with overwhelming excitement and anticipation, you may be wondering … "What should I do first?" The first day of your cruise is one of the most important, as it sets the tone for the rest of your vacation. We've compiled a list of tips to make the very most of your first day onboard!
1. HEAD TO THE LIDO DECK FOR LUNCH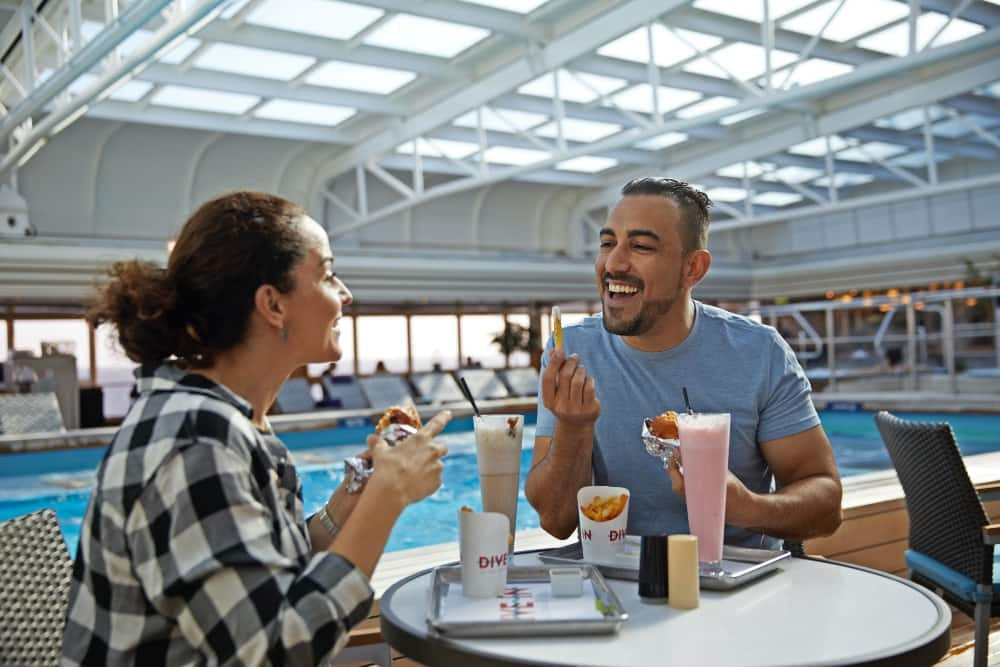 Once you've check-in, you're ready to board the ship! You're likely to have worked up an appetite, so our first tip is to head to the Lido Deck for a delicious lunch that will allow you to refuel and recharge.
Lido Market features different themed stations with a variety of delicious options that guests can grab on the go or have quickly made to order. On Lido Deck you'll also find fan-favorites Dive-In and New York Pizza. If you're in the mood for a perfectly grilled burger or gourmet hot dog, there's no better place than Dive-In. At New York Pizza, guests can get a specialty sandwich, salad or custom-made thin-crust pie in less than 10 minutes. Nothing says vacation like dining al fresco dining by the pool!
2. UNPACK AND GET SETTLED

After lunch, there's a great chance your stateroom is ready and waiting for you, so it's time to unpack and get settled. Getting familiar with your new accommodations is another important part of your fist day onboard, as it will be your home for the next few days. Take this time to make the stateroom your own. Unload your toiletries, hang your clothes in the closet or put them in the dresser drawers for easy access and familiarize yourself with the various amenities. This is also a great time to browse your TV, which will serve as an important tool for helpful information including the forecast, dining menus and facts about the ports your visiting.
3. GET TO KNOW THE SHIP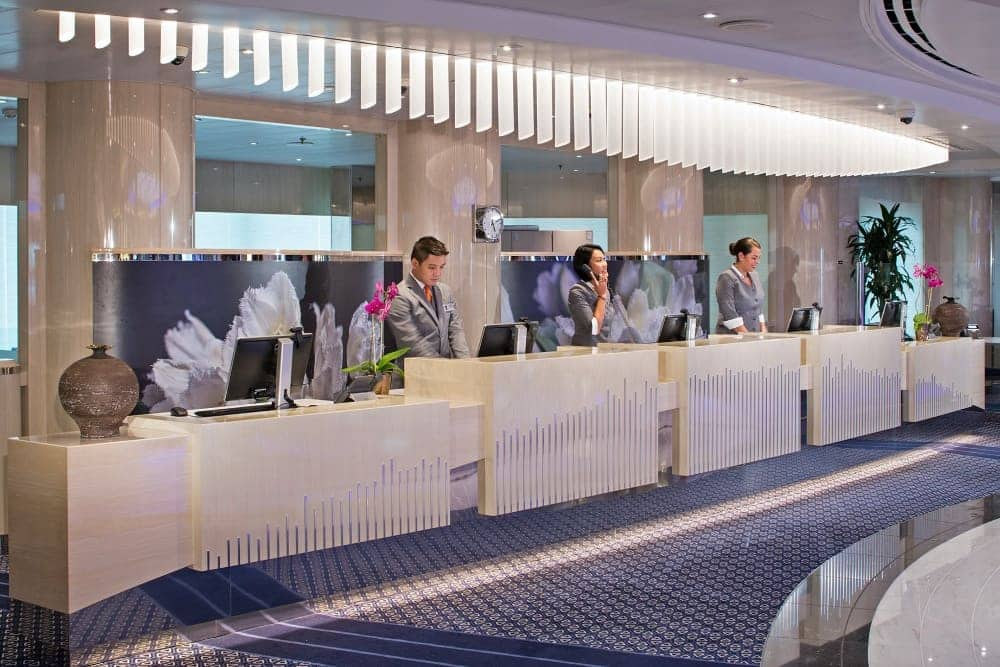 Now that you've familiarized yourself with your stateroom, it's time to get to know the rest of the ship. Learning where everything is located on day one of your cruise will help ensure the rest of your vacation runs smoothly.
Start from the top of the ship and work your way down. As you explore each deck, you'll find our spa and fitness center, pools, specialty restaurants, shops, bars and lounges, entertainment venues, shore excursions desk and more. You'll also want to make sure you locate our Guest Services desk. Our dedicated staff are there to help you with anything you need during your cruise, whether it's setting up your credit card, connecting to Wi-Fi or getting general onboard information.
4. MAKE YOUR RESERVATIONS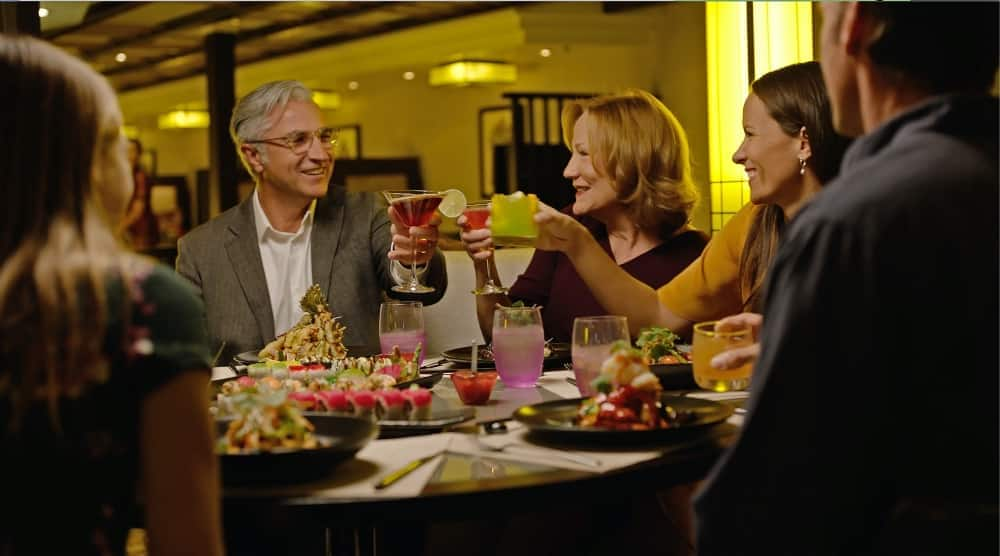 After you've gotten to know the ship, you're ready to start making reservations. Shore excursions, specialty dining and spa treatments are always in high demand, so it's important to make your reservations as soon as possible, as things tend to book up quickly.
Head to the shore excursions desk to book your tour of choice in each port. Offering everything from kayaking and biking to zip-lining and culinary tours, your hardest job will be narrowing down which ones to choose!
Craving dinner at one of our specialty restaurants? Reservations for Pinnacle Grill, Tamarind, Rudi's Sel de Mer and Canaletto fill up early, so we always recommend making them on the first day of your cruise. You can either head directly to the venue or call and make the reservation from the comfort of your stateroom.
Lastly, if you're planning on hitting the spa, the first day is the best day to visit. On embarkation day the spa's staff is on-hand to give a tour of the facility and answer all your questions regarding various treatments and pricing. But the best part, there's a raffle! Enter and you could win a free spa service.
5. ATTEND SAILAWAY TO MEET FELLOW GUESTS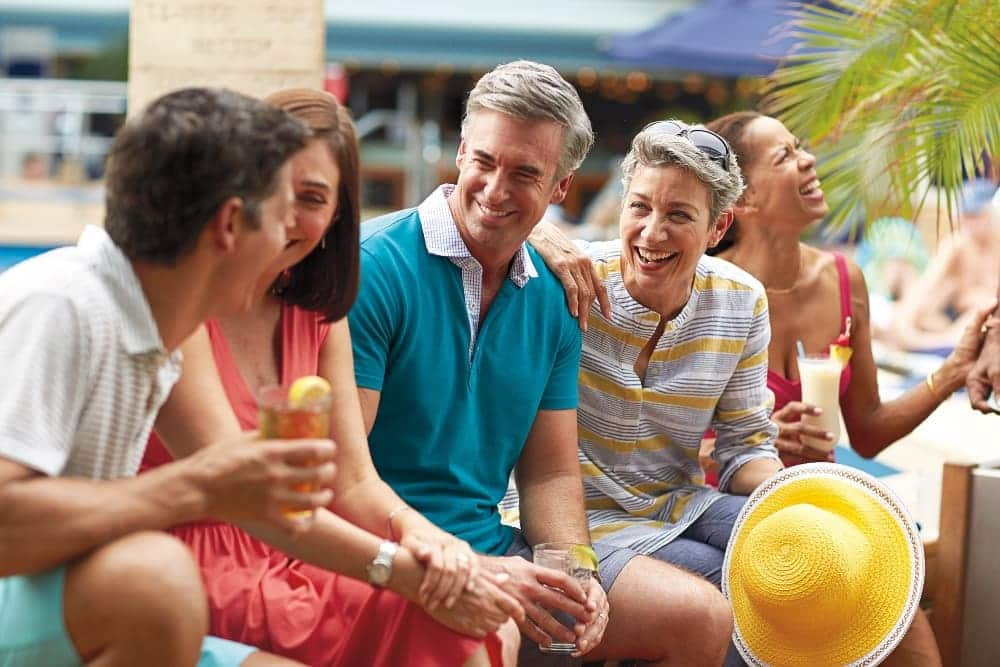 You've eaten, gotten settled in your stateroom, explored the ship and made your reservations, now it's time to set sail!
While there are many places from which you can enjoy sailaway, our favorite location is the Lido Deck of Aft Pool Deck. In addition to a lively atmosphere, this is where you'll find most of your fellow cruisers, making it the perfect time to mingle and make friends with the faces you'll be seeing throughout your cruise. Hop in the pool or get comfortable on a lounge chair, indulge in a special sailaway cocktail and get ready to leave your worries in the wake as you cruise away on your unforgettable Holland America Line vacation.