New Smoking Policy on HAL Ships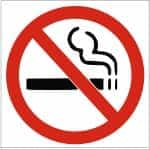 Holland America Line just announced that in keeping with the majority of guest preferences, a change is being made to the shipboard smoking policy on its fleet of 15 ships effective for sailings departing on or after January 15, 2012. The new smoking policy now designates staterooms as nonsmoking areas in addition to the indoor public areas already defined as nonsmoking.
For those guests who wish to smoke, there will continue to be designated areas available both inside and on outside decks. In addition, smoking is permitted on stateroom verandahs. As is already the case, cigar and pipe smoking is not allowed inside.