Facebook Fans Share Their Most Romantic Holland America Line Cruise Stories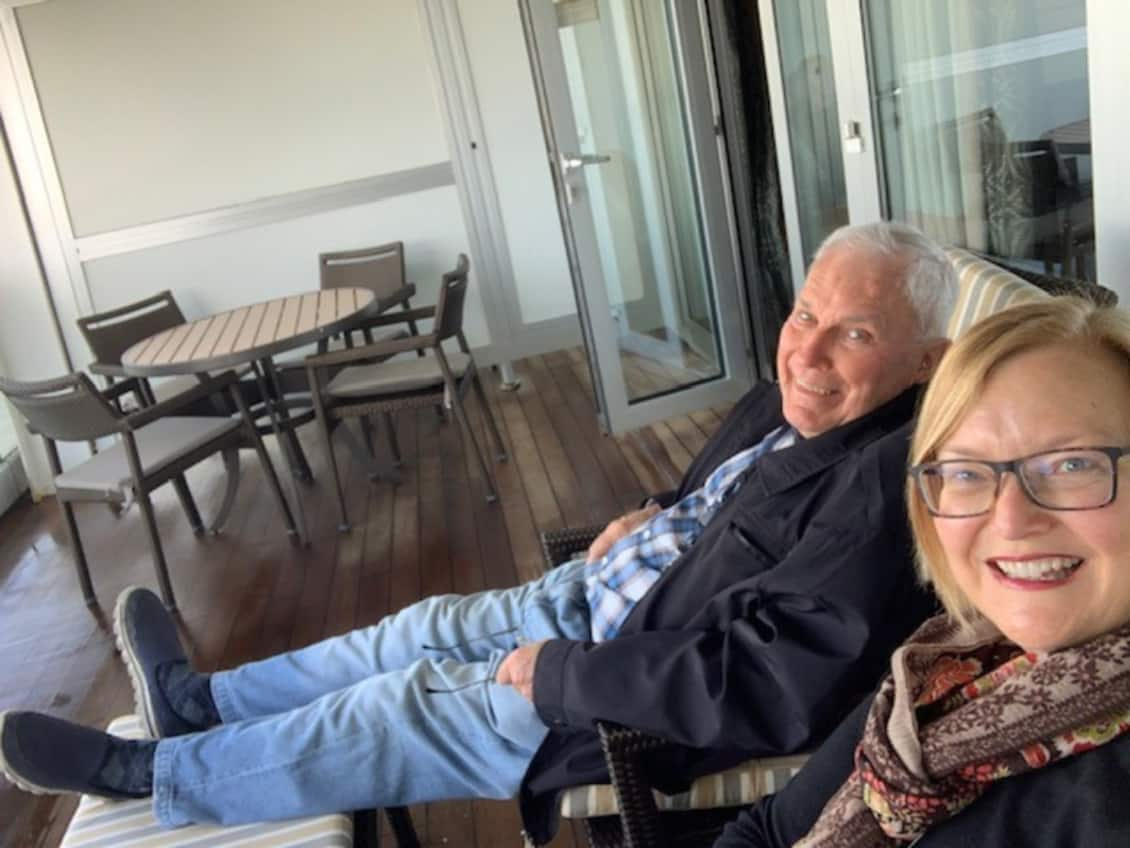 Valentine's Day is the holiday for romance, and it goes hand-in-hand with the romance of cruising. To celebrate, we asked our Facebook fans to share some of their most romantic moments on a Holland America Line cruise, and we received some beautiful stories. From milestone celebrations to weddings to meeting the love of your life, all things are possible on a cruise. Enjoy some of the posts, and Happy Valentine's Day!
My most romantic cruise memory, without a doubt, is meeting the love of my life, John, onboard the Maasdam on a Christmas cruise around New Zealand in 2016-7. It was actually quite a funny story! John was recently widowed and had taken himself off on a cruise for Christmas hoping to meet as many 'interesting' people as possible. He was quite annoyed to find, however, that he had been allocated fixed late dining instead of his preferred open seating. How was he ever going to meet interesting people if he was 'stuck' on table 51 with the same boring companions every night?! Well, thank you HAL for messing up John's dining preferences … I was on Table 51 (with a group of the most fun cruisers we've ever met) and as a result John and I have been cruising happily together ever since! Maasdam is now our 'Love Boat' … we sailed on her again for Christmas in 2018-9 but are sad to see that she has now left the fleet. Fortunately, we have been able to have many other wonderful cruising experiences on other HAL ships including Europe and Alaska. HAL and the Maasdam will always have a special place in our hearts ?⛴ — Wendy Berkley (above main photo)
We were married in 1993 and the plan was to go to Alaska for our honeymoon as this had always been a dream of mine. As we were going through the all the planning that goes into a wedding, including planning your life after the wedding, we decided to use the honeymoon money and buy a house. Over the years I would always share Alaska cruise brochures and itineraries with my husband and each time he would always say "Someday we will get there, I promise." Well, we raised three children in that house and one week after our youngest graduated high school, we left for our Alaska Land-Sea trip and celebrated our 25th wedding anniversary looking at Denali on a clear bight sunny day. I remember standing there with tears of joy in my eyes and thanking my husband, because "someday" was here. — Marianne D'Antonio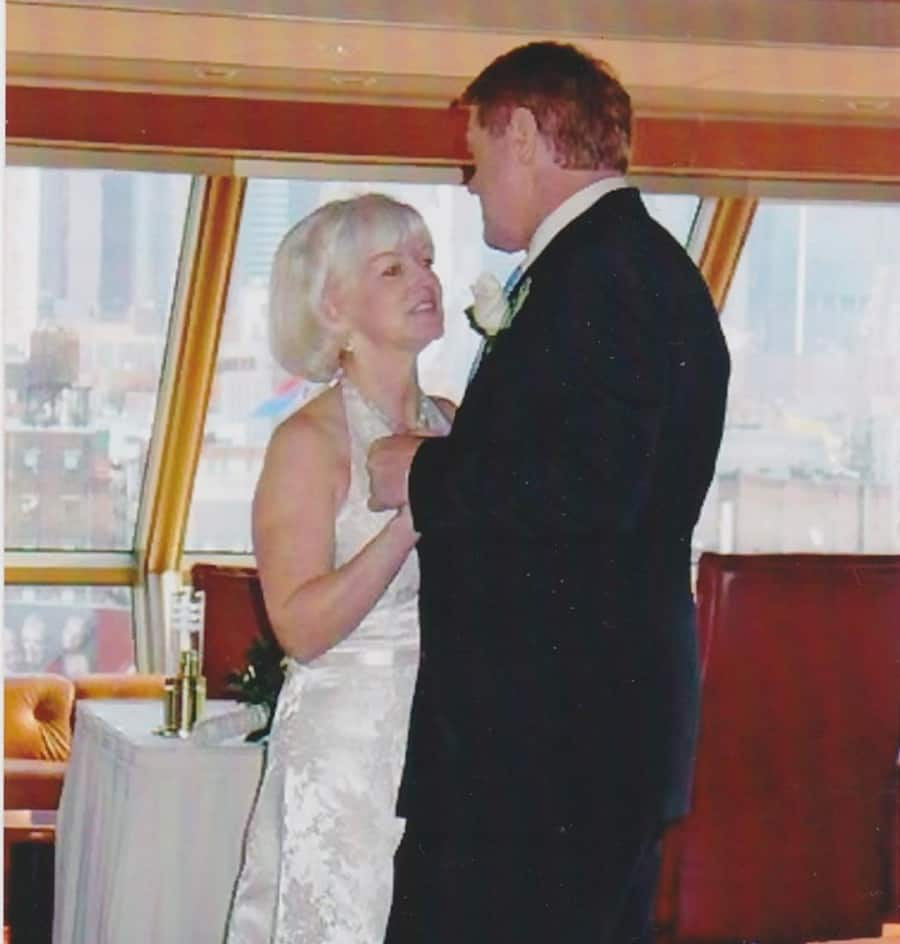 My husband and I have romantic memories from getting married on the Noordam in 2007 docked in NYC and taking a cruise to the Caribbean on it for our honeymoon. It was really something memorable! — Anne Ferguson (above)
We took both our daughters, their husbands and grandchildren on an Alaskan cruise for our 40th anniversary, and this December, we hope to all go on a Caribbean cruise for our 45th … all 10 of us! We all had so much fun and everyone, especially the grandkids can hardly wait to sail again! — Dianne Murray
The first cruise we ever took was for our 30th wedding anniversary. We had always wanted to take a cruise, but family and work always seemed to postpone the event. For our 30th, I surprised my wife with an Alaskan cruise and land tour on Holland America's Ryndam. On our anniversary date, I presented her the tickets. She immediately called our adult kids to tell them about the surprise. Of course, I had already told our kids. Then she said, she needed call her boss to arrange for time off. Of course, I had already arranged that also and when she called, the time had already been put on the office calendar. Everyone knew about this cruise except for my wife. She was amazed that I could pull off this surprise and no one let out the secret until I surprised her. It was a great surprise and even a greater cruise/tour in Alaska. We have now been on many cruises with Holland America and hope to take one for our 50th this year Reservations have already been made and she knows about it — one cannot pull off the same surprise twice. — Kent-Judy Schlussel
On each cruise we take there are many romantic moments, as we explore the world. Our last voyage took us to Australia and New Zealand when we celebrated our 50th wedding anniversary. — Sue-Mark Pelletier
My most romantic memories are sitting here in my living room, with the love of my life, reminiscing about all the romantic moments we've shared on your Dam ships!! We're retiring in May 2021, and had hoped to be taking a celebratory cruise to make more romantic memories! I guess we're going to have to be patient! We're definitely praying for the Holland America crews and staff that have made every one of our cruises memorable! We can't wait to get back on board to sail on one of your beautiful ships again soon! — Laura Ann (above)
My husband and I, both widowed, found each other and married in our senior years. He surprised me with our honeymoon, the 2008 World Cruise on the Amsterdam, I couldn't imagine a more beautiful beginning to our life together! — Donna Beck Richards Reininga
We were married on the Maasdam and have cruised almost every anniversary since. For our 5th, we stopped at Half Moon Cay, had a party at the grand cabana, and had the most wonderful dinner at the Pinnacle Grill. The staff found out and sang us the mostly beautiful song about love that I was moved to tears. HAL has always made it special from wedding to almost 10 years later. — Sarah Bunts
When my husband and I met, we married and then booked our Holland America Alaska Cruise 2001. It was my first cruise and it was so magical, the glaciers, mountains and the pristine beauty of Glacier Bay and Denali, a memory I'll never forget. — Sharon Haars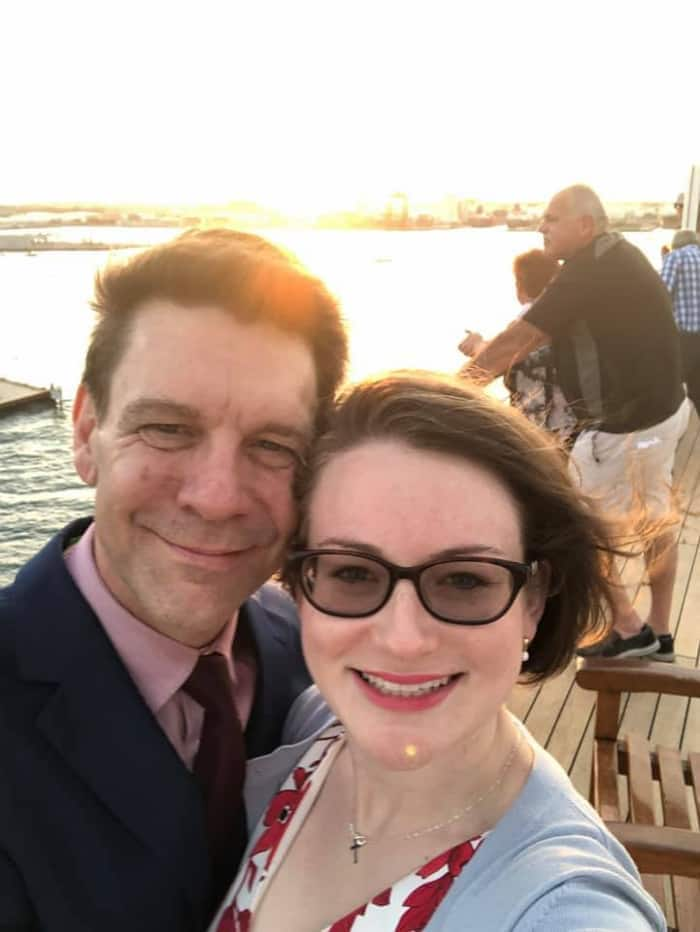 We went on a Caribbean cruise on the Oosterdam for our honeymoon in 2018. It was a wonderful trip filled with amazing memories! — Jessica Herring (above)
We celebrated our 50th anniversary on the Maasdam off the coast of South America on our way to Easter Island and French Polynesia. For our celebratory anniversary dinner, she wore her wedding dress! We have enjoyed the most cruising days on the Maasdam than any other ship in the fleet. The Volendam comes in second place. — Tim Bowman
In 1987 Nieuw Amsterdam, my husband gave me a pearl pendant at dinner that he bought in the gift shop. I still wear it today. — Cathy Eschbacher
My husband and I were on the Amsterdam to celebrate our 25th anniversary in September 2007. He surprised me by working with the party planner to invite our new-found cruise friends to the renewal of our vows, hosted by Captain Mercer. We had been in the casino and he asked if I wanted to go to the Crow's Nest for a drink. Of course. We arrived and half was closed to a private party but the officer at the door said "Good Evening Mr and Mrs H. Welcome." We walked in and I spotted our friends and immediately started to cry. It was very moving. This was followed by a special dinner at the Pinnacle Grill. Special memories. — Margo Hauser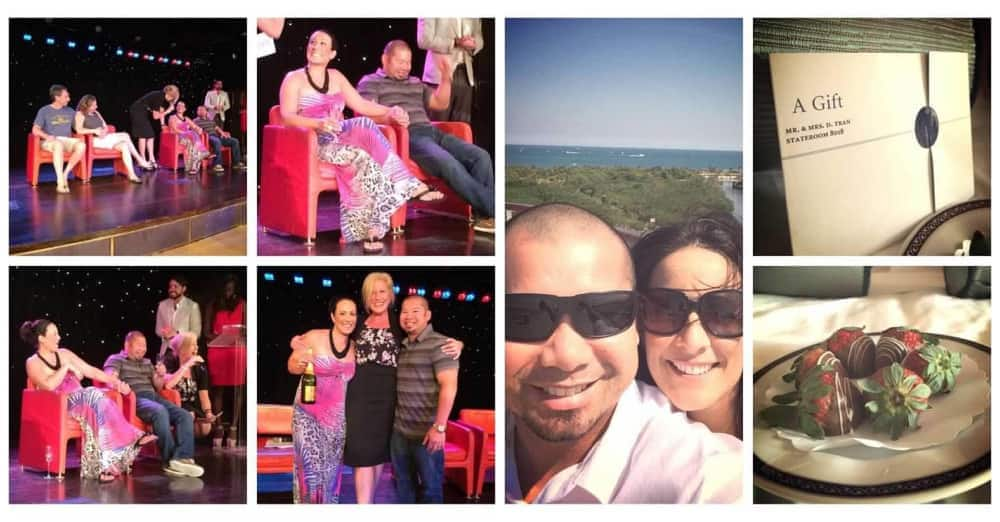 Had our amazing honeymoon in 2015 on our favorite HAL ship and won the Marriage Game too!!! One of the best cruises ever. — Elizabeth Ramierz-Tran (above)
We celebrated our 10th anniversary on the Rotterdam (Alaska cruise) and our 15th anniversary on the Eurodam (Eastern Caribbean cruise). I am hoping we can do a Panama Canal cruise for our 25th anniversary ?. — Anca Eoff
My husband and I celebrated our 49th Wedding Anniversary on a Beautiful land and sea package of the 49th State, Alaska! Our Anniversary day was Extra Special as we took in the Gorgeous scenery of Glacier Bay! — Alan and Sherry Garey
Do you have any special romantic memories from your Holland America Line cruise? Share them in the comments below!