Rudi's Mediterranean Recipes: Greek Meatballs and Tzatziki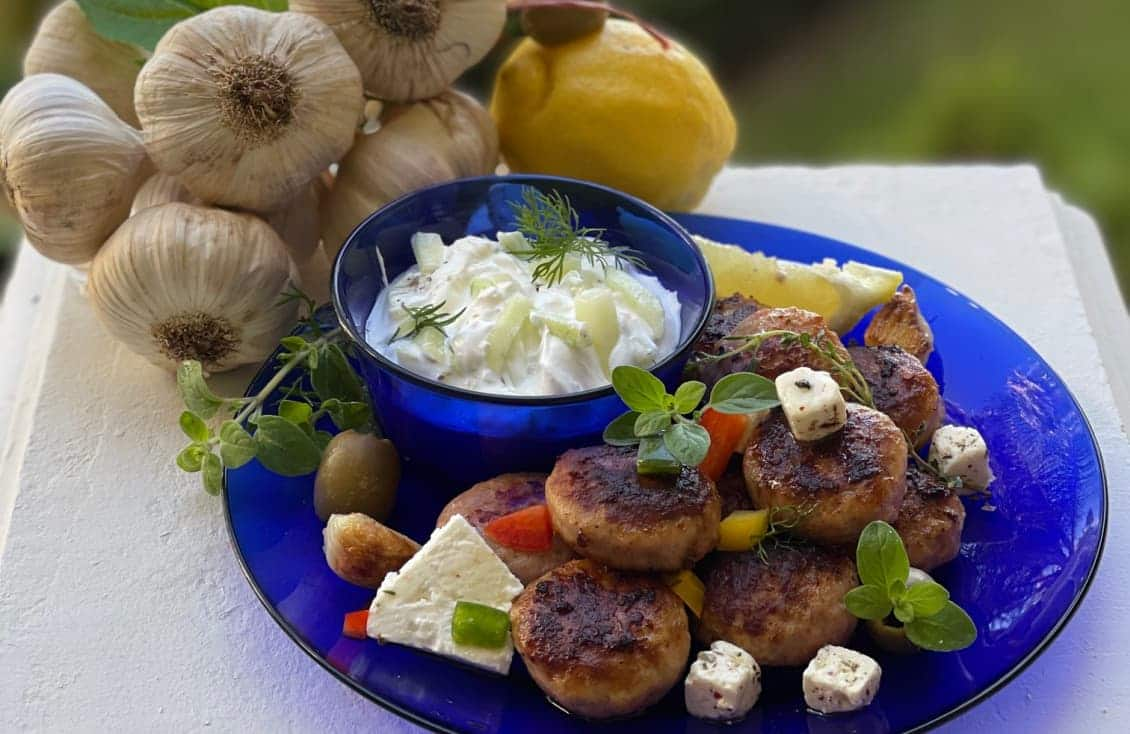 As we get ready to set sail for Greece this summer, our thoughts have us dreaming of the light and flavorful cuisine that awaits at each island. Not only is the food fresh and fun, it's also full of so much tradition that goes back to Ancient Greece. To get your taste buds ready to cruise, here are two incredible recipes from our Master Chef Rudi Sodamin that are easy to make at home and will transport you to a little seaside cafe overlooking the azure waters of the Mediterranean.
GREEK MEATBALLS
For a cocktail party, spear each meatball on a short skewer next to cherry tomatoes with mint leaf in between. Or tuck a meatball into a pita triangle.
Yield: 24-30 meatballs
INGREDIENTS:
2 teaspoons olive oil
1/3 cup finely chopped scallions
1 large clove of garlic, minced
1 teaspoon salt
3/4 teaspoon ground cinnamon
1/2 teaspoon ground cumin
1/4 teaspoon ground allspice
1 pound ground lamb
1/4 cup fine fresh breadcrumbs
1 large egg, lightly beaten
Vegetable oil, for frying
4 ounces feta cheese
2 Roma tomatoes, chopped
1 medium cucumber, peeled, seeded and chopped
1/4 cup chopped red onion
1/4 cup pitted Kalamata olives
1/2 cup plain Greek yogurt
1 tablespoon minced fresh dill
6 fresh Italian parsley sprigs
6 fresh thyme sprigs
DIRECTIONS:
In a small skillet, heat the oil over medium heat. Add the scallions and garlic and cook, stirring until softened, about 1 1/2 minutes. Transfer the mixture to a bowl and sprinkle with salt, cinnamon, cumin and allspice. Add the lamb, breadcrumbs and egg, working everything together thoroughly with your hands. Cover with plastic wrap and refrigerate for at least 30 minutes and up to one day.
Line a baking sheet with plastic wrap and prepare a medium bowl with cold water. Form 1-inch meatballs, dipping your hands into the cold water to keep the meat from sticking to them. Arrange them on a prepared baking sheet.
Pour at least 1/2 inch of oil into a 10- or 12-inch frying pan or cast iron skillet and heat until a deep-frying thermometer registers 350-degrees F (at 350 – 360 degrees F, a single kernel of popcorn dropped into the oil will pop). Line a wire rack with paper towels.
Add a batch of meatballs carefully to the hot oil without crowding. Fry on one side for 2 minutes, then on the other side until golden brown. With a slotted spoon, transfer the meatballs to the paper towels to drain. Repeat with another batch of meatballs. Check the oil temperature between batches and adjust the heat accordingly.
To serve, divide the hot meatballs among plates and garnish with feta, tomatoes, cucumber, onion and olives. Spoon some yogurt on each plate and sprinkle with dill. Place a sprig of parsley and thyme on each plate.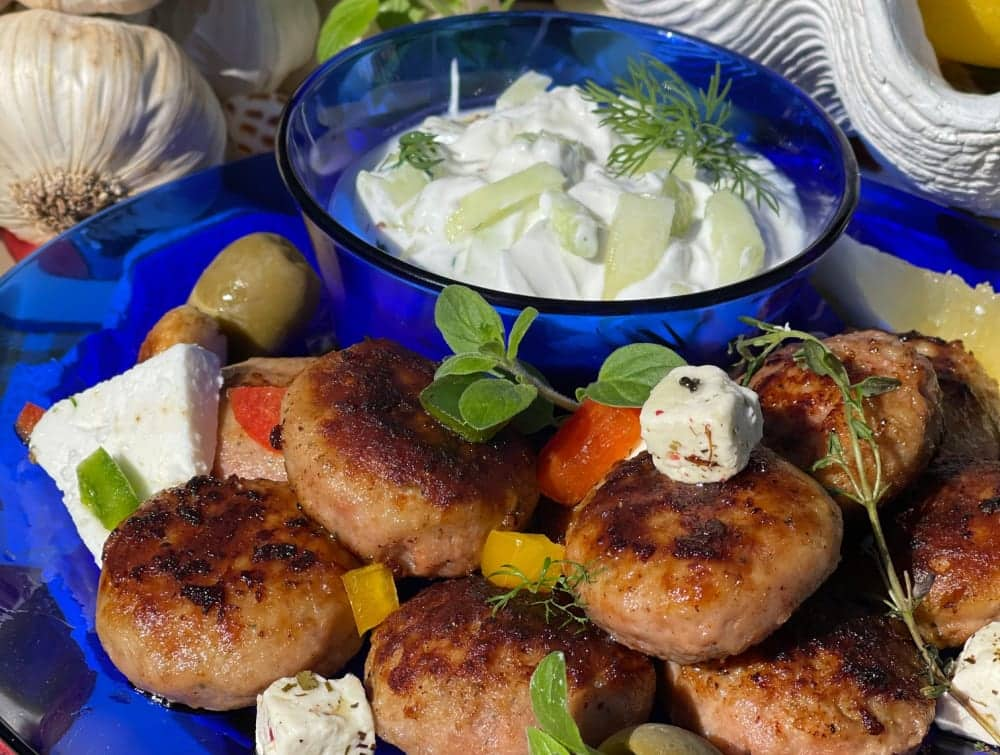 TZATZIKI
Tzatziki is a creamy Greek yogurt sauce with cucumbers and fresh garlic. It's the perfect accompaniment to many Mediterranean dishes (like the Greek meatballs!) and can transform leftover leg of lamb into an other-worldly experience. It's also a fantastic dip for pita bread or crudites.
INGREDIENTS:
1 large English hothouse cucumber, peeled, halved lengthwise and seeded
2 cups plain yogurt
1-2 tablespoons fresh lemon juice
4 cloves of garlic, minced
2 tablespoons minced Italian parsley
1/2 teaspoon freshly ground black pepper
Pinch of Kosher salt
1/4 cup olive oil
DIRECTIONS:
Coarsely grate the cucumber, place it in a strainer and let stand at room temperature until most of the liquid drains out, about three hours. Discard the liquid. Pat dry to remove excess liquid.
In a nonreactive bowl, combine yogurt, lemon juice, garlic, parsley, pepper and salt. Stir until blended. Gradually whisk in olive oil in a thin stream.
Add reserved cucumber and stir to combine. Adjust seasoning.
Cover and refrigerate for at least 1 hour and preferable overnight, to allow flavors to blend.
NOTE:
For an even thicker dip, place yogurt in a strainer lined with three layers of cheesecloth over a large bowl. Let drain at room temperature for 3 hours. Discard liquid and use thick yogurt for the recipe.