Holland America Line Updates 'Navigator' Mobile Device App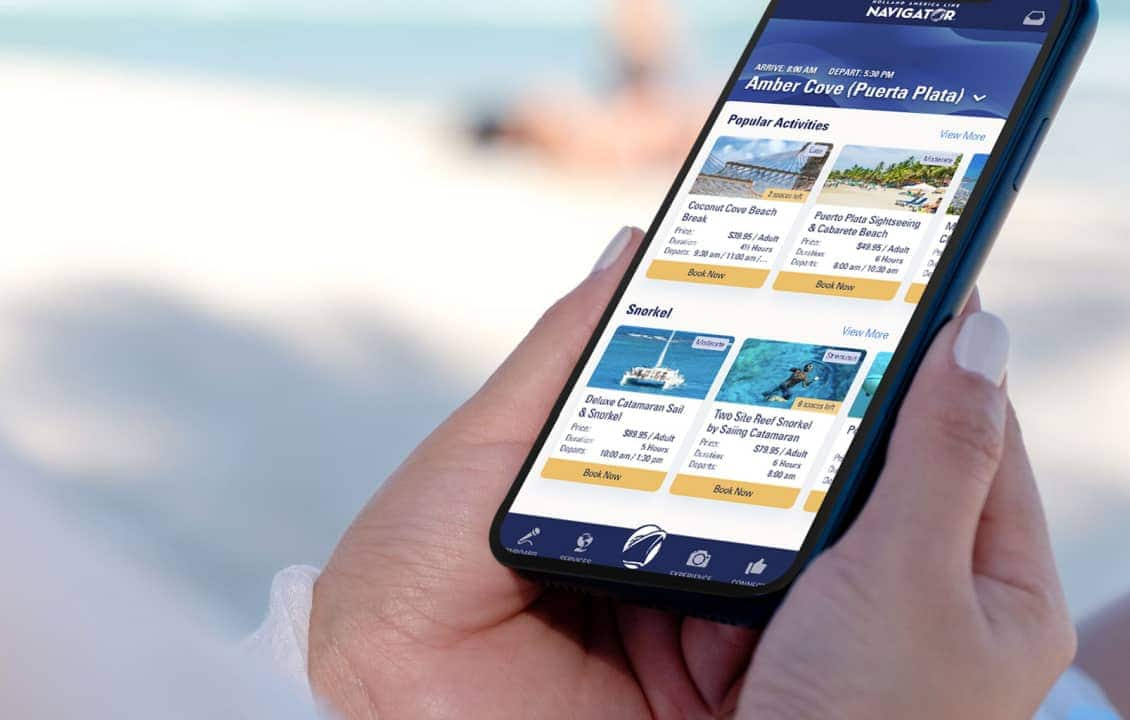 The Holland America Line Navigator App is an indispensable tool for cruise planning, embarkation, managing the onboard experience and booking shore excursions. We recently enhanced the app to add new functions and features to make the cruise experience even easier using your mobile device.
What hasn't changed is that during the cruise, guests can plan daily activities, explore shore excursions before booking, view restaurant menus and make dining reservations, view spa treatments, check account statements and more using Navigator. The most popular feature is the chat function that enables guests to communicate with each other for free while on board.
With Navigator, guests also are able to select and save activities to personalize their daily schedule. Those activities appear alongside booked dining reservations and shore excursions, keeping everything easily accessible in one place. Notifications can be set up to send reminders and alerts for reservations, messages and more.
After the cruise, guests can view their cruise history, manage their account, check a Future Cruise Deposit balance and past-cruise statements … or even start planning another cruise.
But now, there's even more guests can do through Navigator!
New to the Navigator App:
• Once guests complete Online Check-In at www.hollandamerica.com, they can retrieve their digital boarding pass via the app to expedite embarkation at the pier. Guests also can complete their health assessment and book shore excursions prior to the cruise departure.
• Digital menus for all dining venues will be available by scanning a QR code.
• Guests who want a coffee, fast-casual food or in-stateroom service can order from the app. For coffee from Grand Dutch Cafe or Explorations Cafe and fast-casual eats like Dive-In and New York Deli & Pizza, Navigator now allows guests to order from anywhere on the ship and then simply go pick-up the goodies, which will be ready when they arrive.
• Rather than using a keycard, mobile payment for retail and bar purchases can be made through Navigator and charged to the guest's shipboard account.
• Guests who want to go green or avoid paper tickets can now have their shore excursion reservations sent to the Navigator app and e-tickets can be used.
• Through Navigator, Holland America Line will be able to conduct contact tracing for shore excursions should the need arise.
Android and iPhone users can download the Navigator app from the iTunes App and Google Play stores, respectively.
Guests who forget to download the Navigator app prior to embarking can download it once on board free of charge without using internet minutes.