Holland America Line Classics Recipe: Dutch Pea Soup Erwtensoep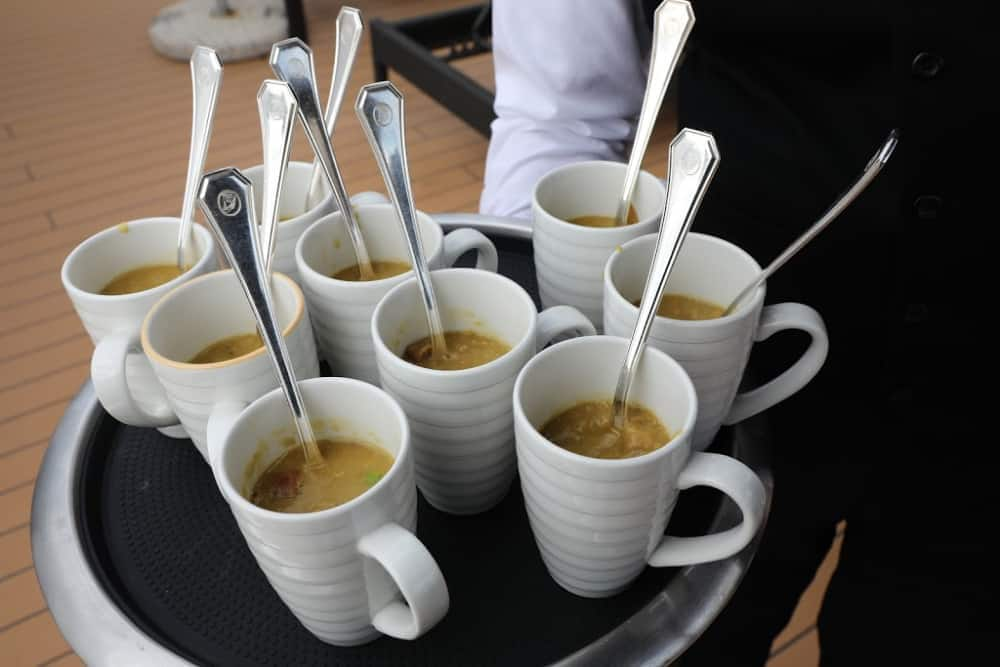 It's the first day of fall, and nothing warms the chill in the air like a delicious cup of Holland America Line's famous Dutch Pea Soup. We serve this tasty treat out on deck on Alaska and Norway cruises to our guests while they admire the icy scenery. This extra-special touch makes watching the glaciers and fjords all the more memorable. From our kitchen to yours, enjoy.
INGREDIENTS
1 pound of split peas, soaked overnight
1 pork knuckle or ham hock
6 ounces diced pork belly
2 cups Rookwoorst
(1 cup diced, 1 cup sliced)
1 cup onion, diced
1 cup leek, diced
1 cup of celery, diced
1 cup carrot, diced
1 cup diced Dutch potato
¼ cup celeriac, diced
½ cup celery leaves
8 cups chicken or vegetable stock
Salt & pepper
bay leaf
Slice of pumpernickel bread
butter
Speck ham
INSTRUCTIONS:
1. In a 6 quart stock pot sauté pork belly and ½ of the smoked sausage
2. Add onions and leeks and a pinch of salt. Saute until translucent
3. Add celery, carrots and celeriac. Saute until softened
4. Add chicken or vegetable stock, diced potato, split peas and pork knuckle
5. Simmer for about 45 minutes until the peas are tender
6. Skim off any foam while the soup cooks
7. For a smoother soup, carefully puree in a food processor or blender in small batches.
8. Saute sliced smoked sausage and garnish each bowl with sauces slices and minced celery leaves
Serve with a buttered slice of pumpernickel bread topped with prosciutto, ham or speck.