Visiting Alaska's Denali National Park
Denali National Park in Alaska is consistently ranked as having the cleanest air and clearest visibility of any National Park in America. Visitors will be amazed at the air quality — it's almost intoxicating in its freshness. However, Denali offers so much more than fresh air and clear skies. With the nation's tallest peak, six million acres of protected land, and a primordial atmosphere and solitude so rarely found in the U.S. today, visiting Denali National Park is the wilderness experience of a lifetime.
Learn more about the best ways to experience Denali National Park and the incredible wildlife spotting and hiking opportunities the park has to offer.
How to Visit Denali National Park
Denali is about 240 miles north of Anchorage, five hours driving distance, or six hours via railway. There are a few options for getting to Denali, including chartered air services into the park, options to rent a car and drive, or take a Denali train from Anchorage.
Alaska cruisetours are a great opportunity for those who want to take in Alaska's frontier towns and glaciers, along with the wilds of Denali National Park. Cruisetours combine stops to iconic Alaska ports with a one-, two-, or three-night stay at McKinley Chalet Resort, a premier accommodation at the doorstep of Denali. McKinley Chalet Resort is the perfect home base for all your Alaska adventures, including flightseeing, ATV exploring, hiking trails, river rafting, and more.
On an Alaska cruisetour transportation is worry-free, with train tours from Anchorage to Denali that wind through Alaska's scenic backcountry. Everything is taken care of.
Tracy Smith, General Manager of McKinley Chalet Resort shows this exclusive Holland America Line property just outside of Denali National Park. Two- and three-night stays include a guided Tundra Wilderness Tour into the park to view wildlife.
Denali, Alaska's Highest Mountain
For eons, the Alaskan Native people revered this tranquil land and its snow-capped mountains. And they called the peak that so dominated the others Denali, or "the tall one." Denali tops out at 20,310 feet, the third tallest mountain in the world.


Over the years, about 32,000 people have attempted the climb to its peak — only about half have been successful. Among climbers, Denali is known as a very challenging and technical climb.
Denali National Park Wildlife
Aside from the majesty of the mountain, Denali National Park boasts an embarrassment of natural riches. Most of its millions of acres lie relatively undisturbed, resulting in a rich and diverse sub-arctic wilderness.
Some of the most iconic animals in North America call Denali home. Visitors have the chance to see grizzly and black bears, moose, Dall sheep, caribou, wolves, and bald eagles, to name a few of Alaska's incredible wildlife.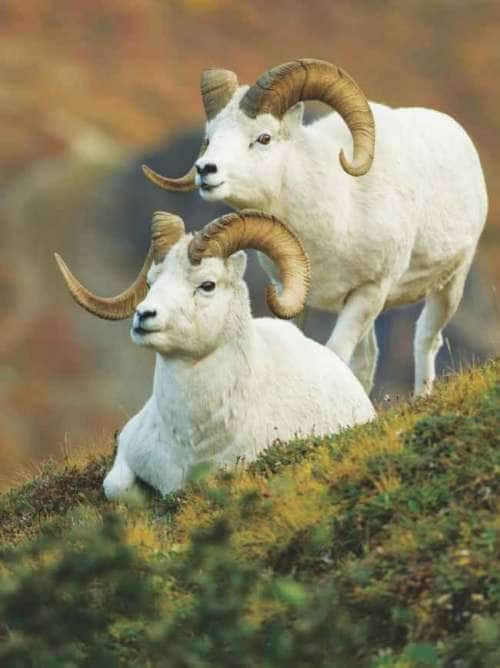 In total, Denali National Park is home to over 160 species of birds, 39 mammals, and 1,500 species of plants, mosses, and lichens. Where many National Parks have seen changes to their ecosystems due to invasive/non-native plant species, Denali, and much of Alaska, has been spared this fate, primarily due to the scarcity of roads and remoteness of the region. This lends further to its reputation as "untouched country."
The Tundra Wilderness Tour comes included on all cruisetours with 2- or 3-night stays at the McKinley Chalet Resort. It goes 43 miles into Denali's unspoiled wilderness and takes 6 to 6.5 hours. Guides tell the story behind every spectacular vista. Keep an eye out for Alaska's Big Five — grizzly bears, caribou, Dall sheep, moose, and wolves — roaming freely in their natural habitat.
Hiking and Backpacking Denali
Other parks and wilderness areas are often overrun with too many visitors, taking away from the experience. Not so in Denali.
With opportunities for ranger-led hikes and self-guided on- and off-trail (backcountry) adventures, Denali National Park lets its visitors get as far away from it all as they choose.
Triple Lakes Trail is considered one of Denali National Park's best day hikes. Immersing hikers in a vast area of untouched natural beauty, the Triple Lakes Trail offers plenty of opportunities for wildlife sightings.
For those looking for a more communal, less adventurous experience, a bus tour along the park's 92-mile Denali Park Road fits the bill nicely.
Plan Your Trip to Denali National Park
Those coming to Alaska are usually in search of something they can't get anywhere else. Whether it's the landscape and its wilderness, the wildlife, or the chance to experience a little of what those first people to the continent must have felt thousands of years ago, Denali National Park delivers on that quintessential Alaskan mystique.
Ready to get close to the Great One? Explore Denali National Park on an Alaska cruise when you book an Alaska cruisetour, or peruse Holland America's Alaska cruise ports.