Explore Alaska by Train – Alaska Train Tours
An Alaska train trip is one wild ride. Alaska trains go into the backcountry where cars cannot, and the scenery is spectacular. Ride over salmon-filled streams, through mountain tunnels, and on the edge of narrow cliffs. There are three main options for Alaska train tours: the McKinley Explorer® (part of an Alaska cruise tour), the Alaska Railroad, or the White Pass & Yukon railway.
Here are answers to frequently asked questions about Alaska trains.
What Is An Alaska Train Tour?
An Alaska train tour can be just a few hours long, or last several days on a journey along the Alaska coast or into the wild interior. On Holland America Line Alaska cruisetours, you can take a train to Alaska on the McKinley Explorer®, a domed train specifically used for transporting passengers back and forth from Anchorage to Denali National Park & Preserve.
Another Alaska train tour is the White Pass Summit Scenic railroad in Skagway. The White Pass & Yukon Railway links Skagway and Whitehorse and takes a narrow-gauge ride in the historic path of prospectors. Pass Bridal Veil Falls, Inspiration Point, Dead Horse Gulch plus tunnels, trestles, and more on these Alaska train rides. And all of this aboard a vintage rebuilt or replica train car. Find this Alaska shore excursion and more.
Do Alaska Train Tours Offer Food And Drink?
Yes. On the McKinley Explorer®, guests can order breakfast and lunch in the lavish dining area, and soft drinks and cocktails throughout the trip. The menu options range from simple fare to fine dining and a range of desserts, like salted caramel brownie sundaes. The Denali train tour takes about eight hours and chugs into its destination just in time for dinner. Read a cruise diary from a McKinley Explorer guest.
The Alaska Railroad train trips also feature dining options.
What Are The Top Cities To Visit On An Alaska Train Ride?
Most consider Anchorage and Fairbanks the top cities to visit on Alaska train rides. You can travel between Anchorage and Fairbanks on the Alaska Railroad, which also stops in Denali and Talkeetna, a small town known for flightseeing adventures.
Anchorage started as a railroad construction camp — it is now a metropolis and the hub for Alaska train rides. Nicknamed the Golden Heart City, Fairbanks is a gateway to remote outposts and oil fields, and it still retains its raffish frontier charms. Both are worth a visit. Anchorage is known for moose, coffee, and friendly Alaskans. Fairbanks has Gold Rush history galore.
Whittier is another cruise port that you can visit via Alaska train tours. Nicknamed the "Strangest Town in Alaska," Whittier hugs the stunning Prince William Sound and almost the whole town lives in the same condo complex. It is only accessible by boat or a tunnel that's shared by both cars and Alaska trains. Some Alaska cruises port in Whittier.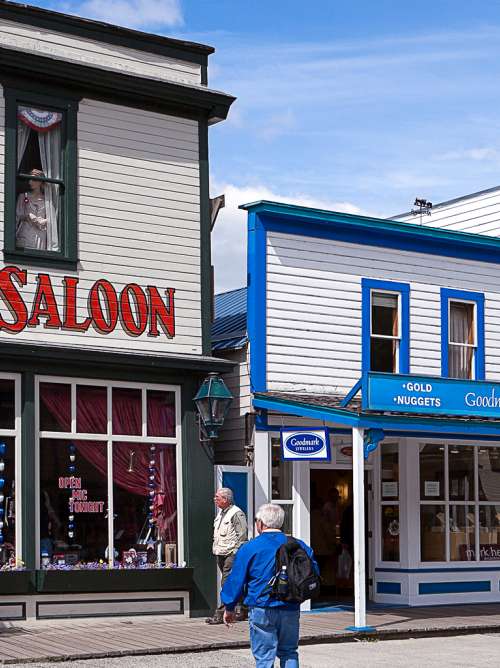 What Can I See on an Alaska Train Tour?
Train rides to Alaska and rail tours feature amazing scenery, from sparkling rivers to waterfalls and majestic wildlife, like grizzly bears and caribou. It's possible to see some of Alaska's famous interior sights by rail out of Anchorage.
If you're traveling by Alaska Railroad, you can take the Coastal Classic Route to Seward and spend the day at Kenai Fjords National Park. Or take the Glacier Discovery Train to backcountry glaciers. The Spencer Glacier Whistle Stop on the Glacier Discover Train delivers passengers into a remote wilderness area and to Spencer Glacier, a river of ice that travels down to Spencer Lake. These Alaska train tours leave from Anchorage and travel into the Chugach National Forest.
Skagway Train Tours
Explore waterfalls, glacial ribers, and stunning terrain on the White Horse & Yukon Railroad from Skagway to the summit of White Pass. It is an International Historic Civil Engineering Landmark and a favorite Alaska shore excursion among Skagway guests.
Denali Train Tours
Book a Holland America Line cruisetour and take an Alaska train trip on the McKinley Explorer® to Denali.
Best Routes For Alaska Train Rides
The McKinley Explorer route to Denali is the best route for a luxurious journey between Anchorage and Denali. If you want to explore Seward and Girdwood, the Alaska railroad's Coastal Classic heads from Anchorage to Seward along the picturesque Turnagain Arm. It then winds through scenic wilderness and stops at Resurrection Bay.
Trains From Anchorage To Denali
The McKinley Explorer® is the best option for those on Alaska cruisetours, as it's tailored for cruise passengers. You can also take Alaska train tours from Anchorage to Denali on the Alaska Railroad's Denali Star route.
Anchorage to Fairbanks Train Tours
If you want to take Alaska train trips from Anchorage to all the way to Fairbanks, the Alaska railroad is the only option. Many choose to take the Denali Star and stay in Talkeetna or Denali for a few nights, as the trip from Anchorage to Fairbanks is about 12 hours. Many Anchorage hotels will provide shuttles to the train station.