The Perfect Day in Skagway from Dawn Until Dusk
At the height of the Klondike Gold Rush, the port town of Skagway served as the primary gateway to the legendary gold fields, and quickly grew into Alaska's largest settlement. It was then a raucous frontier hub packed with trading posts, saloons and guesthouses. As the gold rush faded into the 1900s, so did Skagway — but today it has been reinvigorated as a gateway for a new kind of visitor: those looking to explore Alaska's colorful history, pristine wildlife and unrivaled natural beauty. What's the perfect day in Skagway look like? Here's one way to spend your time from sunrise to sunset.
RISE AND SHINE:
Before heading out on a shore excursion, head to breakfast in Pinnacle Grill for suite guests, the Dining Room or a casual meal in Lido Market. If you're dining in Pinnacle Gill, indulge in Dungeness Crab Eggs Benedict or a hearty Full English Breakfast with eggs, pork banger, fried bread, English back bacon, baked beans, mushrooms and grilled tomato. Don't forget a freshly squeezed glass or orange juice to get you ready for your day of adventure.
HEAD OUT ON TOUR:
If going in search of the most stunning scenery is why you came to Alaska, book a tour on the White Pass & Yukon Route Railroad. Against all odds, this iron trail was built through some of the North's most ruggedly beautiful terrain and more than 120 years later is still in operation. You'll ride in a comfortable, restored or replica vintage rail car to the summit of the White Pass, through two tunnels, over sky-high trestles and remote valleys. Pass Bridal Veil Falls, Inspiration Point and Dead Horse Gulch as your guide announces all points of interest and tells the story of the Klondike Gold Rush. At the White Pass Summit at 2,865 feet, the train makes a loop and heads back down the pass, allowing everyone to experience the excellent views during this round trip rail journey.
Fun Fact: This narrow-gauge railroad is an International Historic Civil Engineering Landmark. It shares this honor with the Panama Canal, the Eiffel Tower and the Statue of Liberty, and is truly a world wonder.
EXPLORE THE OLD TOWN WITH A WANDER:
The White Pass & Yukon Route Railroad tour is only 2.5 hours, leaving you with plenty of time to explore Skagway on your own with a wander through the streets of the old town, which is within walking distance from the ship. As you begin your walk, stop at the Gold Rush Museum and Skagway Park Service Visitor Center — home of the former White Pass and Yukon Railroad Depot. Visitors can enjoy movies, walking tours and other activities during the summer. Note the second story bay window overlooking Broadway, once used by the railroad dispatcher. Also note the much fancier yellow-colored Administration Building. Built in 1900, today it houses the NPS Gold Rush Museum.
After working up a thirst, head to the Red Onion Saloon for a drink or two. Buxom Red Onion Madams in come-hither costumes call out from their perches, while waitresses in corsets and petticoats serve food and drinks: there's no place in Alaska quite like the Red Onion Saloon, a bar, restaurant & museum set in what was once a real bordello … Make sure you check out the oil paintings of madams over the bar. These are references to the "dolls" of earlier times as the brothel ran on what is known as the "doll system".
GET PAMPERED AT THE SPA
You've done a lot of walking through town, you spent the morning on the train, now take time to pamper yourself back on board at the Greenhouse Spa. Start with an ELEMIS Aroma Stone Therapy massage, followed by an ELEMIS BIOTEC Skin Resurfacer facial. If time permits, spend some relaxing moments in the Thalassotherapy pool, taking some much-needed "me" time before heading to the salon to get your hair done for Gala Night.
DINE AT TAMARIND
The ideal way to spend your evening after a day ashore in Skagway is dinner at Tamarind — the perfect place to explore the culinary traditions of Southeast Asia, China and Japan. The menu, which honors the elements of water, wood, fire and earth, features such exotic fare as wok-seared lobster, barramundi (Asian sea bass) in banana leaf and sushi, accompanied by chilled or heated sake. And, try our specialty sushi created in collaboration with Culinary Council member and Master Sushi Chef, Andy Matsuda.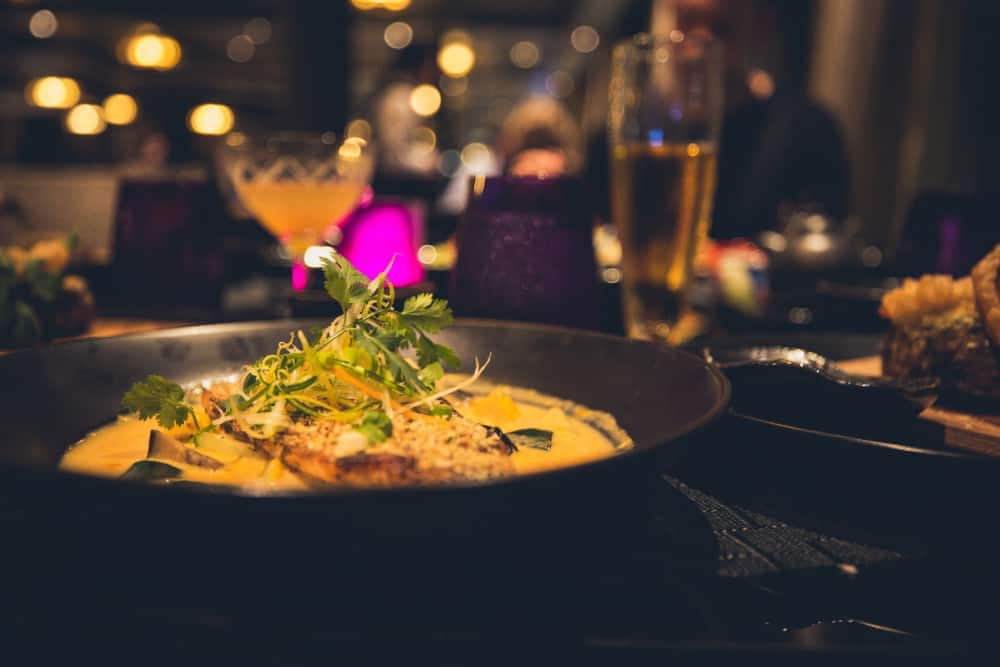 MUSIC WALK AWAITS
After dinner, it's time to hit the dance floor at B.B. King's Blues Club. Our B.B. King's All-Star Band is waiting to get you moving to the best of Memphis R&B. The band cooks up a rich southern heritage of classic soul and rock & roll that will have you on the dance floor all night long.
If Skagway is on your bucket list of destinations to explore, join Holland America Line this summer on a cruise to Alaska and witness raw beauty and Gold Rush history in person.