Introducing ms Koningsdam! Name of New Pinnacle Class Ship Revealed
Holland America Line revealed the name of its new 99,500-ton cruise ship slated for delivery in February 2016 will be ms Koningsdam (pronounced with a long ō sound, as in cone, KOH-ningsdam). While the name pays homage to the company's rich heritage and deep roots in the Netherlands, it also reflects a new era with a bold name that is an original in Holland America Line's 141-year history. The 2,650-passenger ship is an evolution in design for the line — a new Pinnacle Class — and is being built at Italian shipbuilder Fincantieri's Marghera shipyard.
Since 1883 every Holland America passenger vessel has borne the "dam" suffix, and ms Koningsdam carries on that tradition. The word koning means "king" in Dutch, and the name celebrates the majestic new ship. The name also pays honor to His Majesty King Willem-Alexander, the first king of the Netherlands in over a century.
Holland America Line has a long, proud history with the Netherlands. All 15 premium cruise ships fly the Dutch flag as they sail throughout the world, to more than 400 ports of call. The historic greatness of the line's Dutch heritage is shared with nearly one million guests each year. And the line has many Dutch employees, including most of the fleet's captains and officers.
Many of Holland America Line's ships have been christened by members of the Dutch Royal Family over the past 75 years. Most recently, ms Nieuw Amsterdam was christened by Her Royal Highness Princess Máxima in 2010. And in 2008 ms Eurodam was christened by Her Majesty Queen Beatrix of the Netherlands.
"In choosing the name Koningsdam, we are honoring our rich Dutch heritage while reflecting that we're entering a new era as a company," said Stein Kruse, chief executive officer of the Holland America Group. "This new Pinnacle Class ship will be our largest, most contemporary vessel, and it was only fitting to give it a name that embodies great achievement for the future, while embracing timeless tradition."
Holland America Line was founded in the Netherlands in 1873 as the Netherlands-American Steamship Company headquartered in Rotterdam. The original headquarters building still stands today as the Hotel New York on the Wilhelmina Pier, with the company's European headquarters located nearby.
New design for a new flagship
When it debuts in February 2016, ms Koningsdam will be a new type of ship for Holland America Line. At 99,500 gross tons and carrying 2,650 guests and 1,025 crew members, the vessel is the largest ever built for the company. The increased size provides more opportunities to add new public spaces and venues, and several innovative features will debut on ms Koningsdam. Familiar spaces and amenities currently featured across the Holland America Line fleet will also be found on the new ship.
To bring a fresh vision to ms Koningsdam, Holland America Line tapped Adam D. Tihany, one of the world's pre-eminent hospitality designers. Tihany joins distinguished maritime designer and architect Bjorn Storbraaten who worked with Holland America Line on ms Nieuw Amsterdam and ms Eurodam. The two firms will create a modern and contemporary ambiance while incorporating Holland America Line's classic hallmarks.
To get you more excited about the new ship, here are a few more photos from the recent Keel Laying ceremony that signaled the official beginning of construction of the ship.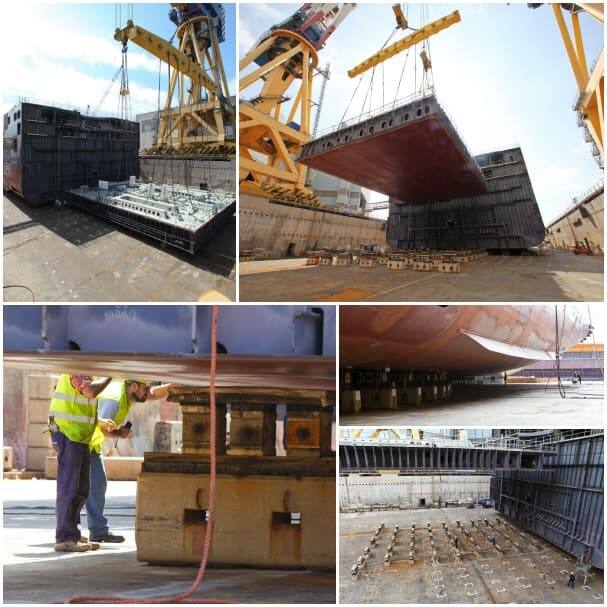 Will you be sailing on ms Koningsdam? Tell us below if you're planning on booking a cruise on the new flagship!