Denali: On Land Before My Alaska Cruise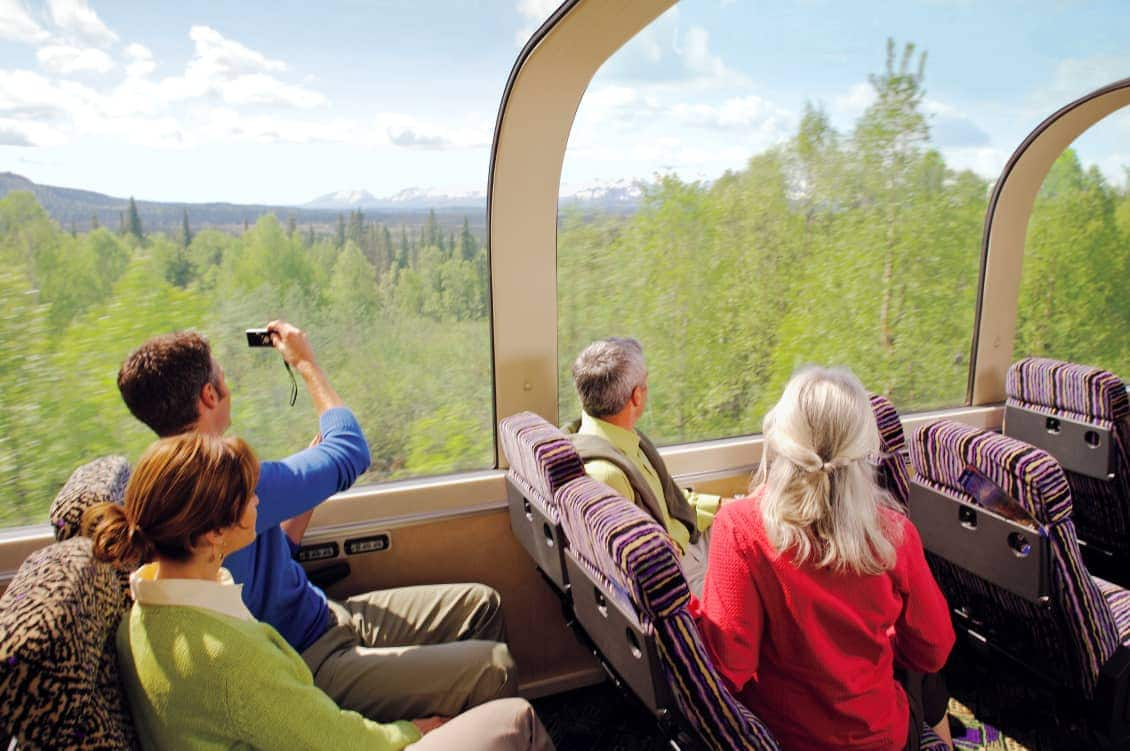 Midnight check-in in Anchorage: The world is quiet, yet I'm filled with anticipation for the start of my Alaska Land+Sea Journey. All I want is a good night's sleep, and I get that before I head downstairs for the bus to whisk me and the other Holland America Line guests away to meet the McKinley Explorer. It's early morning; still, among the crowd there's a lot of caffeinated excitement about getting on the bus. But it's not as if there's any chance of missing the train — due to its special status, Holland America Line has developed its own proprietary itinerary with the Alaska Railroad. The train isn't going anywhere without us. The land portion of my Alaska Land+Sea Journey will stretch for three days, before I embark on the seven-day cruise.
Like a lot of people, I feel that traveling by rail is romantic — and cinematic. The bus ride is quick, and when I see the glass-domed train waiting on its tracks, my anticipation about the novelty of this bygone-era train travel rises. I think of the movie Julia — the movie about playwright Lilian Hellman that made me want to become a writer — and the intrigue of its European train sequence. And of course I think of "Some Like It Hot," which is apt given the comedic contributions of Josh Fichtelberg, the Holland America Line guide who starts to narrate the journey in his own inimitable way.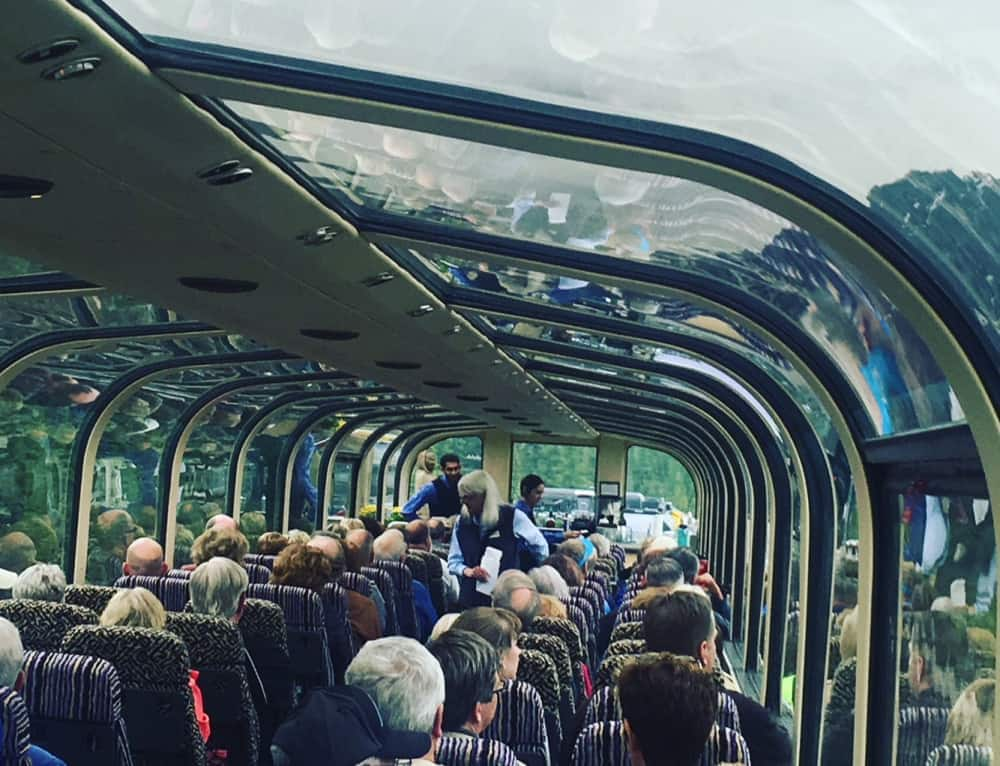 "By nature I'm a very sarcastic person and that part of my personality allows the day to be not so cut and dried with facts, figures, and information," he tells me. "I've tried to create factually accurate presentations with little comedic surprises sprinkled in to keep things interesting." One example comes as we look out the windows, down to a rushing emerald river. "The Indian River has full-time fish residents, including arctic grayling, the world's largest rainbow trout, and Dolly Varden trout," he says. A beat. "Now that's not to be confused with Dolly Parton, as these fish do have slightly smaller filets." After a what-did-I-hear? pause, a wave of appreciative laughter rises from the train car. Then Josh tells the story of Susan Butcher and Libby Riddles, who consistently won the Iditarod throughout the 1980s. "I bought a bumper sticker that captures the spirit of the time," Josh says. "It reads, 'Alaska: Leaving Men Riddled and Butchered on the Iditarod Trail.'"
But the next day, when I finally get to Denali National Park via the Tundra Wilderness Tour (a highlight of any Alaska Land+Sea Journey) what stays with me, even more than Josh's jokes, is his devotion to nature. The avid guide who has watched virtually every David Attenborough documentary and wanted to see where Charles Darwin came up with his theory of evolution told it to me plain: "I have always been enthralled with nature and wildlife."
I catch the spirit as certain images become indelibly imprinted in my memory. Denali shoots up majestically above the cloud line. Boulders, left behind when glaciers receded, stand lonely on the mountain slopes. Kettle ponds, formed when patches of abandoned glacial ice made deep cuts in the earth, look like glistening white slivers in the foothills. I didn't expect to see so many white stripes on the mountains, and so clearly defined as they mass into spiky, abstract shapes.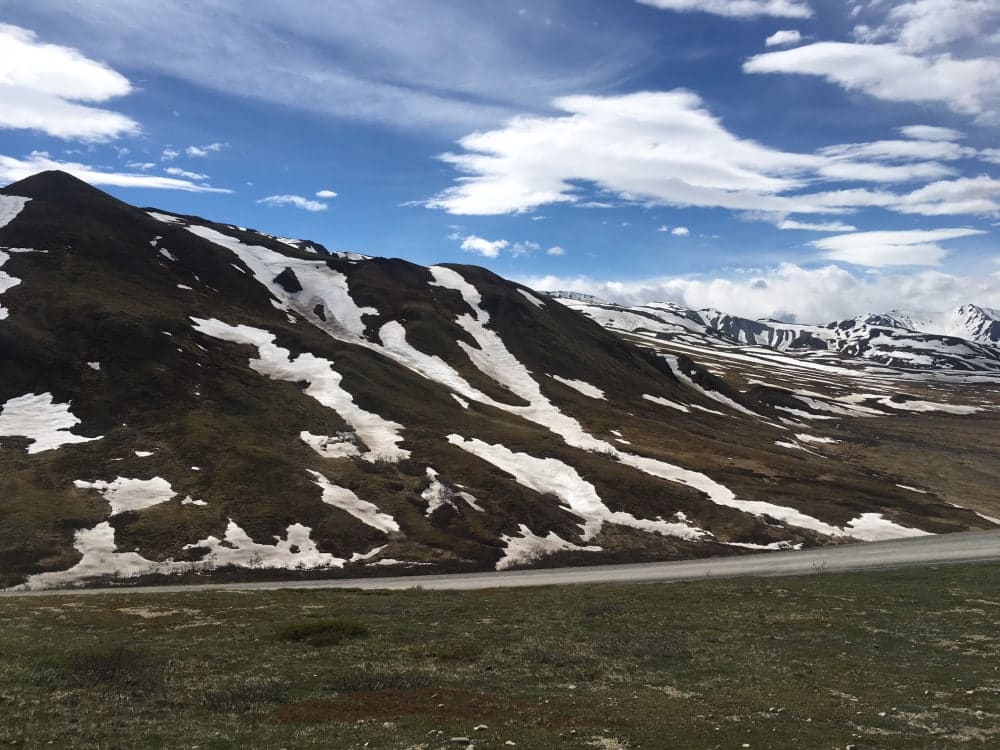 Quite a few take on the contours of arrowheads. Some of the clouds above are just as angular, seeming to reflect what's going on on the sides of the craggy peaks. Meltwater rivers continue to carve the mountains. Alluvial terraces mark previous shorelines, signaling the continuous glaciation process. Everything looks clean and untouched, and when we get off the bus to walk around at several viewpoints, Alaska smells clean and untouched, too.
Somehow our adept driver/guide is able to simultaneously handle our tour bus while managing to capture videos of wildlife along Park Road. Close-up live feeds appear on the numerous dropdown screens inside the bus. He tells us to look closely at a distant slab of snow patch. I look and look — and then the view begins to move with the deliberate steps of no less than seven caribou. Dall sheep ascend cliff faces in their nonchalant way, defying gravity. And of course, everyone is charmed by the cuddly-looking grizzly bear searching the brush for food.
After being immersed in the earth for three long days, where the nights come and go quickly, it's time to make my way to the water — for the cruise part of my Alaska cruise.
THAT MOMENT IN DENALI WHEN…
…I remember what camp was like.
I didn't expect to see fire pits on the trip, even on a Land+Sea Journey, but they represent the essence of Denali Square — the scenic "town center" at Holland America Line's McKinley Chalet Resort in Denali National Park. When I was a kid in day camp, with the occasional overnight, we had to build our own fires. But Denali Square is all about rustic-luxury. When I start toasting marshmallows for my s'mores, I do so with a proper cocktail, the American Trilogy, crafted with Alaska-made spirits.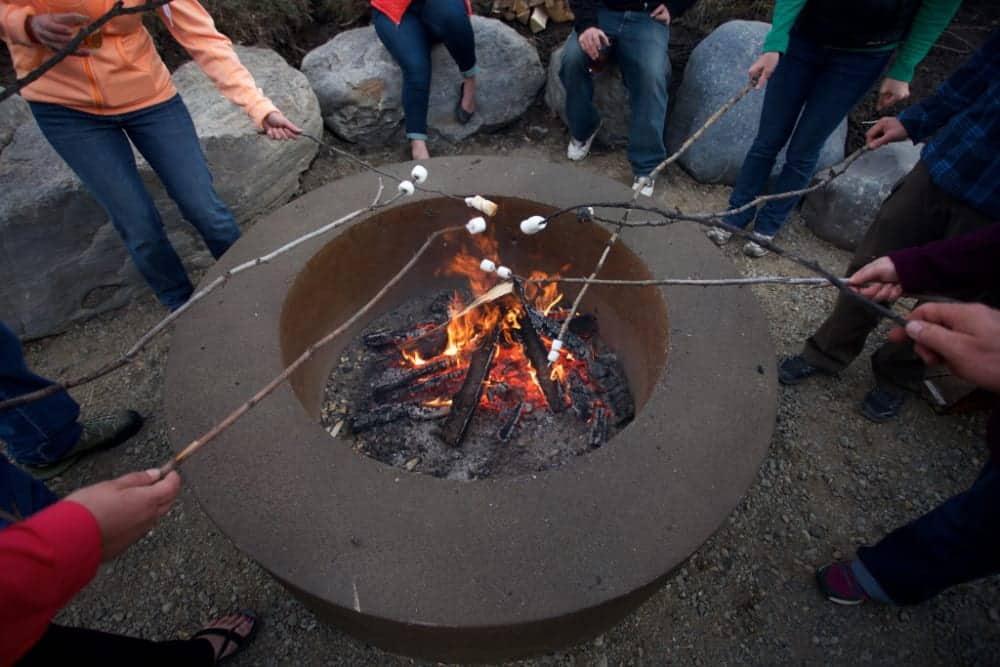 This dual indulgence tops off my meal at Karsten's Public House: deviled eggs, fried oysters, brisket smoked on alder (the wood has a sweet, delicate aroma) and, of course, corn on the cob. I wander Denali Square's boardwalk, poking around fur rugs and local art in shops with names like Old Sourdough Studio and Three Wise Guys. The singer/guitarist Justin Hinson is strumming soft pop and Seventies folk songs. The tunes waft in on the gentle evening. That reminds me of camp, too.
—
If you're looking to take an Alaska Land+Sea Journey, the 15 options range from nine to 18 days and are in two distinct series with cruise-first or land-first choices: Yukon+Denali Land+Sea Journeys and Denali Land+Sea Journeys. Each Land+Sea Journey combines a three-, four- or seven-night cruise with a one-, two- or three-night stay at Denali National Park. Guests are immersed in Alaska history and culture with visits to places such as Whitehorse and Dawson City, Yukon; Fairbanks, Alaska, the gateway to the Arctic; and Alaska's five-star Alyeska Resort. Check out the 2019 options on Holland America Line's website.

Drew Limsky is the founding editor-in-chief of Holland America Line's award-winning Mariner magazine and currently is a contributor to the publication, making him an ideal writer for Holland America Blog. As a travel journalist for outlets including The New York Times, Drew quickly realized that destination writing not only was a way of experiencing beautiful places, but also a way of meeting people from all over the world and hearing their stories. Drew broke into journalism as a book reviewer for The Washington Post and an op-ed writer for The Los Angeles Times.