The Best Alaska Fishing Trips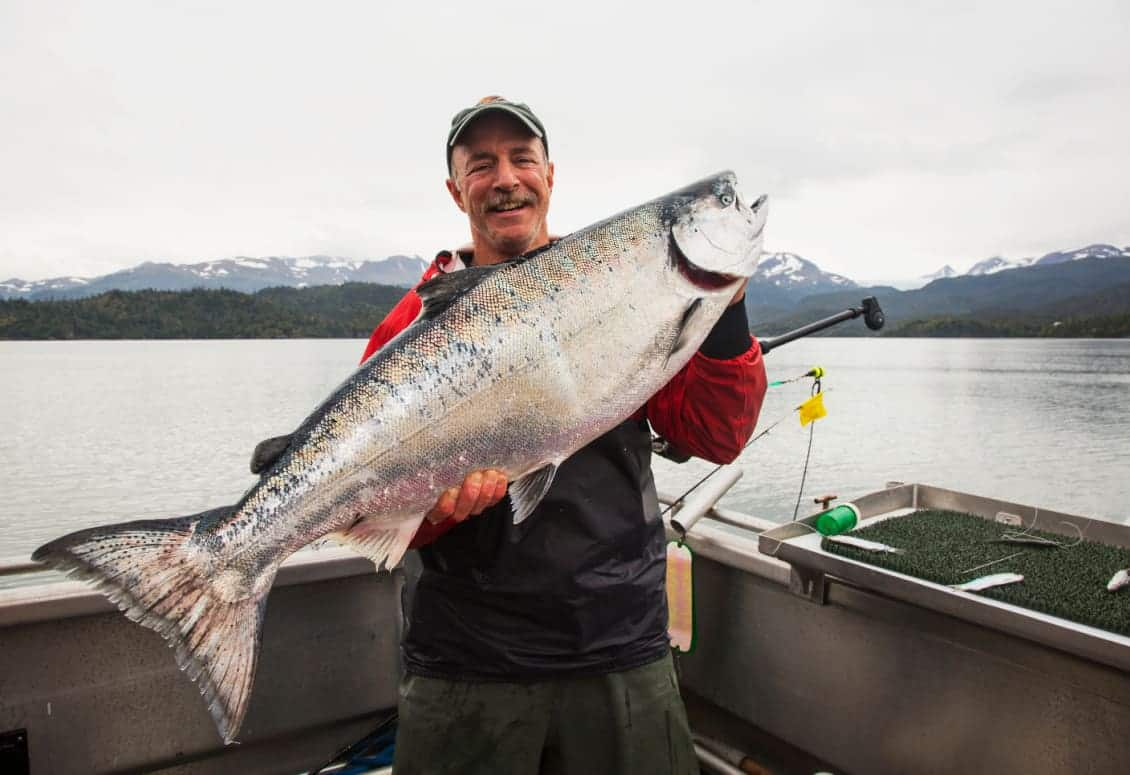 Alaska's pristine waters teem with tasty fish. Whether you want to reel in a king salmon or try your hand at crab fishing, the Last Frontier is the place. Alaska fishing trips make it easy by providing the gear, some sage advice, and the ability to buy a fishing license. On select adventures, you can have your catch prepared and served alongside local sides like warm sourdough bread. Custom packing and shipping is also available.
Holland America Line offers a wide selection of fishing tours in the ports we visit, so you can select the type of fish and method of fishing that best meets your needs, with the most beautiful backdrop of glistening waters and snow-capped mountains. Which tour would you pick?
Salmon Fishing in Alaska
In search of salmon? You've come to the right place. Alaska is renowned for salmon fishing and during peak run, the rivers and streams are packed (quite literally) to the gills. The five major species of wild salmon fill Alaska's sparkling waters—king, sockeye, coho, pink and chum—between May and September. Coho (silver) salmon pack the coastal waters from June through August, peaking for a month starting in mid-July. Sportfishing charters typically depart around 6:30 a.m. and return between 5 and 6 p.m., though half-day options are available.
Alaska Fishing & Wilderness Dining: In Partnership with Food & Wine Magazine
Ketchikan

Perfect for serious fisher-people and for families seeking a personalized tour, this shore excursion is customized for your interest and fishing skill level with just six guests per boat. The light tackle used ensures that even average-sized fish are exciting and rewarding to bring aboard. Board an open-air skiff and glide into a breathtaking landscape of secluded locations, ideal for wildlife viewing and remote fishing. With your custom light tackle, you'll experience the thrill of angling for numerous bottom fish species and whichever of the five Pacific salmon species are in season.

At a wilderness campsite, a crackling fire awaits. You'll settle into the stillness of the rain forest, rest on a beach log, and breathe deeply among centuries-old spruce trees and fragrant cedars. A wilderness dining chef celebrates the group's catch with a meal featuring the fish you just caught. Depending on your catch, you might dine on bottom-fish served atop a saffron-infused bouillabaisse, or salmon grilled over the fire in true Alaska fashion. Enjoy fire-warmed sourdough rolls, rhubarb-blueberry bread pudding and a steaming mug of coffee or hot chocolate.
Halibut Fishing in Alaska
The Pacific halibut is one of the most sought gamefish found in Alaska waters. They can grow huge, sometimes over eight feet and swim on their sides. Nicknamed "barndoors" because of their heft, Pacific halibut are packed with deliciousness. One of the best halibut fishing areas in Alaska is Icy Strait Point, where you are taken via cruiser to a scenic local spot to drop your line.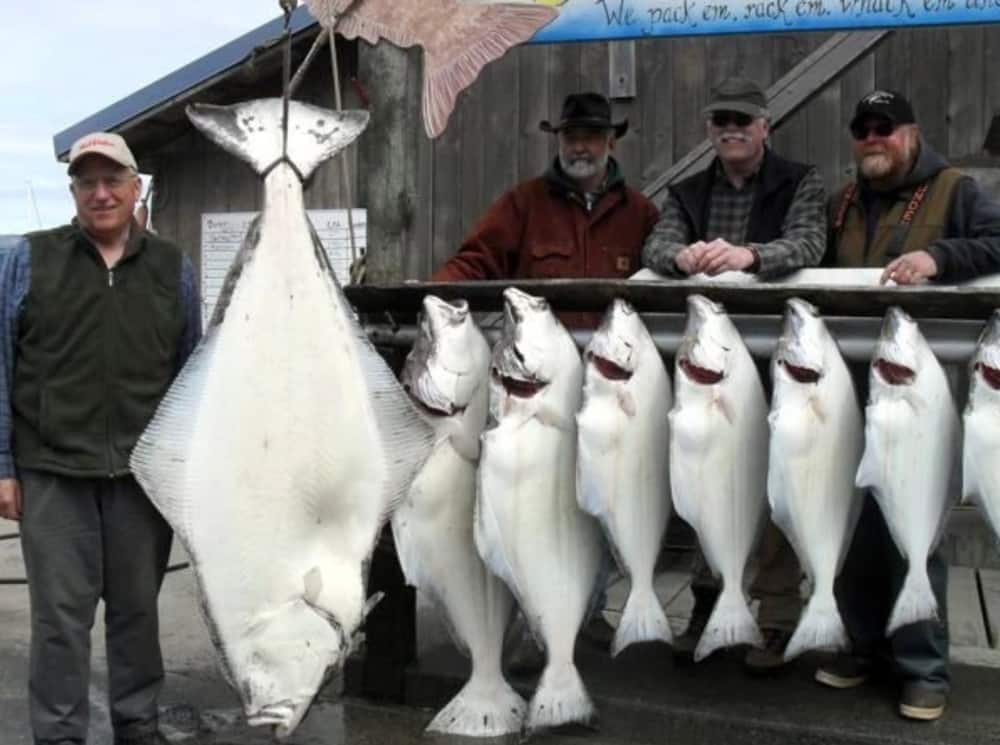 Halibut Fishing
Icy Strait

Live your own 'big fish' story. Board a modern cabin cruiser as you embark on the ultimate fishing excursion to the rich waters of Icy Strait. Following a brief orientation, drop your line as your local guide searches for one of the hottest fishing spots known only to locals. The waters of Icy Strait are teeming with halibut, making angling conditions ideal. Icy Strait is known for its abundance of marine life and brilliant photo opportunities.

Catch a fish? Now enjoy every bite, perfectly prepared by our expert chefs and served to you on board your ship. Our ""Savor My Catch program is a true ocean-to-fork experience and is available with this fishing adventure.
Fly Fishing in Alaska
Whether you're a seasoned fisher or an absolute novice, Alaska fly fishing connects you deeply with nature. Take a classic floatplane to a quiet stretch of water—chosen by an experienced guide based on current conditions. With rod in hand, you'll discover the pleasure of fishing in Alaska's wilderness. If you're a first-timer, look for a trip with hands-on instruction—though even the more experienced can benefit from tips.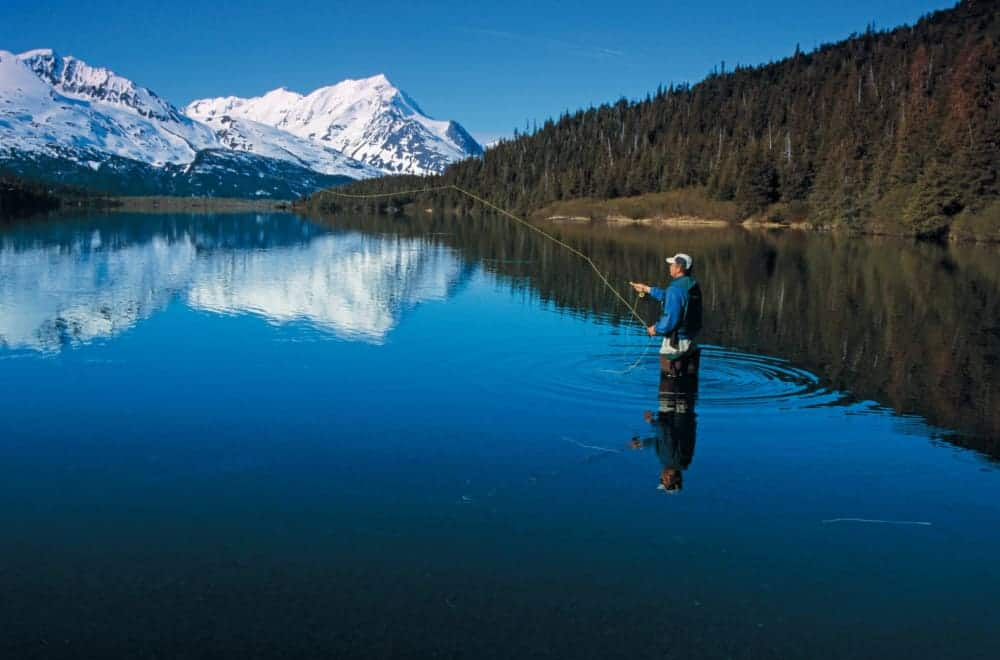 Alaska Remote Fly Fishing
Sitka

Experience fly fishing on a remote Sitka river, accessed by custom-built aluminum runabout. This mode of transportation ensures easy access to the riverbank and a fast, comfortable ride. Depending upon what river your guide decides is best to fish on the day, you will have time to hike, wade, explore and fish on this six-hour excursion. Fish for species that are in season — steelhead, salmon, trout, and char could be running. Dolly Varden are available when there are salmon in the rivers. All wading and fishing gear is provided, along with snacks, beverages and a shoreside lunch. You'll return to the ship totally hooked on remote Alaska fly fishing.
An Alaska fishing trip is a blast from start to finish. Bond with fellow adventurers. Feel at peace with nature as you wait for that telltale pull. Book Alaska cruises to experience the best fishing in Alaska.