Noordam Emerges from Drydock with Music Walk's Billboard Onboard and Upgrades Throughout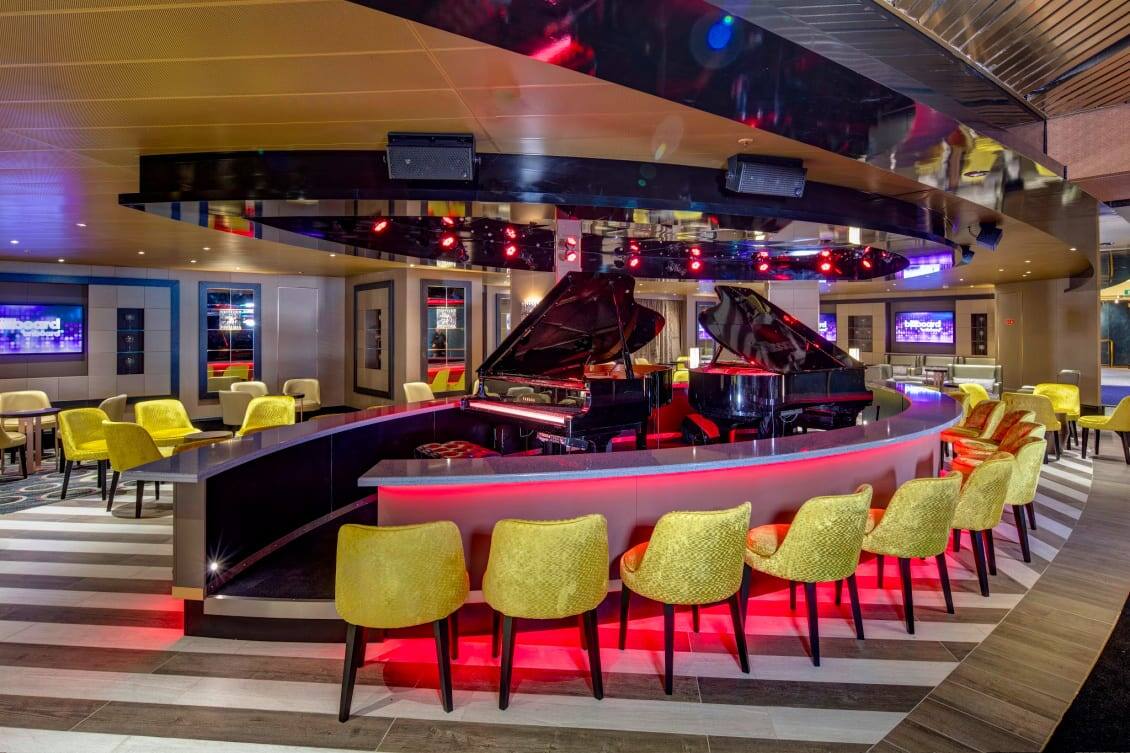 When Noordam re-entered service last month following a scheduled 14-day dry dock, the ship had received a refresh and several upgrades as part of a $300 million brand enhancement initiative.
The most notable new additions are Billboard Onboard to the Music Walk area and Fujifilm Wonder Photo Shop where guests can create mementos from their photos, along with upgrades to Pinnacle Grill, Explorations Café, Greenhouse Spa, Dining Room and the suites.
Music Walk Expands with Billboard Onboard
Noordam guests have more live music options than ever before with the addition of Billboard Onboard, which joins the wildly popular B.B. King's Blues Club and Lincoln Center Stage in the Music Walk area. Billboard Onboard — in partnership with Billboard, the leading global destination for charts, news, trends and innovation in music — features the talents of two pianists playing 50 years of chart-topping hits.
Suite Accommodations Just Got Sweeter
Noordam suites received the upgrades that are rolling out on the line's Signature-, Vista- and R-class ships. The main living area in each suite was refreshed with new furniture, carpet, wall coverings and soft goods. Electronic upgrades included a new USB outlet added to the bed's headboard, bedside LED reading lights, upgraded electrical outlets and a lighted closet rod. Suite bathrooms received designer glass tile and a refreshed vanity area. All staterooms received new verandah furniture and new sofa beds were installed in staterooms with that sleep option.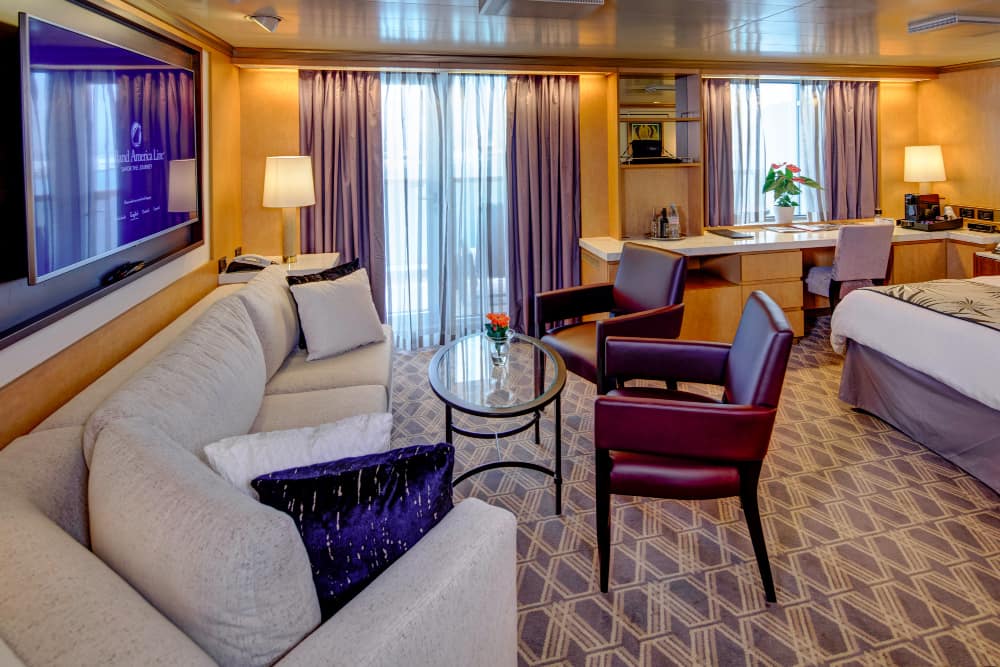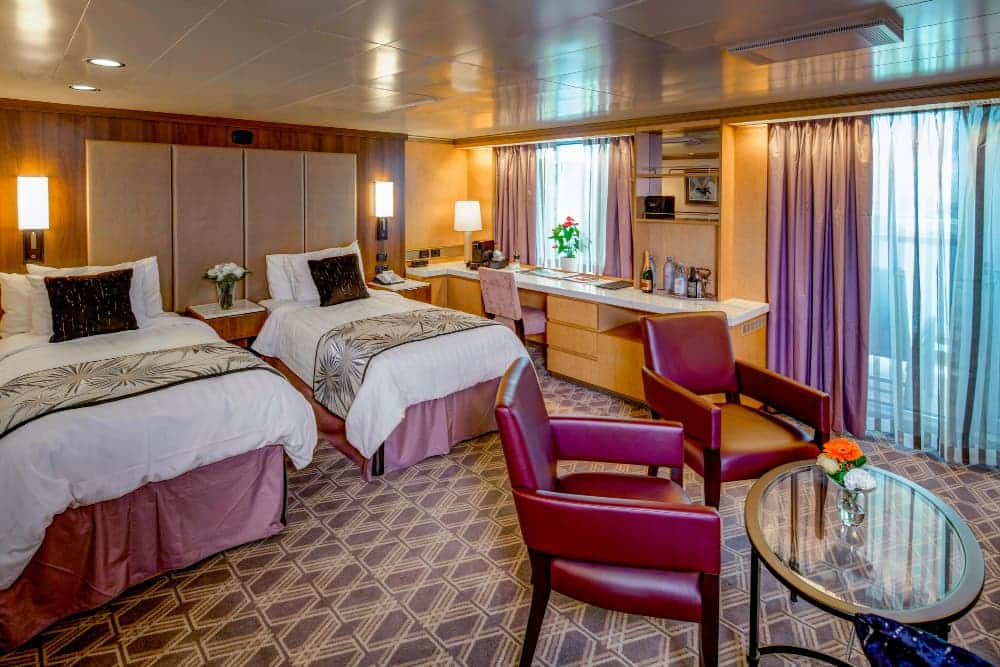 New Interactive TV with On-Demand Movies
A new interactive television system was installed in all staterooms, featuring large LED flat-screen TVs with complimentary movies on demand as well as easy access to the daily program and shipboard information including restaurant overviews, spa services and account status.
Fujifilm Wonder Photo Shop
Guests can now create unique photo mementos and gifts at the new Fujifilm Wonder Photo Shop. Using photos taken by guests or the shipboard photographer, the new Fujifilm Wonder Photo Shop makes it easy to design mounted 3-D photos, keepsake boxes, metal panel prints and more.
Upgrades to dining venues, bars, lounges and other public areas:
• Pinnacle Grill and the Pinnacle Bar have a fresh look with new furniture, carpet and design details.
• Sports Court was converted to a Pickleball Court where guests can join a fun and fast-paced racquet sport on the open-air count.
• The Dining Room received new furniture, carpet and soft goods; new chairs and tabletops were installed in Lido Market; and the Neptune Lounge has new furniture, carpet and a bar.
• Explorations Café was upgraded with new carpet and furniture and Microsoft Studios was added to the venue?.
• Gamers can look forward to playing new slot machines and tables at the Casino.
• Guests looking for a bit of pampering can indulge in upgraded treatment rooms and an enhanced hydropool at the Greenhouse Spa, while fitness enthusiasts will appreciate upgraded gym equipment and floors.
Noordam is scheduled for another dry dock in Nov. 2022 to further enhance the ship with the addition of Gallery Bar, a venue with an eclectic and whimsical mix of artwork including portraits, landscapes, still-life paintings and abstract pieces; High Score!, a new family game room with a video arcade, Skee-Ball, four-player air hockey, foosball table, board games, tilting labyrinth and more; and Explorations Central in the Crow's Nest, a comprehensive resource and engagement center.