My Mediterranean Cruise: 'Rome: My European Home'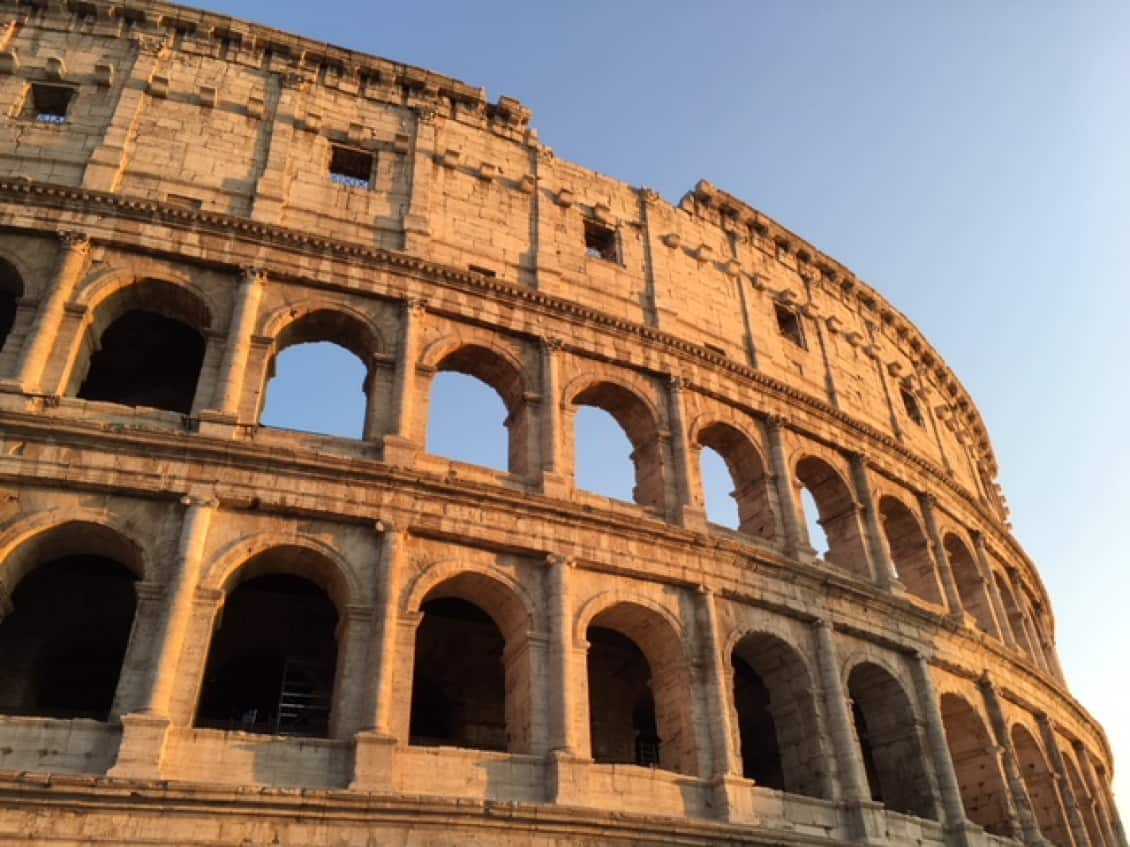 When I visited Rome for the first time, in order to avoid feeling overwhelmed, I did all the research, devoured all the guidebooks, all the websites (it was also my first European trip, so the pressure was really on). The result of all this prep work was a set-in-stone, absolutely-can't-miss list of five iconic Roman sites: the Colosseum, the Spanish Steps, the Trevi Fountain, the Pantheon and Piazza Navona. This turned out to be a good plan. I walked everywhere and fell in love with the city that would become my favorite in Europe, the one I return to every year. I not only made it through my list, but acquired new personal touchstones in the Eternal City.
Most of these added attractions indulged my passion for fountains. And there's no better place than Rome, I learned, to enjoy fountains (even the little sculptural fountains you can drink from). Triton's Fountain in Piazza Barberini — its powerful sea god raising a conch to his lips — helped to orient me in the Centro Storico (Historic Center). Then there were the Four Fountains that nodded to each other at the intersection of Via delle Quattro Fontane and Via del Quirinale — they were small, but magical. The Fountain of Moses, not far from the Termini train station, boasted stone lions lounging beside four aqua basins, all lorded over by a thrilling statue of Moses. And finally there was the dramatic and sensual Fountain of the Naiads, which commanded the broad ring of traffic around the formidable Piazza della Repubblica.
I entered every church I saw, marveling not only at their gorgeous frescoed ceilings, but also at the fact that you would never guess that such expressive, colorful splendor was secreted behind stately stone walls and wooden doors. I couldn't get enough. And when it was time to move onto another city, I was actually tearful.
Since then, I've returned to Rome with my father, my brother, and with close friends. I've also been there alone, and I've been there with a group on a Holland America Line cruise. I've been to Rome to write about it and I've been there for pleasure. And I've been to Rome, tacked on to other European trips, just because I couldn't deal with being in a nearby country and not checking in. And my original list still informs every visit.
Piazza Navona is my base. This is where I feel most at home, in Rome's living room. The space was originally a stadium from the 1st century AD, and the piazza still adheres to an oblong shape. (Tip: The piazza's flat end is to the south, and the curved end is to the north. Remembering that saves a lot of time.) Bernini's Fountain of the Four Rivers lies in the middle, and it's both an extraordinary work of art and an easy central meeting place — it would be hard to miss the enormous river god Ganges seated under the granite obelisk.
I typically have a seat at Tre Scalini on the west side of the piazza, and when Roman friends tell me that eating right on the piazza is too touristy (Romans say "touristic"), I promptly ignore them. Ever since the chef at Tre Scalini made me perfect ravioli with red sauce at 10 in the morning, my love for their version of that well-known dish has been well-known to the staff. I come in and they prepare for me a special walnut raviolo (big, single and subtle-tasting) that's not on the menu.
Yes, we're going there: food. I venture behind Piazza Navona and locate Ristorante Santa Lucia, with its lush terrace discreetly set in a little triangle near the ivy-covered Hotel Raphael (great for a rooftop bellini). The restaurant was made famous in Eat, Pray, Love when Julia Roberts dines with some Italian friends and they discuss which word best encapsulates Rome. It becomes famous for me when an adept waiter shaves a black truffle over my al dente pasta.
I find my way to the impossibly flawless, 2,000-year-old Pantheon, which is destined to appear different upon every visit: The shaft of light beaming through the oculus at the top of the dome hits the interior in a unique place every season, every month, every minute. The Spanish Steps and its grandly elegant piazza brings to mind a key scene near the climax of The Talented Mr. Ripley. And the Trevi Fountain looks more sparkling than ever after a restoration in 2015. All three are within walking distance of Piazza Navona, but you'll work up a post-lunch appetite just from soaking up the sun and the atmosphere.
This is where thin Roman pizza comes in — the dough is like a big, round cracker. For this light style of pizza, my friend Umberto suggests Lo Zozzone. Even though it's near Piazza Navona, it meets with his approval because it's tiny — outside, there are just two or three tables — and he swears the pizza is among the city's best. And he raves about the gelato at Grom (north edge of Piazza Navona), and when I tell him I've had Grom in the U.S., he insists that it's different — and much better — here.
I let Umberto and Grom persuade me. The brand is serious, small-batch gelato — the metal canisters set into a marble countertop telegraphs that. I order the cioccolato extranoir and the pistacchio (because you must sample the Italian pistachio), and find that Umberto is right. Always ask a local.
No tears this time. I know I'll be back.
THAT MOMENT IN ROME WHEN…
… I am renamed.
I've had several guided tours of the Colosseum (70-80 AD). The iconic structure, a highlight of any European cruise that has Rome on the itinerary, begs for one. I learn about the recreated sea battles, where the animals were kept, how the famous ruin languished as squatters' apartments, and the days in the 1970s when there was no entrance fee, or even a gate. But I recall one gregarious guide giving everyone on our tour a Roman name, and the one he bestowed on me was Drovius. I found it especially gladiatorial.

Drew Limsky is the founding editor-in-chief of Holland America Line's award-winning Mariner magazine and currently is a contributor to the publication, making him an ideal writer for Holland America Blog. As a travel journalist for outlets including The New York Times, Drew quickly realized that destination writing not only was a way of experiencing beautiful places, but also a way of meeting people from all over the world and hearing their stories. Drew broke into journalism as a book reviewer for The Washington Post and an op-ed writer for The Los Angeles Times.