My Mediterranean Cruise: Pizza and Pompeii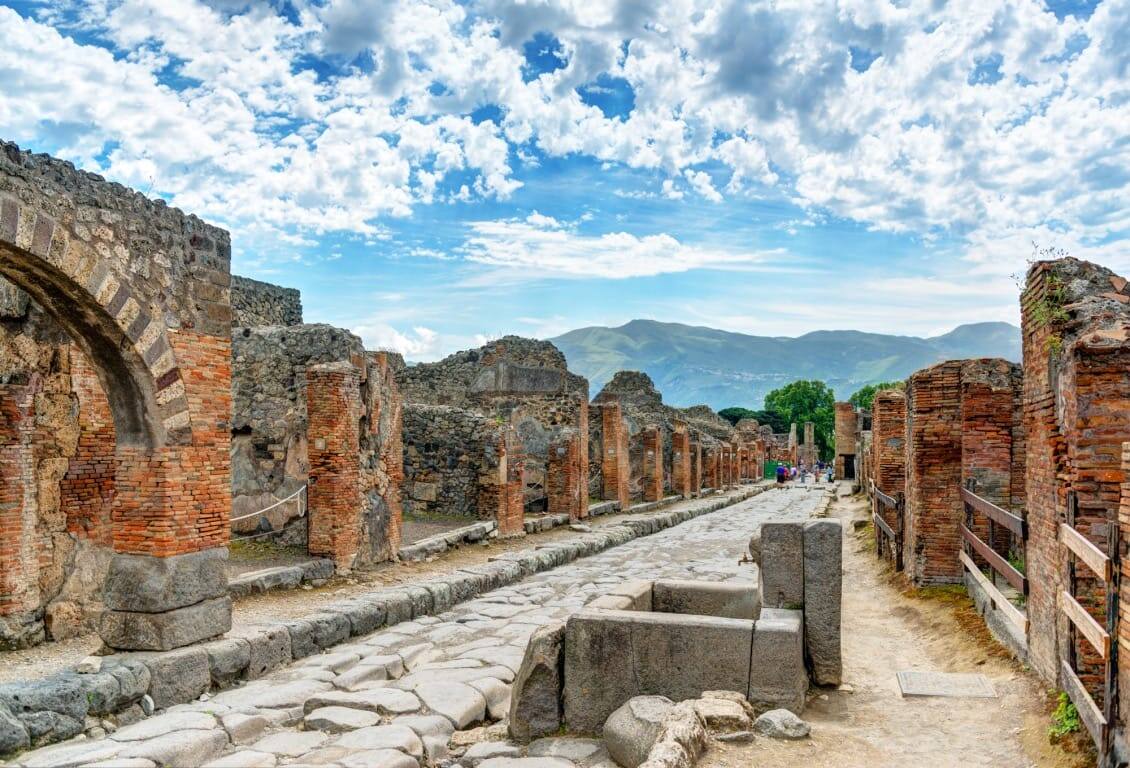 Pizza is serious business in Naples, and serious business to me. The oft-told story — about Naples, not about me — goes like this: In 1889, to celebrate Queen Margherita's visit to Naples, a Neapolitan pizzaiolo was commissioned to create a special honorary pizza. The Queen loved it. That's the origin story of the pizza Margherita, the single serving-size variety in the colors of the Italian flag (made with tomato, mozzarella and basil). True Neapolitan-style pizza is rustic and blistered on the edges, with a satisfyingly chewy crust. It is not as thick as the New York-style "by the slice" pizza, but not thin like some "gourmet" cracker-style pizzas. It is just right.
To visit Naples, indeed the region of Campania in general, without sampling the pizza would be a sacrilege. So I grab my dad and my friend Vincent and disembark Nieuw Amsterdam early; everyone else in our dual-family European cruise group is sleeping in. First we head down to Sorrento for some sea and sun. Here, because there's very little sand, the spiaggia (beach) is composed of a series of leisure piers both perpendicular and parallel to the coast. There's Peter's Beach, Marameo Beach, Leonelli's Beach, and in typical Italian fashion, colorful lounge chairs and umbrellas are ready for hire.
We will swim for sure, but first Vincent and I are on a mission: We happen upon a restaurant set on an open deck overlooking the Mediterranean. It is just before 11 a.m., and no one is seated. We approach the host, who is barely ready to open the place for lunch. He asks if we want breakfast. We tell him no, that we want pizza.
My father's comment: "Pizza in the morning?" Um, yes! We're in Campania.
Vincent and I order a Margherita and something more complicated. My father peruses the menu. Minutes pass. Then he ends up ordering a cheese and tomato panini — not a pizza, too early for pizza — which sends Vincent and I into giggles.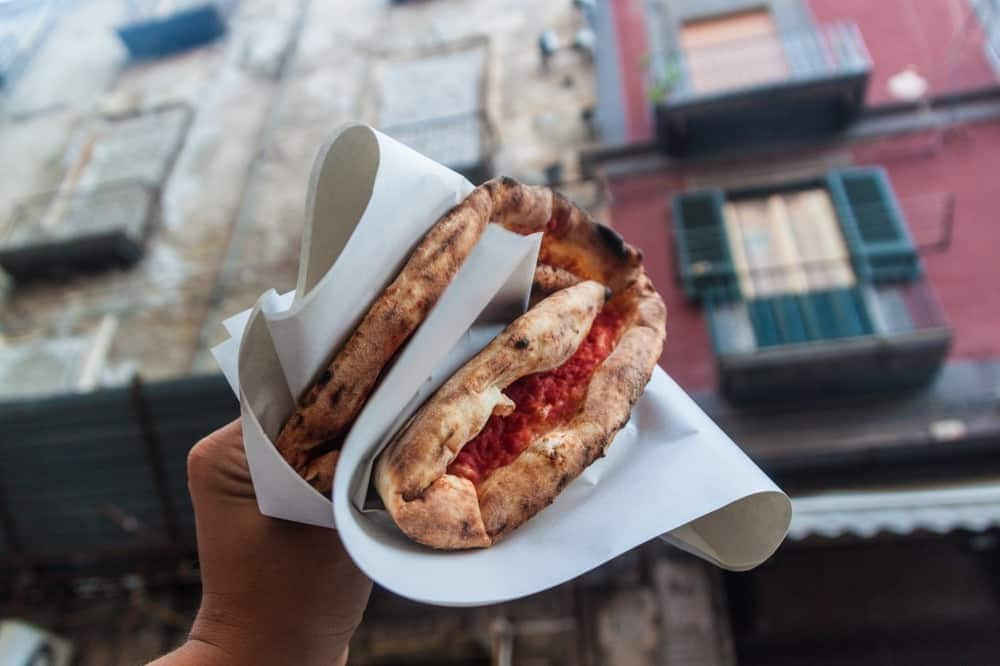 Our pizzas arrive, breaking the anticipation. Every American city and town has its own take on Neapolitan pizza, but there's nothing like the real thing. The tomato sauce is so tangy and sweet, the cheese has such a wonderful texture and subtle taste, and the crust is so earthy. And in Italy, it costs a fraction of what is costs in America. At this lovely place by the sea, it is five or six euros.
We rent some chairs and swim for a while. It's May and a bit brisk but the water is shimmering and clear and I love it. We shop for crafts. Sorrento's trees are flowering and the scene is gorgeous. My father could stay all day, but Vincent and I have other plans: Sorrento's pizza qualifies as the opening act. Naples pizza would be the main event. We drop my dad off back at Nieuw Amsterdam and we walk for about 20 minutes. The city, which is a UNESCO World Heritage Site, looks like a movie set, with its imposing Baroque and Renaissance buildings. There are two pizzerias on my list: da Michele, which I love and was featured in the movie version of Eat, Pray, Love; and Sorbillo, considered by many to be the best in Naples.
We head for the latter, and when we make the last turn, we find ourselves on the famous Via Tribunali, which is lined with pizzerias and other eateries (we sample the arancini—fried rice balls from a street vendor). We fall in love with Via Tribunali: It's narrow and crowded with people enthusiastically gesticulating. Laundry hangs overhead, window to window above us. Some of the exteriors seems slightly charred, like the pizza we're about to eat. This atmospheric scene will prove to be a highlight of our Mediterranean cruise.
Sorbillo is the only pizzeria with a line outside, so we know we've come to the right place. But once we're inside at our little table on the second floor, the Margherita pizzas come out quickly, and they're just as authentic as I want them to be: slightly misshapen, with the bursts of mozzarella laid out asymmetrically. As inexpensive as the Sorrento pizzas were, these are even less at four euros. Shocking. In the states they would be four or five times that.
And they are shockingly good, with a spongy crust that in my hand folds perfectly around the creamy cheese and tomatoes made flavorful from the volcanic soil they're grown in. I'm reminded that true Neapolitan pizza isn't just tasty; it's pedigreed, a Traditional Specialty Guaranteed (TSG) European product. To qualify, it must be made with buffalo mozzarella from local water buffalos and tomatoes grown on the Southern slopes of Mount Vesuvius. Those are rigorous standards to make an iconic meal that is deceptively simple, with just a few ingredients. It's a formula that is the essence of authenticity. We're in gastronomic heaven.
THAT MOMENT IN POMPEII WHEN…
…we discover something "new" in the city of ruins.
Pompeii, like pizza, is a must-do if you're in Naples. It's also a UNESCO World Heritage Site, and one of the most popular attractions in the country. In fact, it's nearly synonymous with the word "ruins," due to the way the city and its people were frozen in time in 76 AD, when a catastrophic eruption of Mount Vesuvius buried everything and everyone. The stone streets, tile floors, the urns preserved in homes — it's chilling. And the ubiquitous graffiti bring the lost humanity to life that brings me up short. The site is dense with excavated "moments" — and also dense with visitors. So I wander away from Pompeii's street grid and cross a grassy area to discover the Pompeii Amphitheater (70 AD).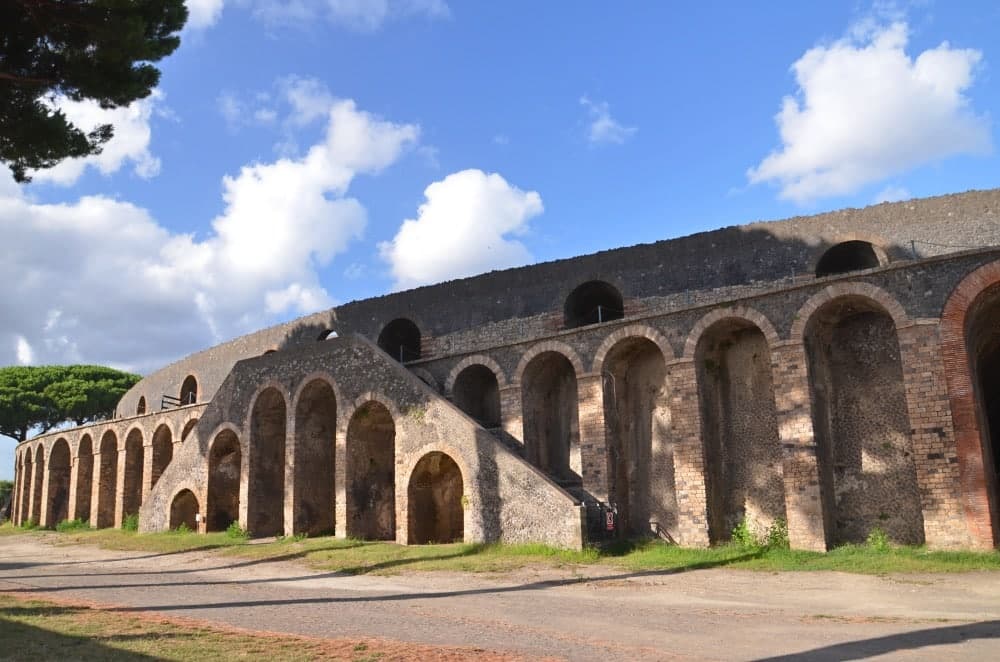 Very few visitors have come this way today, and the scene is still and serene at this remarkably intact stadium, which predates the Colosseum by a century. I stare at the perfect arches that ring its oblong shape. The gladiators fought here, too, but today the ancient scene is sublimely peaceful. I breathe in the Campania air.
If you're looking for the perfect European or Mediterranean cruise, take a look at our summer 2019 itineraries!

Drew Limsky is the founding editor-in-chief of Holland America Line's award-winning Mariner magazine and currently is a contributor to the publication, making him an ideal writer for Holland America Blog. As a travel journalist for outlets including The New York Times, Drew quickly realized that destination writing not only was a way of experiencing beautiful places, but also a way of meeting people from all over the world and hearing their stories. Drew broke into journalism as a book reviewer for The Washington Post and an op-ed writer for The Los Angeles Times.