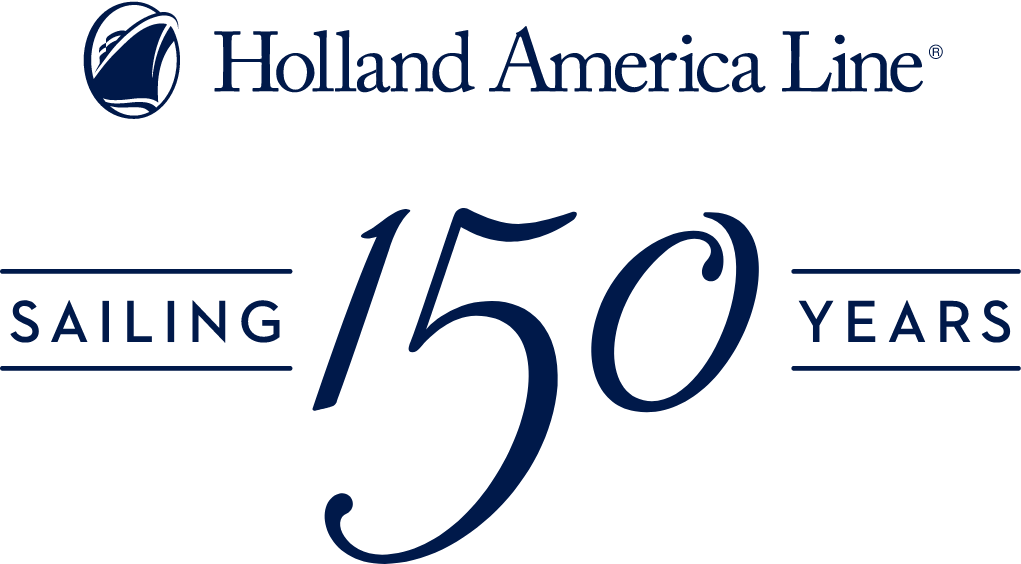 Over the last century and a half, we have transported guests to every corner of the world. Join us as the current carries us through 150 years of Holland America Line.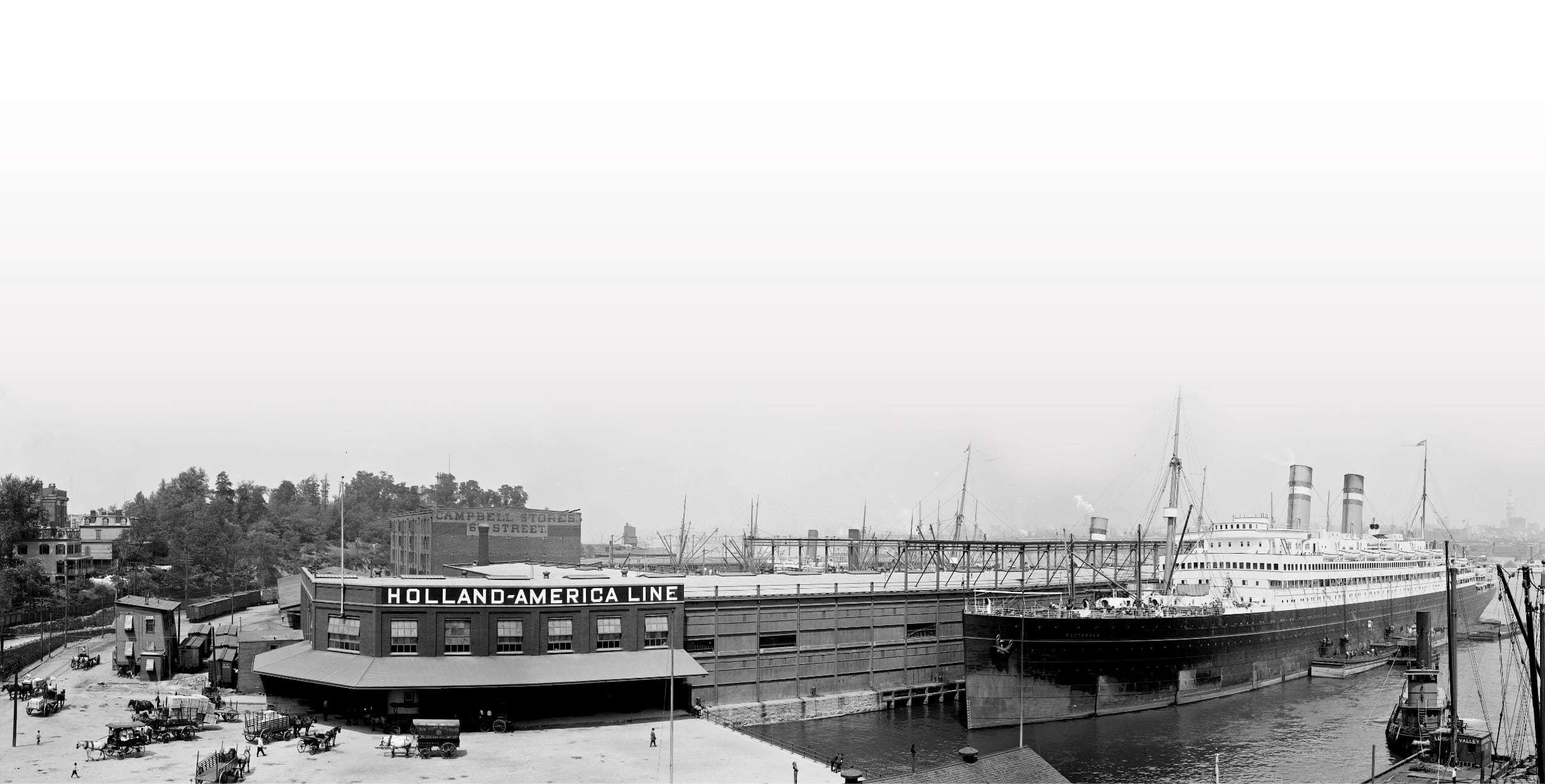 1872
First Maiden Voyage
Rotterdam (I), the company's first ship, sails its 15-day maiden voyage from the Netherlands to New York City. Carrying 70 passengers (10 Cabin Class and 60 Immigrant Class) and 800 tons of cargo, the ship is 269-feet-long, has a 35-foot beam and weighs 1,700 tons. Official capacity is 8 passengers in First Class and 388 in Steerage.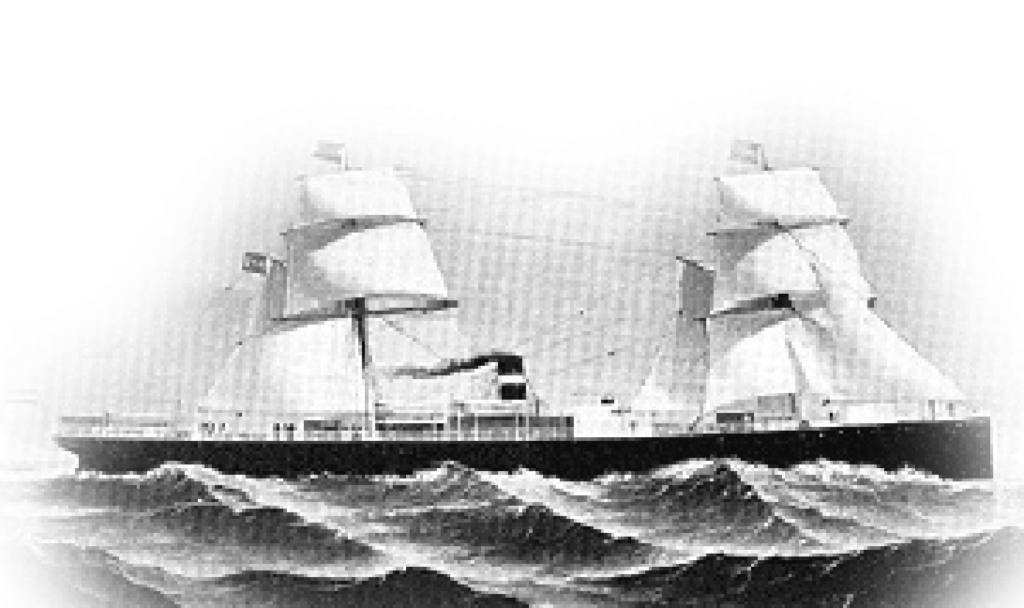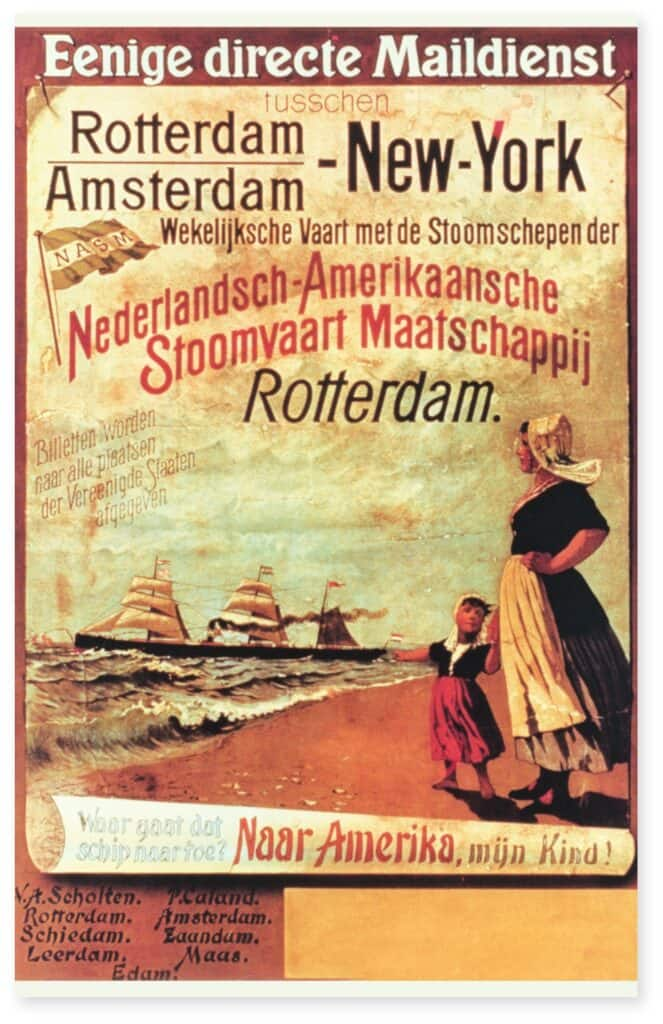 1873
Beginnings: April 18, 1873
Holland America Line (HAL — or Holland-Amerika Lijn) is founded as the Nederlandsch-Amerikaansche Stoomvaart Maatschappij (NASM — Netherlands-American Steamship Company), a cargo and passenger line. The company forms as the result of the reorganization of an earlier company, Plate, Reuchlin & Co.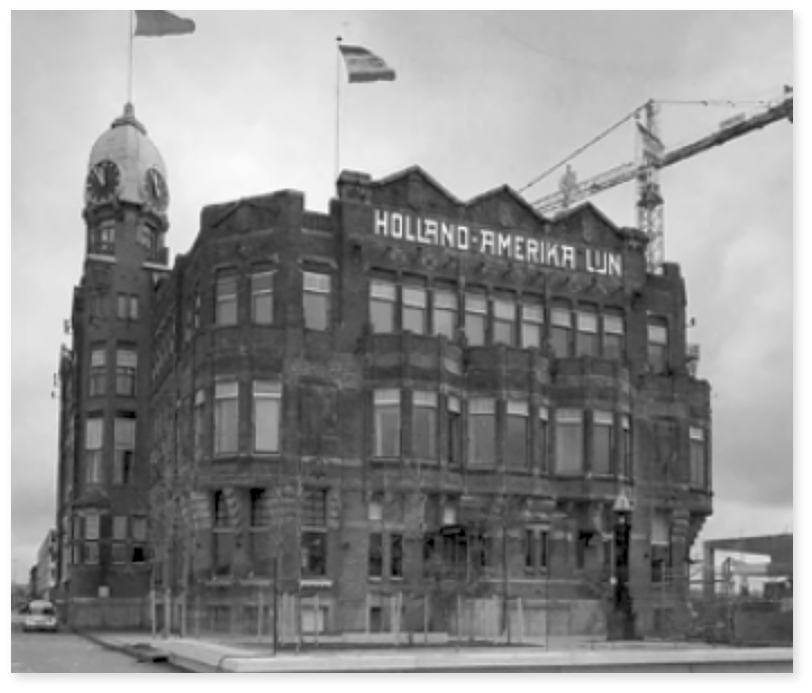 1880
A Passage to the New World
The company is a major carrier of immigrants from Europe to the New World during the massive emigration which takes place from the 1880s to the 1920s. At one point, Holland America Line carried more than 10% of those traveling in steerage from Europe to the New World. As if that weren't impressive enough, the emigrants were treated to three square meals a day served in dining rooms.
ROTTERDAM, the Netherlands — They came from Russia, Poland, Germany and Ukraine, bearing tickets bought in the field offices of the Holland America Line passenger ships. They were fleeing the pogroms, escaping tyrants, running from war or just seeking a better life. About two million people made their way to Rotterdam harbor during the peak years from 1880 to 1920 to begin a trans-Atlantic journey that would often end at Ellis Island.
Excerpt from "From Rotterdam, Many Left for a New Life"
The New York Times, written by Nina Siegal, April 24, 2018
1880
Growth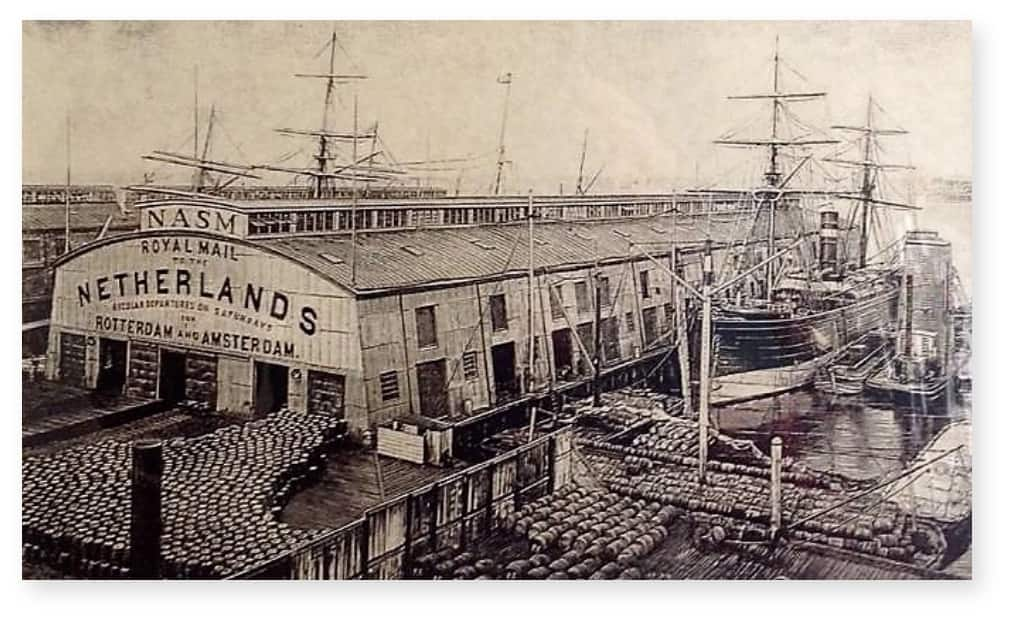 1882: Holland America Line settles down at a permanent pier in Hoboken, New Jersey.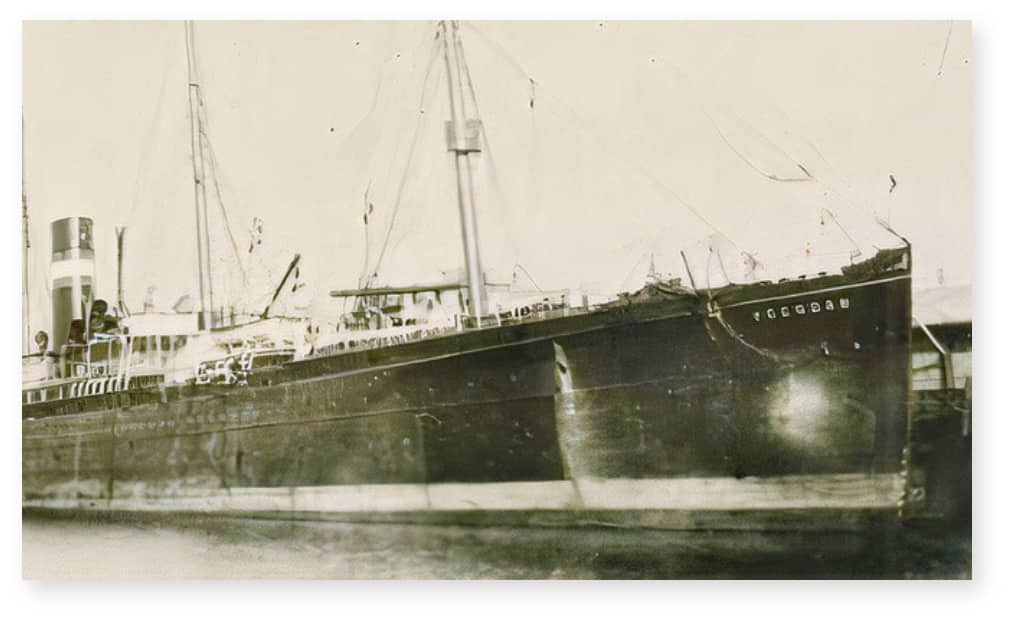 1883: The "dam" suffix is adopted for the names of Holland America Line passenger liners.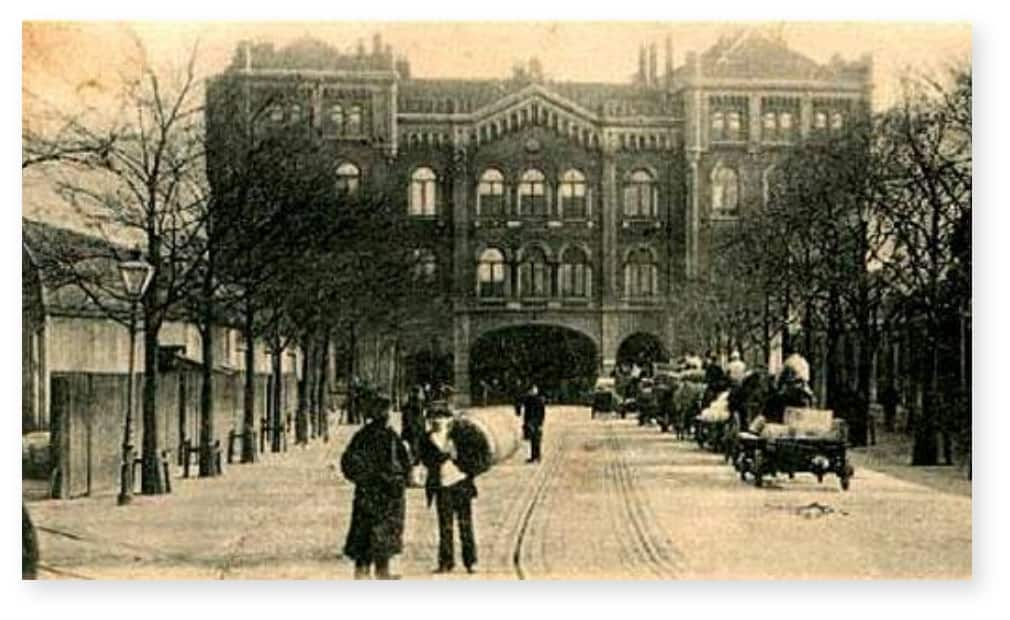 1887: Holland America Line office opens at Prins Hendrikkade 7, Rotterdam.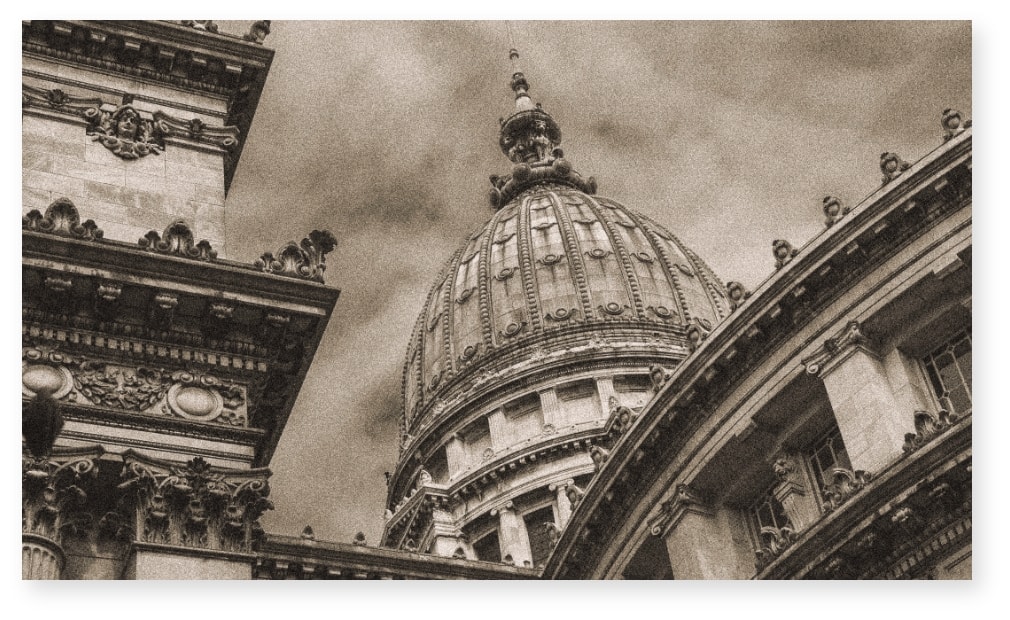 1888: Holland America Line initiates a short-lived Netherlands to Buenos Aires service, cut short due to a revolution in Argentina.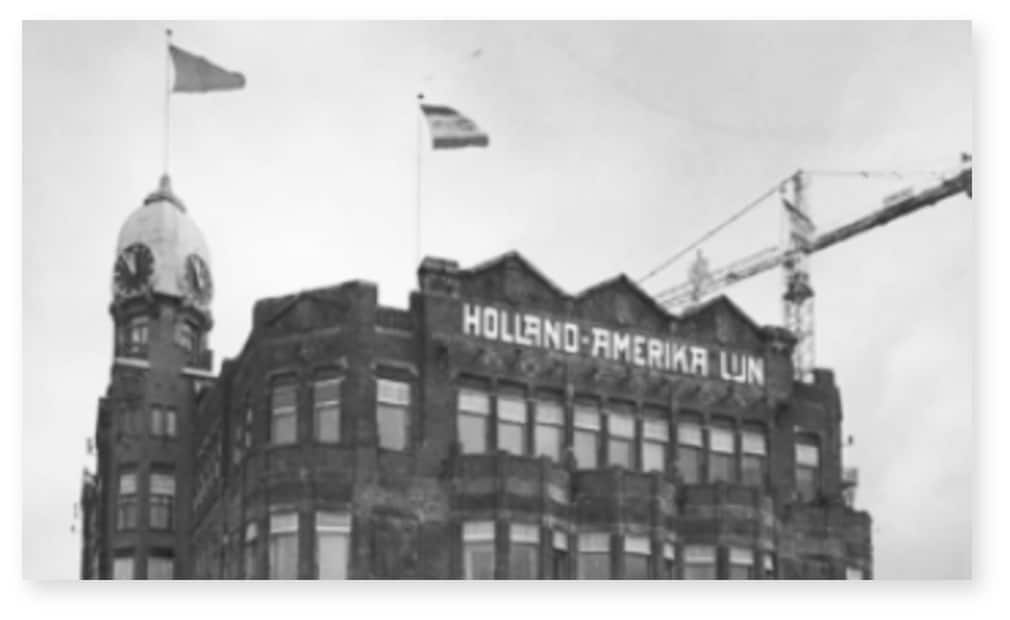 1889: Holland America Line obtains a permanent lease from the Rotterdam Council who had built quays on the south side of the "Maas" riverbank in Rotterdam which soon becomes Prinsessekade, later renamed Wilhelminkade.
1890
Building a Company
1890: Holland America Line purchases a new terminal in Hoboken, New Jersey.
1895: The 3,300-ton Rotterdam (II) sails the first Holland America Line cruise — a short summer voyage from Rotterdam to Copenhagen and back — to the opening of the Kieler Canal.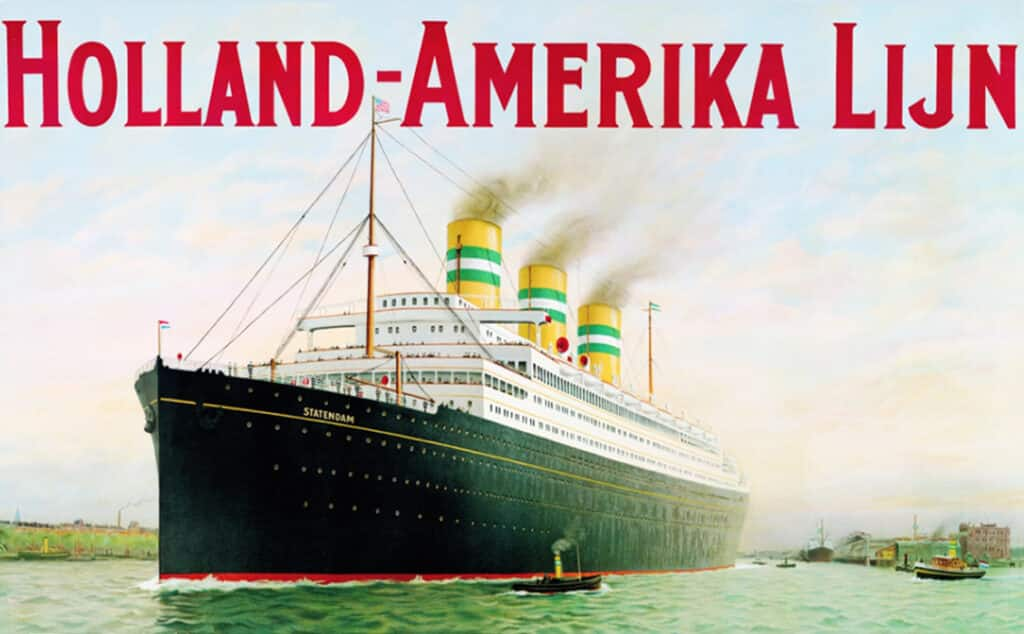 1896: Nederlandsch-Amerikaansche Stoomvaart Maatschappij (NASM — Netherlands-American Steamship Company) officially becomes known as Holland-Amerika Lijn (Holland America Line).
1898: By its 25th anniversary, Holland America Line owns six ships and has carried 90,000 cabin passengers and 400,000 steerage passengers, along with 5 million tons of cargo, mostly flower bulbs, herring and gin.
1898
Funnel Color Change
In 1898, Holland America Line changes the funnel colors of the company's fleet from a black painted funnel to a yellow funnel, retaining the company color bands of green, white, green.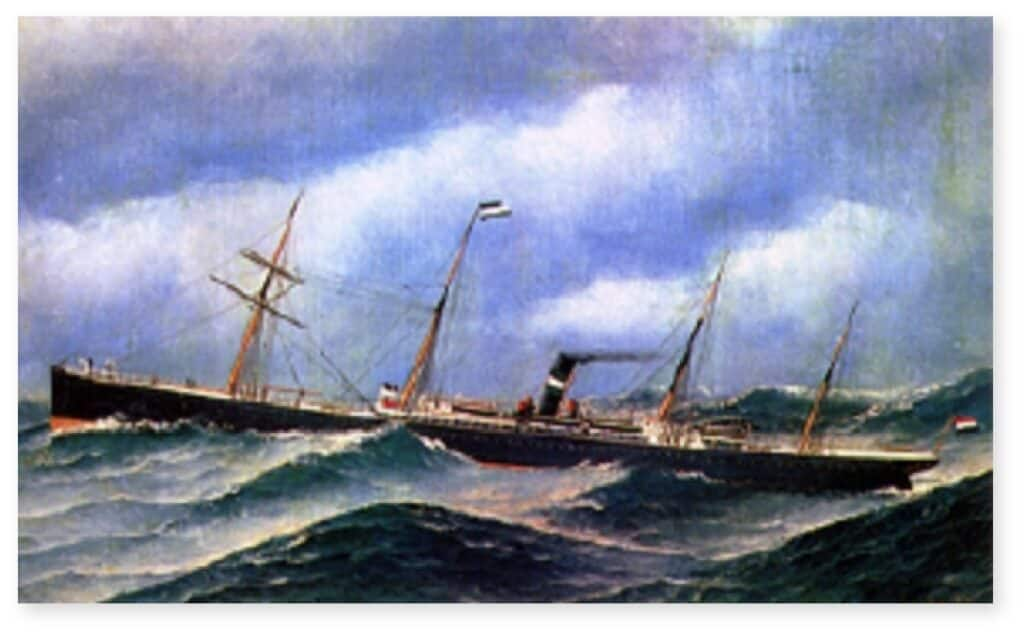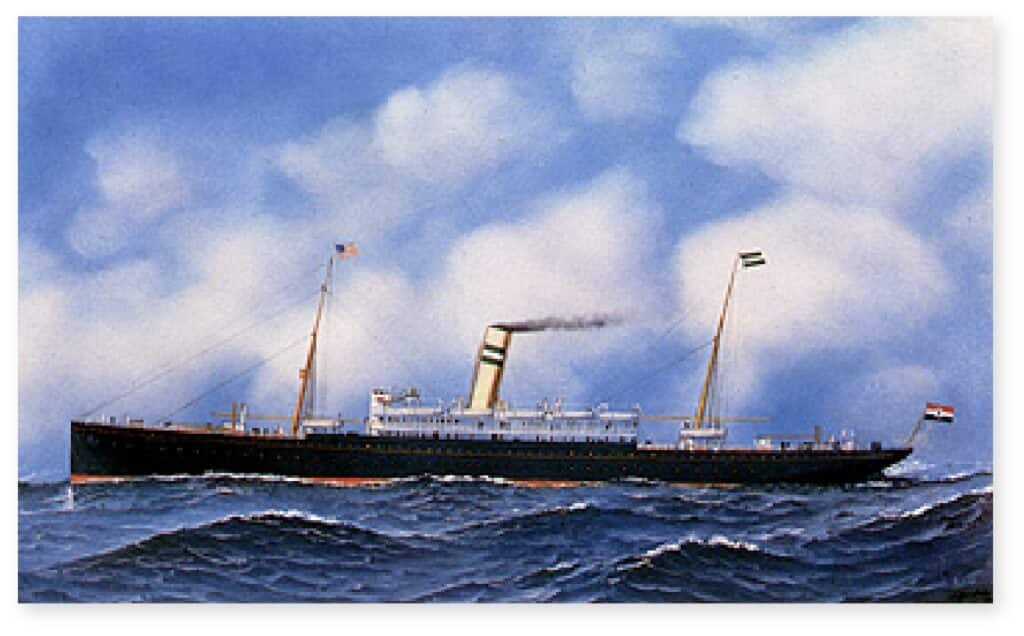 1900
Dawn of a New Millennium
1900: Passenger ships within the Holland America Fleet have the suffix "dam" and cargo ships use the suffix "DIJK/DYK."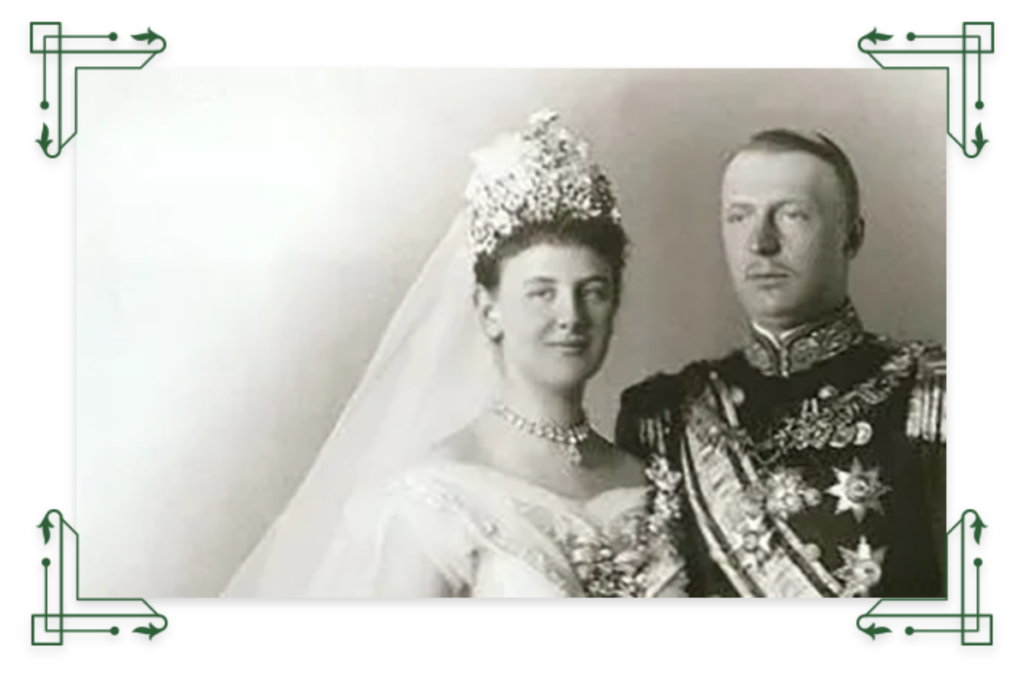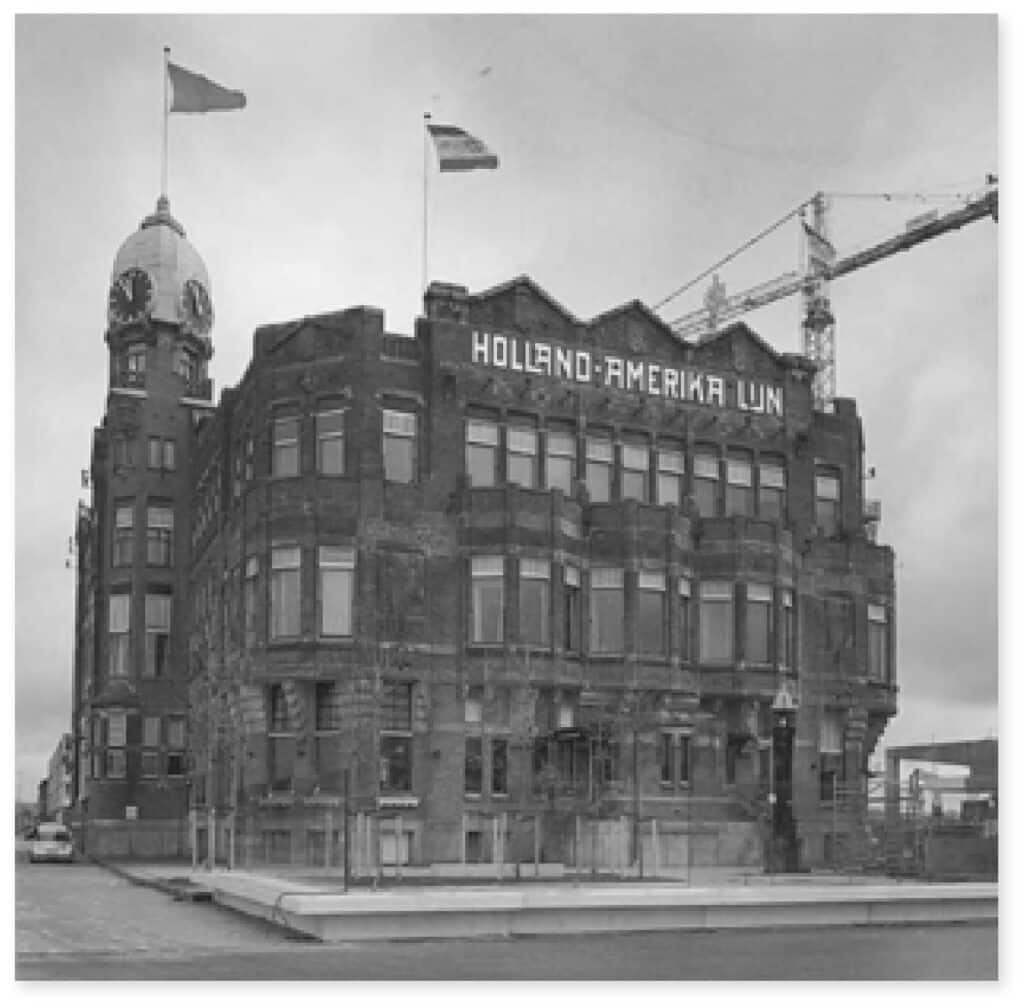 1900
Homage to New York and a New Flagship
1906: The Nieuw Amsterdam (I) is added to the company's fleet. Named after New York's original name, when it was still part of the Dutch colonies, the ship carries 440 first class, 246 second class, 1,078 third class guests and 1,284 more passengers in tweendecks. Nieuw Amsterdam measures nearly 17,000 grt and consequently ranks as number ten on the world list of large merchant vessels.
1908: Rotterdam (IV) enters service as the company's flagship.
Rotterdam (IV) is the first transatlantic ship with a glass enclosed Promenade.
1910
Cargo and Pleasure Cruises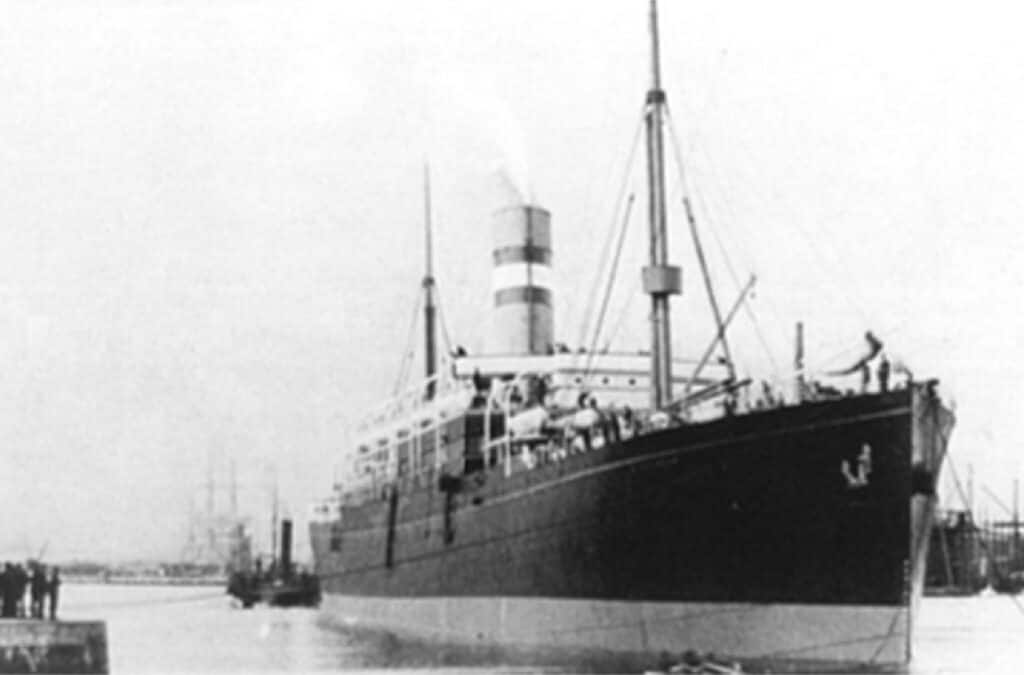 The second Holland America Line cruise (and its first "pleasure cruise") departs from New York via Rotterdam to the Mediterranean and the Holy Land on board the 10,500-ton Statendam (I).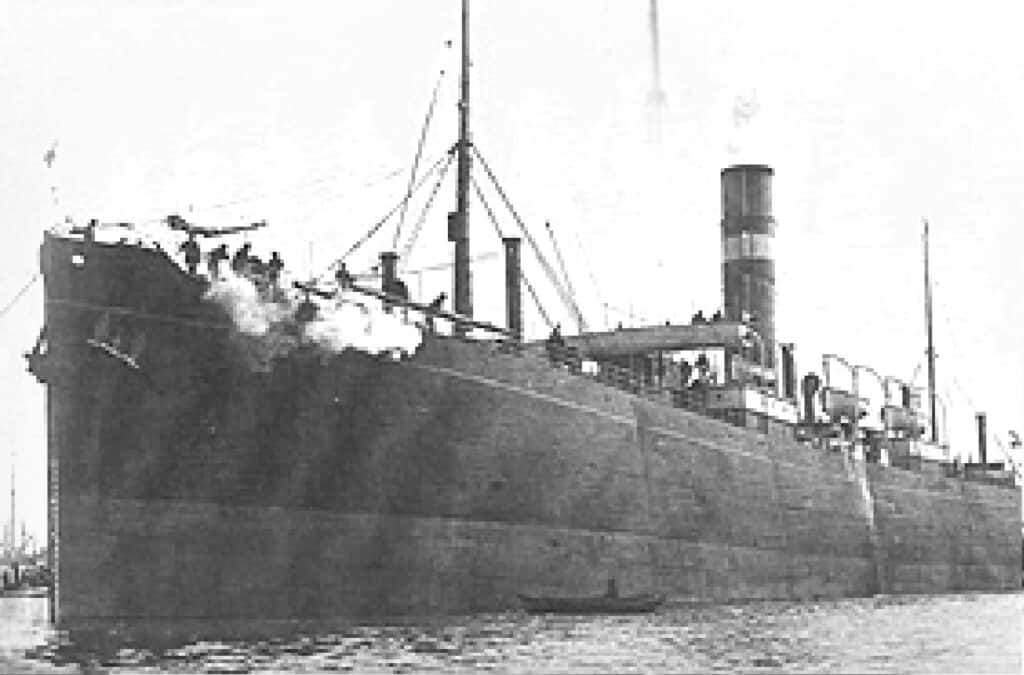 In the meantime, cargo becomes an important part of Holland America Line's operation. Dedicated cargo ships are built to allow for the expansion of passenger space on other ships. Soestdijk (I) becomes the first dedicated Holland America Line cargo ship.
1914
World War I
Statendam (II) is ordered just before the war and was to be the largest ship in Holland America Line's fleet upon delivery with an estimated size of 32,000 tons and a length of 775 feet. Taken over by the British Government as a troopship in World War I, the ship sports an unusual pattern painted on the hull, called dazzle paint. The hull is painted with asymmetric lines and patches in green, white, brown and yellow.
In 1918, Justicia, formerly Statendam (I), is torpedoed by German submarines and sunk.
Holland America Line sees the loss of six ships and 13 employees. Rijndam (I) is used by the USA to transport troops to Europe and after the victory back home again.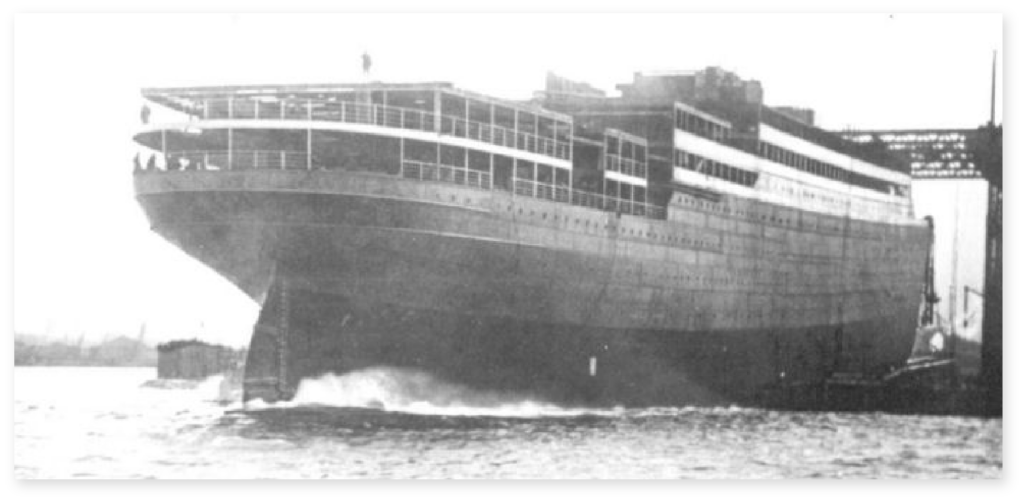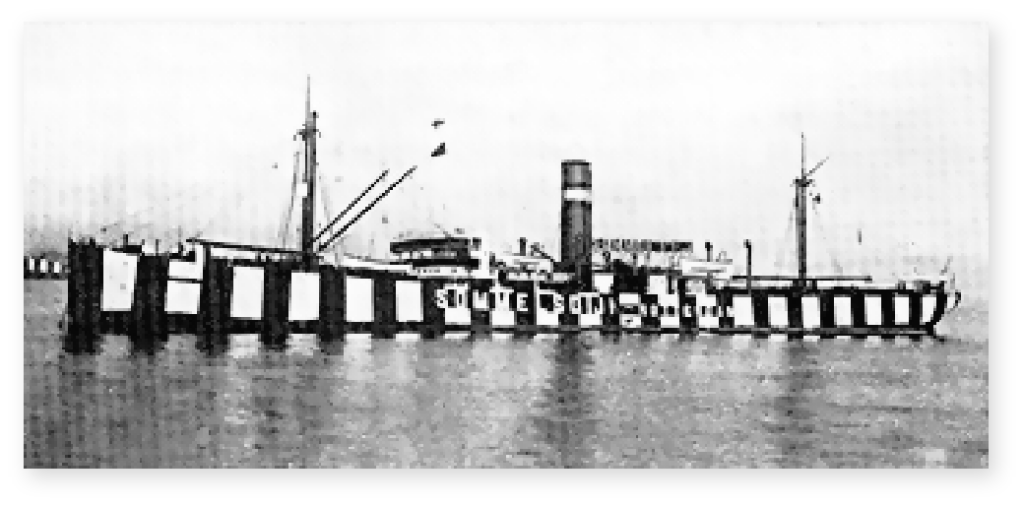 1921
Four New Ships
Holland America Line builds four passenger/cargo ships – Edam (IV), Leerdam (II), Maasdam (III) and Spaarndam (II) – for service to Cuba and the Gulf of Mexico ports.
The names Edam and Leerdam are never again used in the company's history as they are more frequently associated with the famous cheeses of the same name.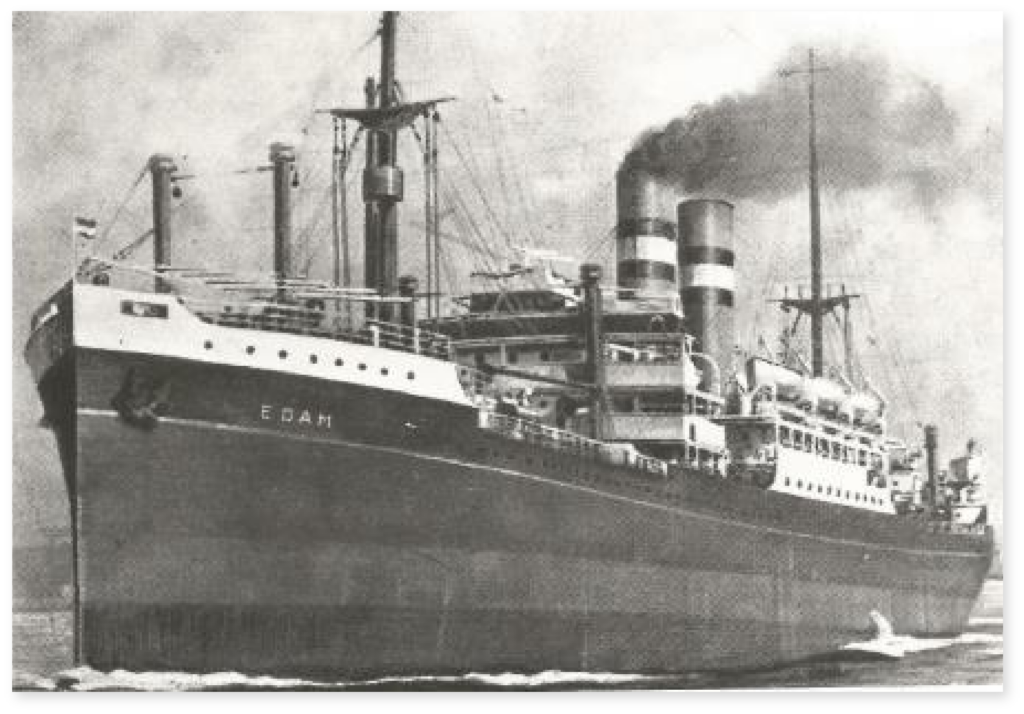 1921
Immigration Restrictions
U.S. governmental restrictions reduces immigration to a trickle, adversely affecting all the transatlantic steamship companies. However, the European liners benefit from Prohibition since U.S. liners were "dry."
1923
50 Years and New Spellings
Holland America Line celebrates its 50 year anniversary.
They also change the spelling of all their ships' names from Dutch to English. Hence the Rijndam of 1900 is spelled Ryndam after 1923.
Additionally, 60,000 tons of steel, as compensation for the sunk Statendam (II) / Justicia, are the foundation of a series of new cargo ships, called the B class. Construction of a new Statendam (III) starts in 1920, but is halted as loss of revenue, due to the disappearing emigrant trade, makes the finances difficult.
1926
A Year of Firsts
The 14,450-ton Veendam (II) sails Holland America Line's first Caribbean cruise.
Rijndam (I) makes the company's first round-the-world voyage as a floating university.
Holland America Line starts to use containers for shipping furniture and other "non-bulk" cargo.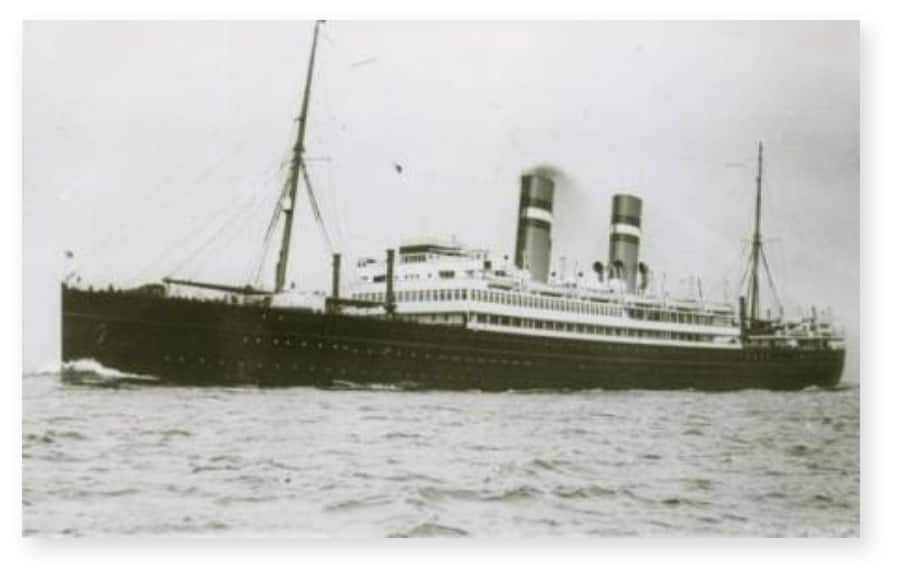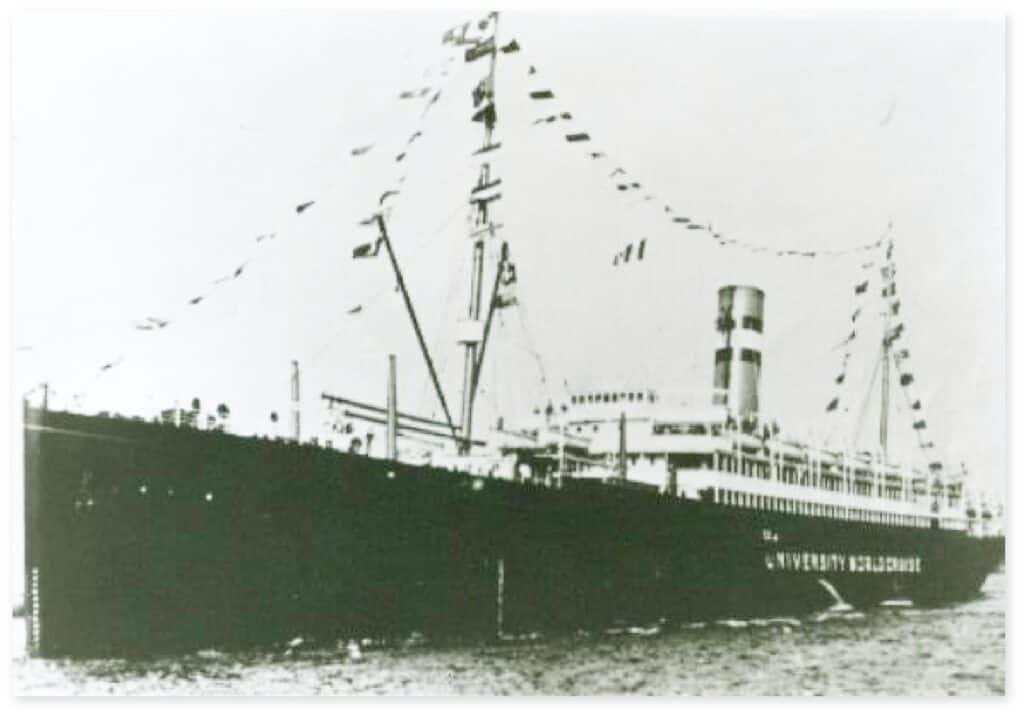 1928
"Queen of the Spotless Fleet"
Statendam (III)'s holds are large enough that passengers can take their cars to Europe. Known as the "Queen of the Spotless Fleet," Statendam (III) will be Holland America's only three-funnel liner.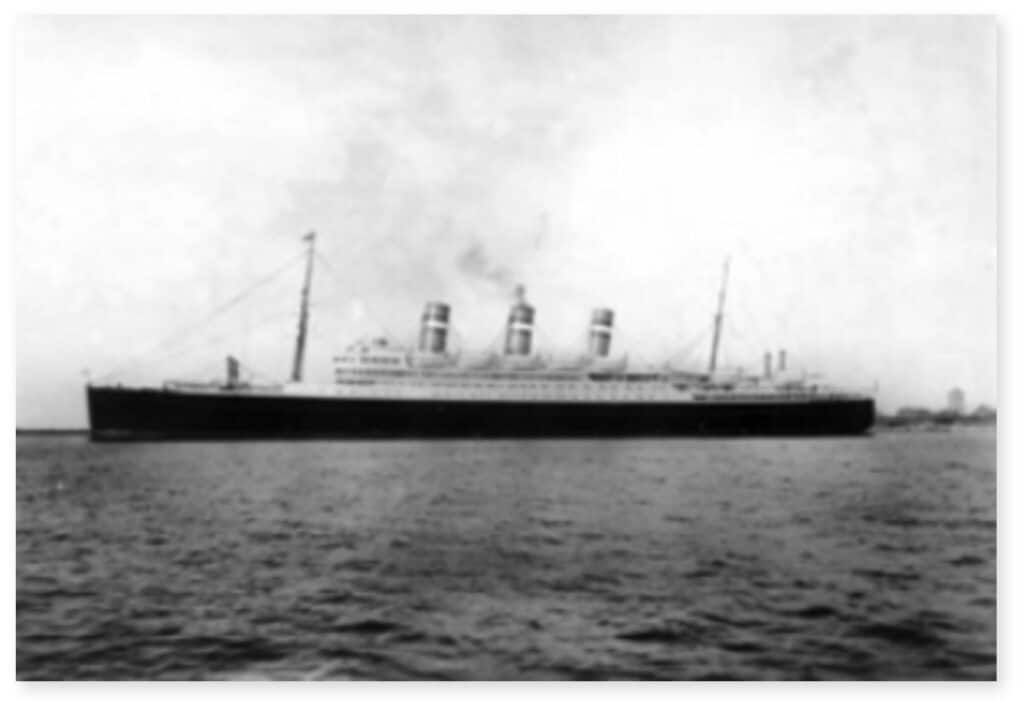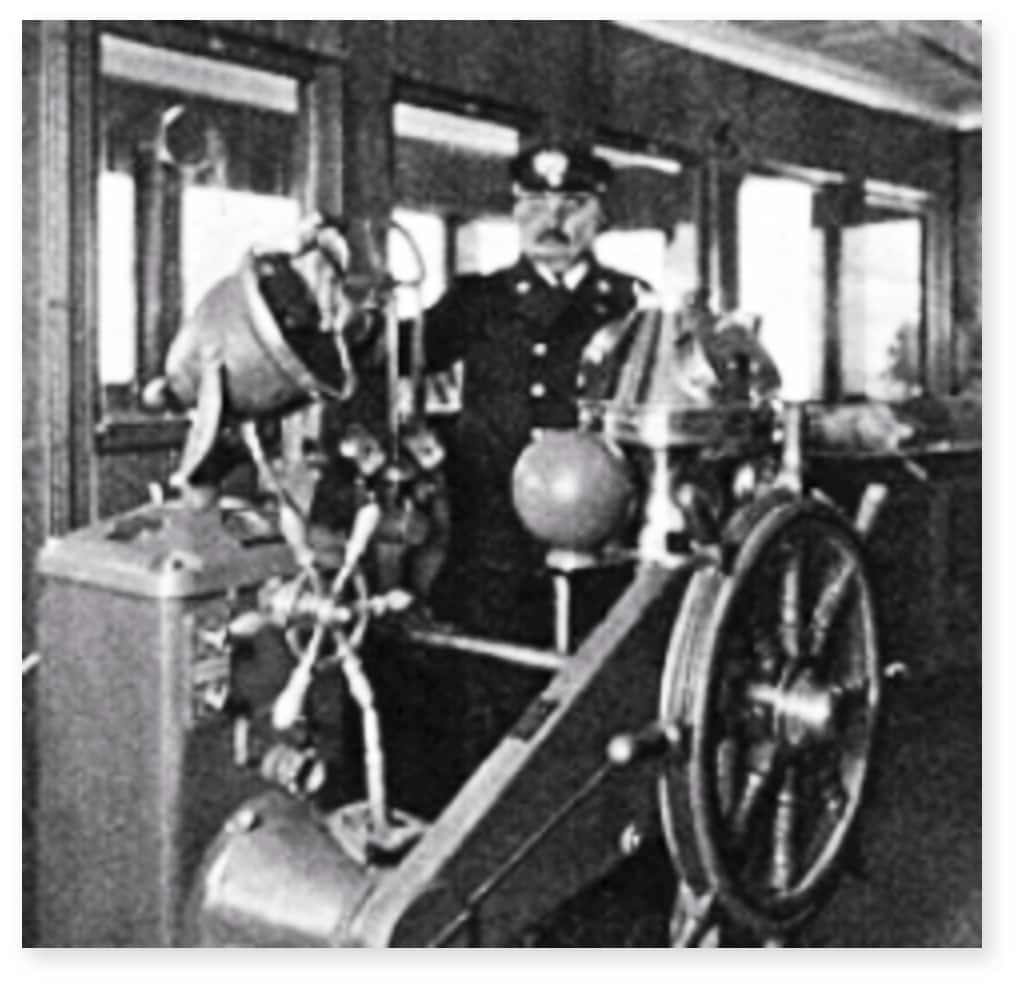 1930
Dutch Funding
The Dutch government, always leery of subsidizing private enterprises, decides to help Holland America Line, as it sees an opportunity to get the Dutch shipbuilding industry on its feet again.
1936: Holland America Line receives funding to build the Nieuw Amsterdam (II) from the Dutch government.
1937: Nieuw Amsterdam (II) is christened by Her Majesty Queen Wilhelmina of the Netherlands.
1930
The Great Depression
The Great Depression takes its toll on many companies, including Holland America Line. Staff is reduced by 34 percent. Less profitable routes are ceased, and older cargo and passenger ships are sold for scrap. Holland America Line offices throughout the world are either closed or consolidated with other Dutch shipping companies.
By the end of the Depression, traffic increases. The Dutch government is eager to get more workers back into the workforce, so decides to assist Holland America Line with finances to build new ships, generating much-needed employment for the Dutch citizens.
Images of Nieuw Statendam (I), which is sold for scrap in 1931 (Photos courtesy of Capt. Albert J. Schoonderbeek BSc, MNI).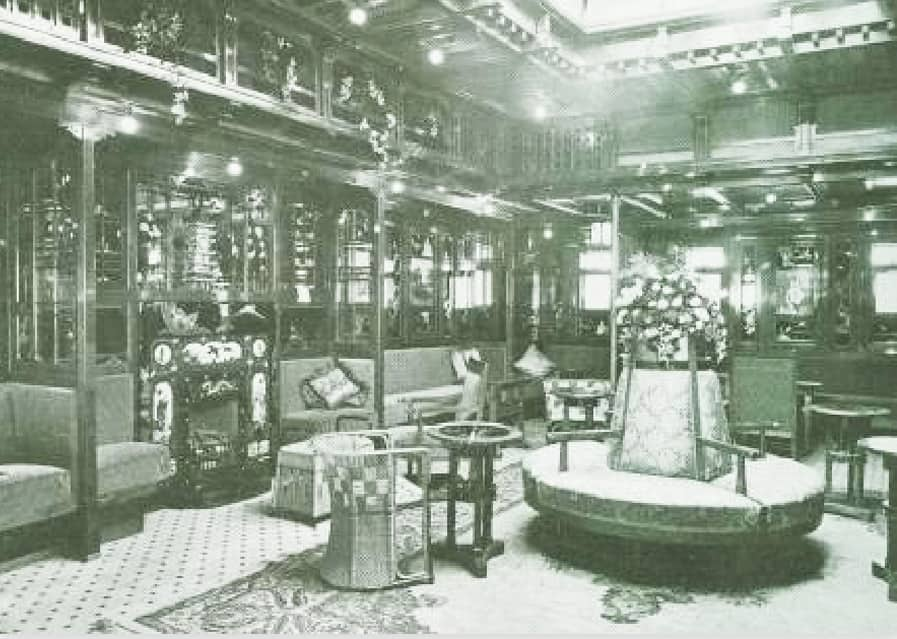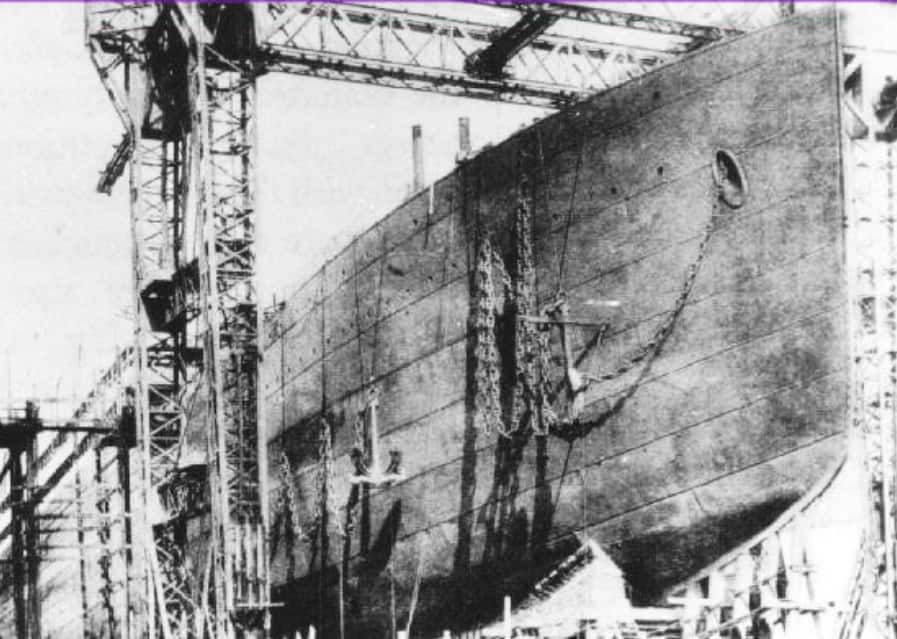 1938
Increasing Profits
Holland America Line's profits begin to increase again. Transatlantic business grows once more and 36 vacation cruises sail. The elegant Nieuw Amsterdam (II) enters service as the company's new flagship.
Nieuw Amsterdam (II) commences her maiden voyage on the morning of May 10, 1938. She sails from Rotterdam via Boulogne sur Mer and Southampton to New York under the command of the company's Commodore Captain J.J. Bijl.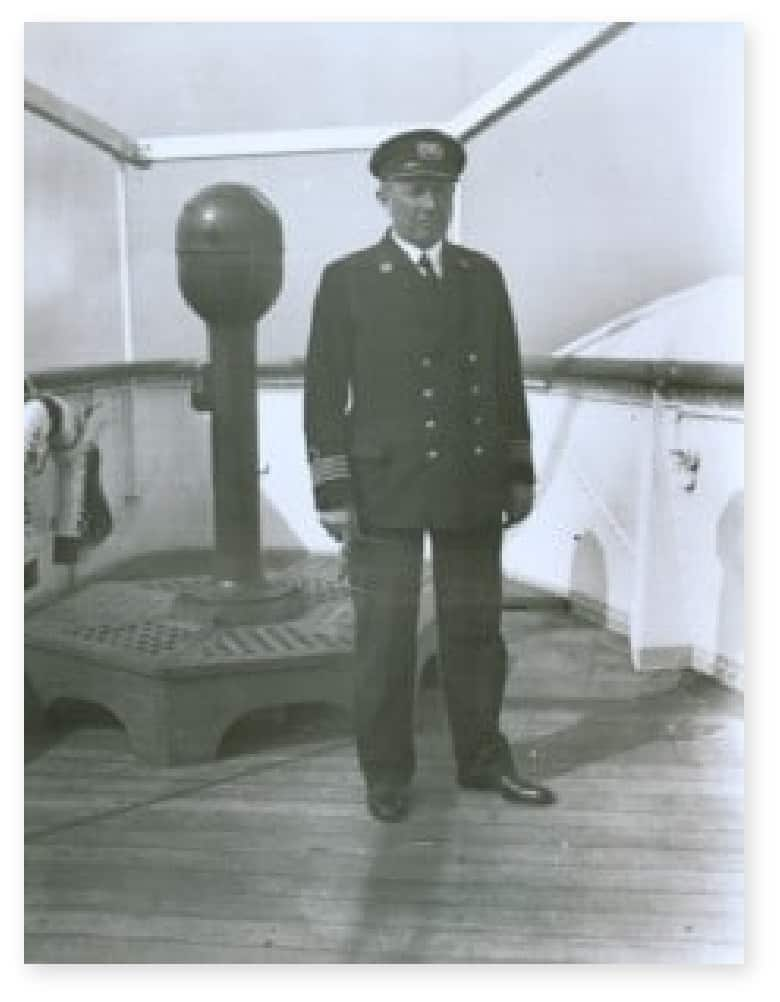 1938
Celebrity Guests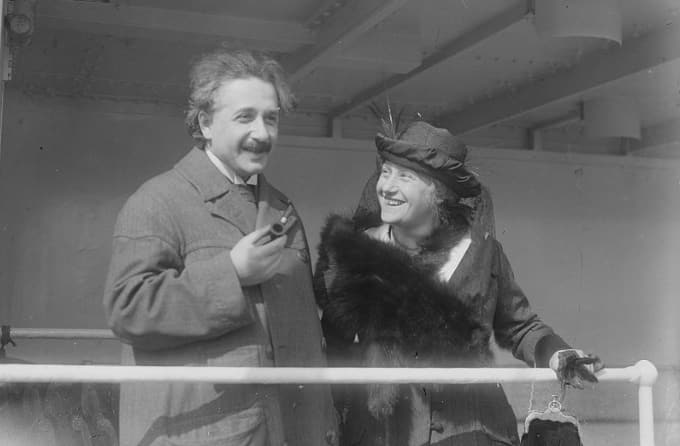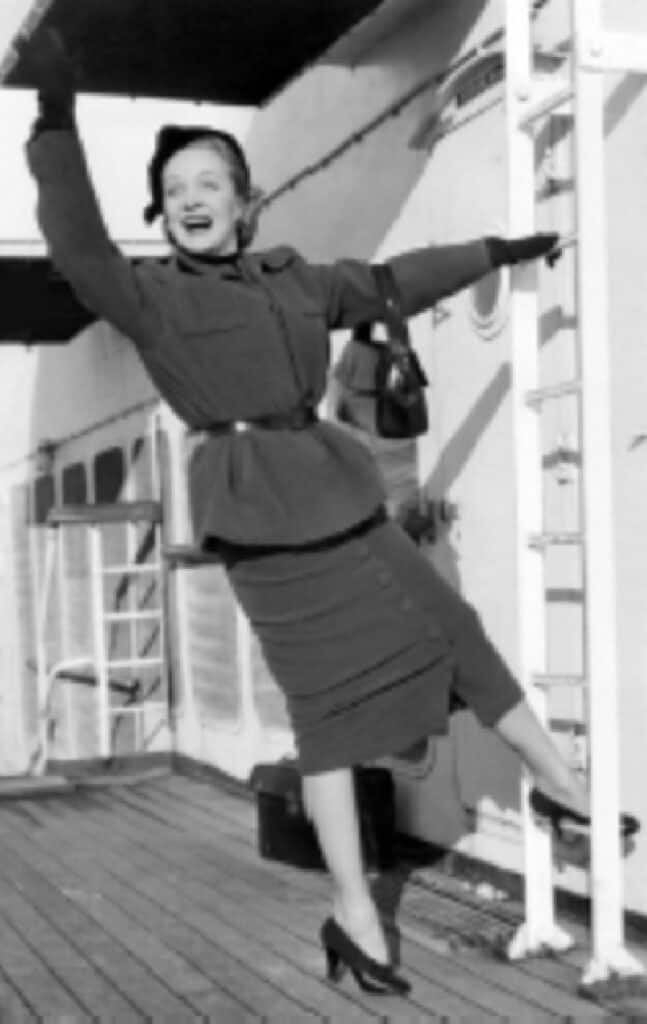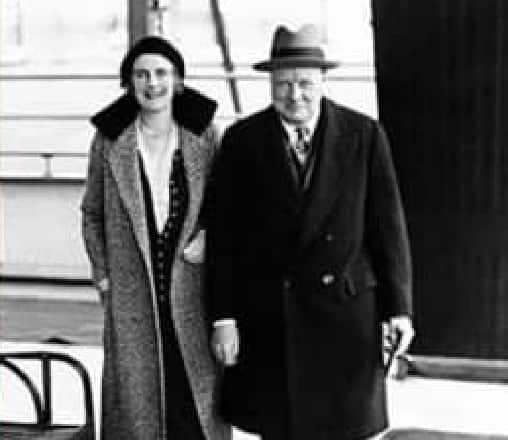 1940
World War II
1939: Holland America Line prepares for alternatives in case the North Atlantic becomes too dangerous. Instead of leaving the ship in lay-up in New York, cruises are made to Bermuda and to the Caribbean.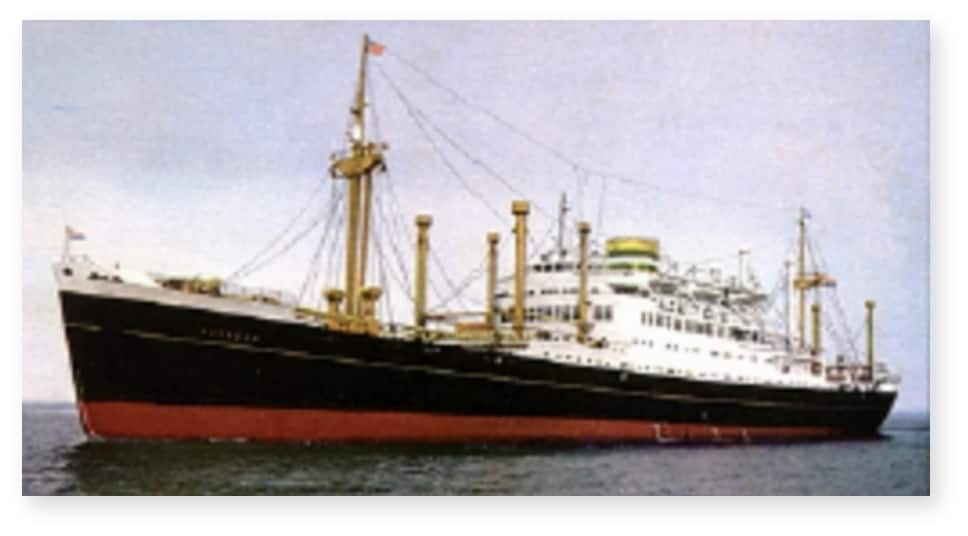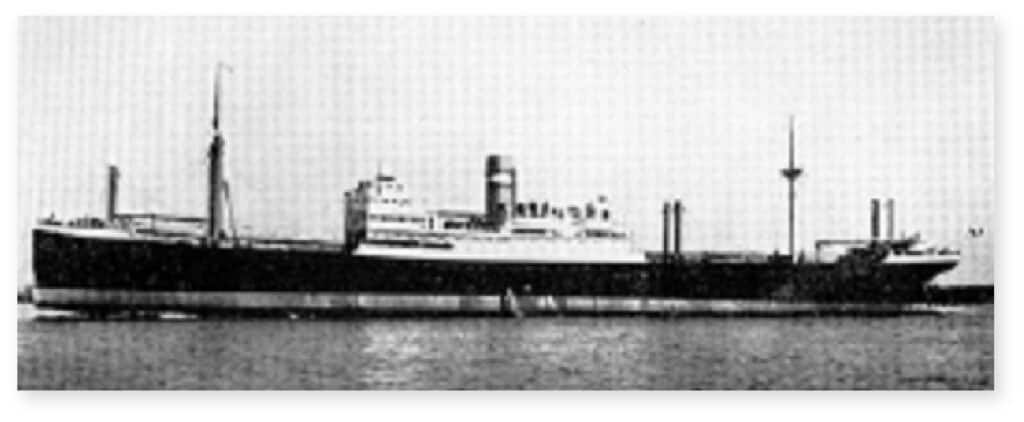 At the start of World War II, Holland America Line has 25 ships; only 9 remain at war's end. At the beginning of the war, the Westernland berths at Falmouth, England, become the temporary seat of the Netherlands government. Nieuw Amsterdam (II) sails half a million miles, transporting close to 400,000 troops.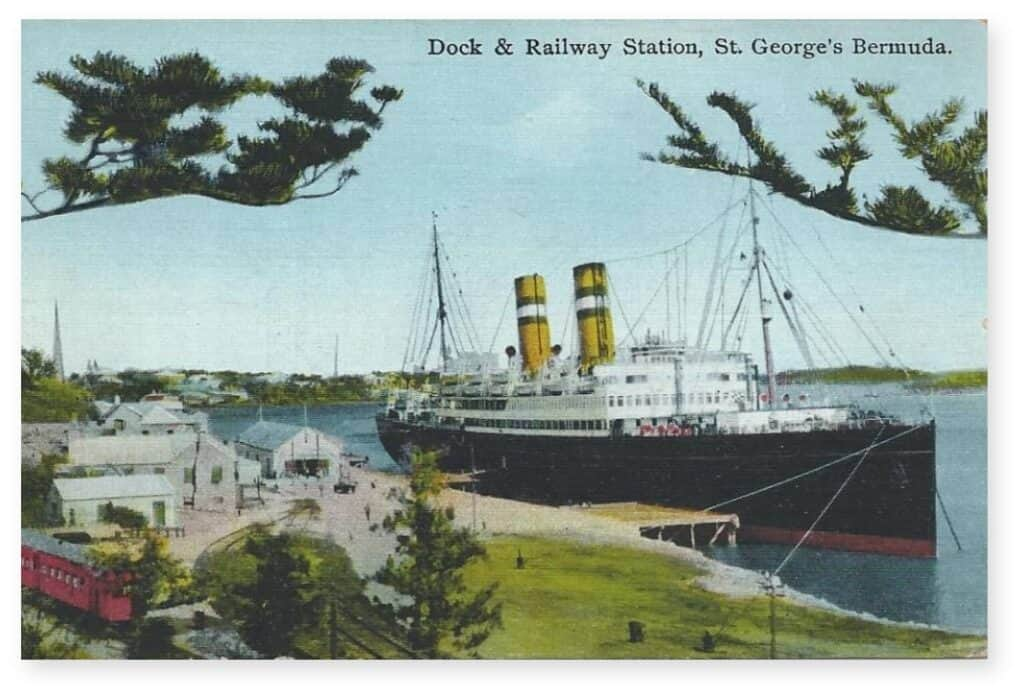 1940
World War II: A Heavy Toll on Holland America Line
In the first few months of World War II, Dutch companies continue to operate their ships, as the Netherlands hope to remain neutral in the conflict. After ships begin hitting mines and being targeted by submarines, Holland America Line is forced to withdraw their liners from service or to redirect them. This leads to Statendam (III) being laid up at Rotterdam after returning from New York in December 1939. Veendam (II) is docked there as well, and will be used by the Nazis as an accommodation ship in Germany.
Germany invades The Netherlands on May 10, 1940, and on the 15th forces the Dutch to capitulate. These four days of battle see heavy fighting in and around Rotterdam. Statendam (III), Veendam (II), and the Holland America Line cargo ship, Boschdvk, which are moored at the Holland America Line pier in Rotterdam, are all irreparably damaged by the bombardment of the harbor.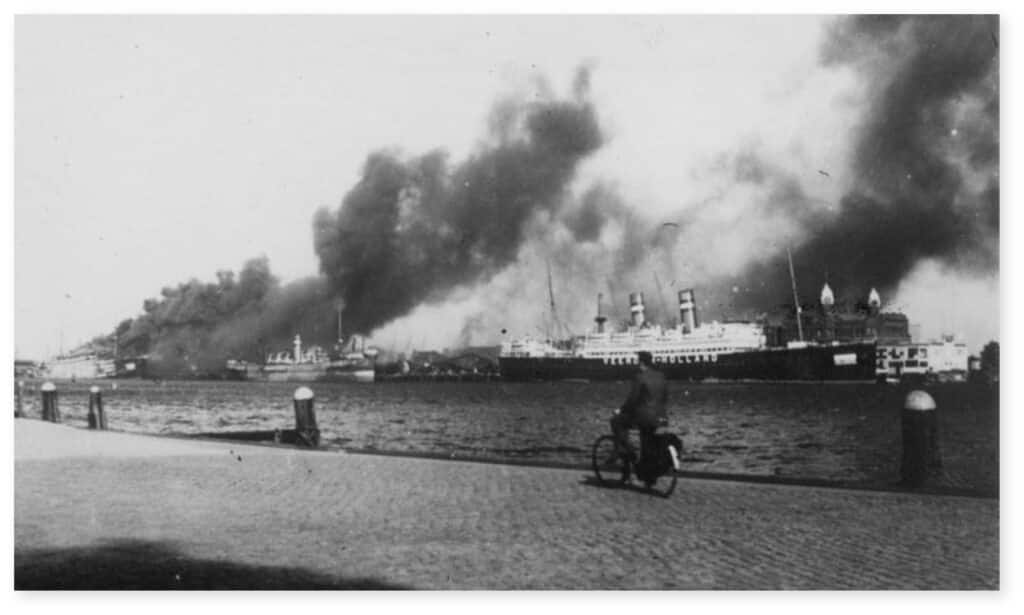 1942
Troopships and Casualties
1940: Passenger ships are converted to troopships. Noordam (II), designed for 125 passengers, now carries 2,300 troops; Nieuw Amsterdam (II), just short of 9,000.
1942: Cargo ship Breedyk and passenger cargo liner Zaandam (II) are torpedoed, causing 127 casualties, including two Holland America Line captains.
1944: On the home front, two cargo passenger ships, Westerdam (I) and Zuiderdam (I), are under construction as the war starts and are now used as blockade ships to keep the expected invasion out of the ports.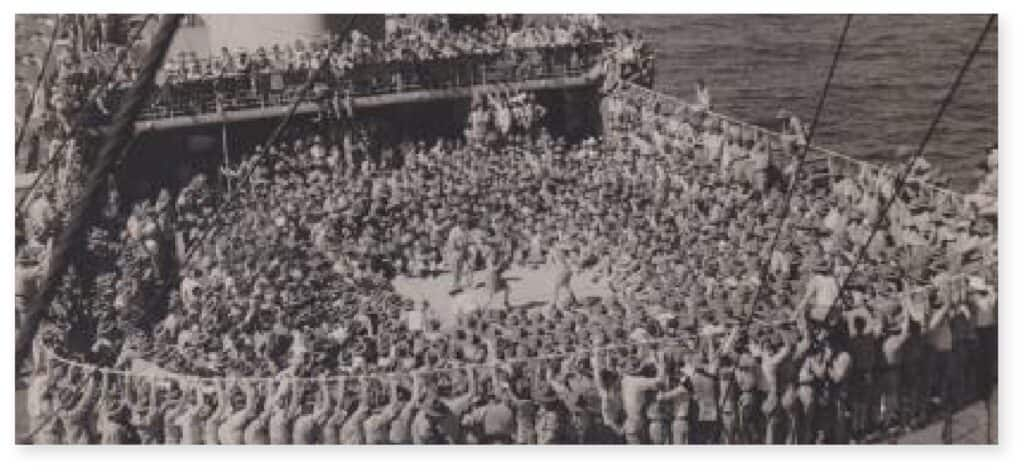 1946
A Hero's Journey
On April 10, 1946, Nieuw Amsterdam (II) sails home from Southampton to Rotterdam, to a reported crowd of 600,000 people lining the dikes along the new waterway leading up to Rotterdam.
During the course of the war, she travels 530,452 miles and carries 378,361 troops — a record only broken by the Cunard Queens, which are twice the size.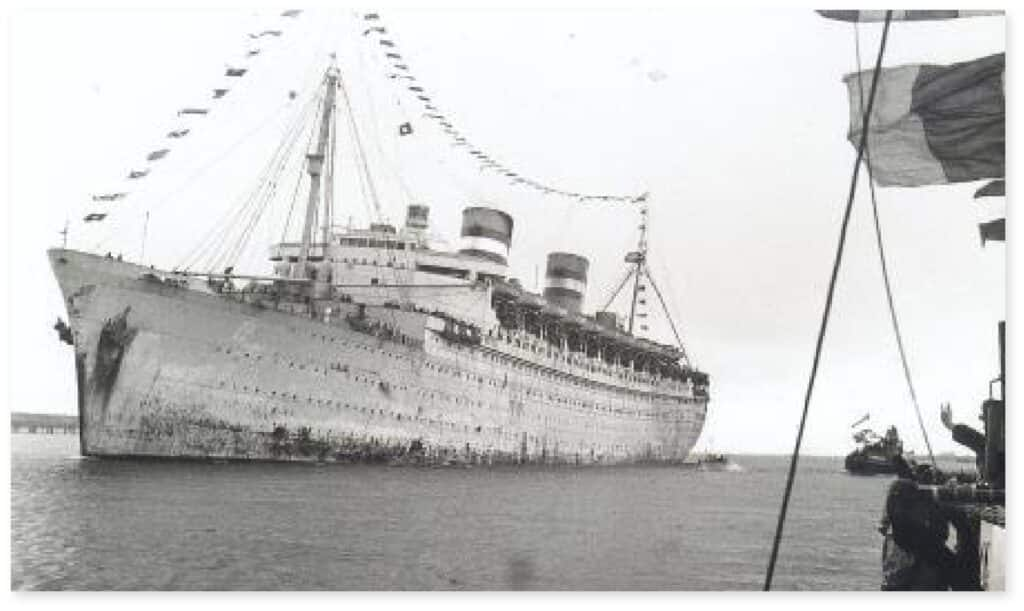 1946
Classes Defined
The Atlantic Conference agrees that the three traditional classes on board of Atlantic liners be designated as "First Class," "Cabin Class" and "Tourist Class" (with the highest class always designated as "First Class").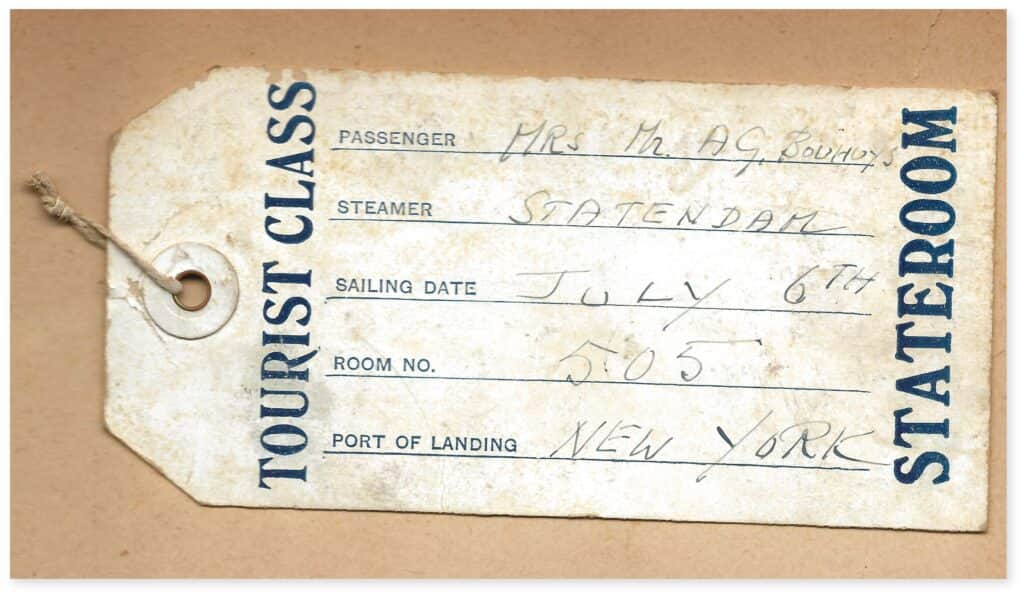 1946
First Postwar Passenger Sailing
Westerdam (I) makes Holland America Line's first postwar North Atlantic passenger sailing. It is also the ship's maiden voyage.
1950
Sisterships
1950-1951: Sisterships Maasdam (IV) (1950) and Ryndam (II) (1951) join the Holland America Line fleet; 9 cargo ships (called the A Class) also join the fleet immediately after WWII (former US World War II cargo ships).
1951: Holland America Line introduces dove-gray livery to the hulls of its passenger vessels (black was used from 1873-1950). Ryndam (II) and Maasdam (IV), the "Economy Twins," are the first to adopt the new color scheme. They are also the first ships to allow tourist-class passengers the run of the ship and restrict one upper deck to first-class guests only. Additionally, Maasdam (IV) is the first Holland America Line ship to be equipped with stabilizers.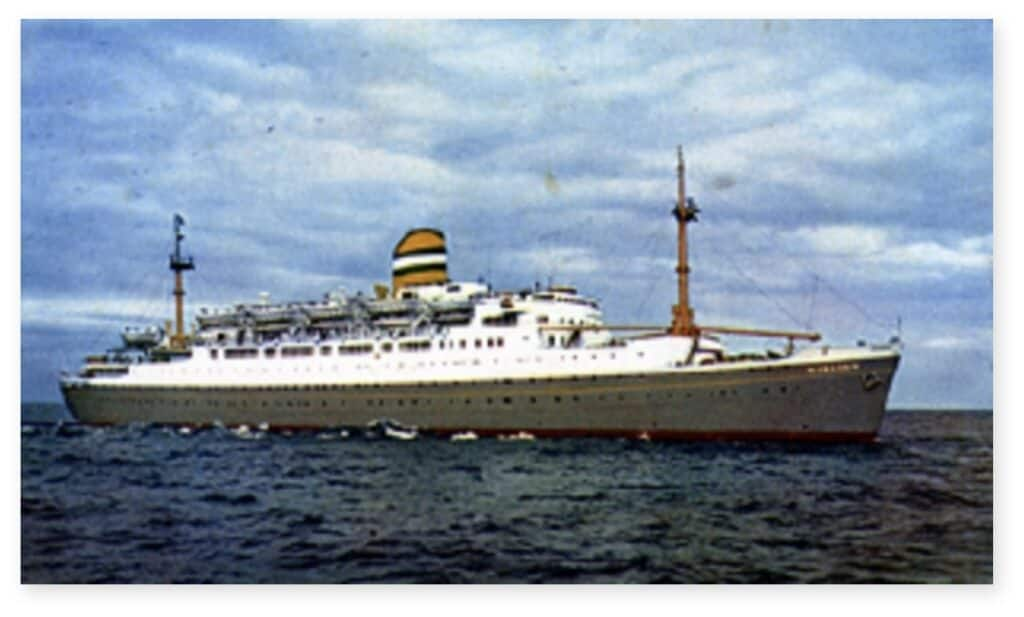 1954
Holland America Line in Popular Culture
Nieuw Amsterdam (II) and the cargo ship Abbedyk are backdrops to the film "On the Waterfront" starring Marlon Brando.
Shuffleboard and deck tennis became a hit throughout the Holland America Line fleet of ships.
1958
First Grand World Voyage
The 24,294-ton Statendam (IV) departs Hoboken, New Jersey terminal on the company's first Grand World Voyage.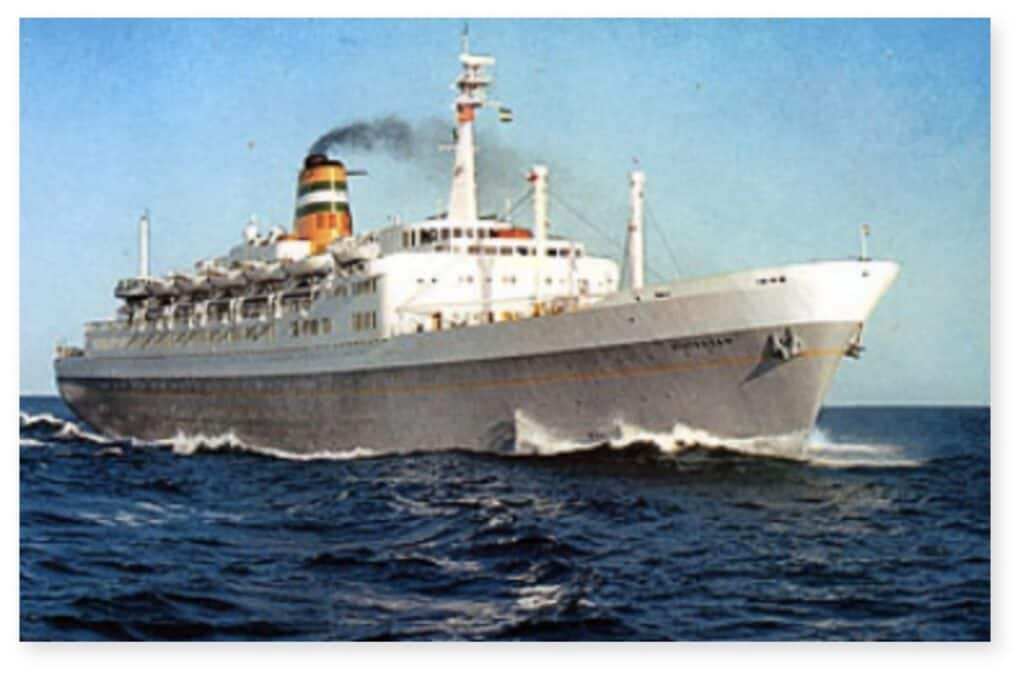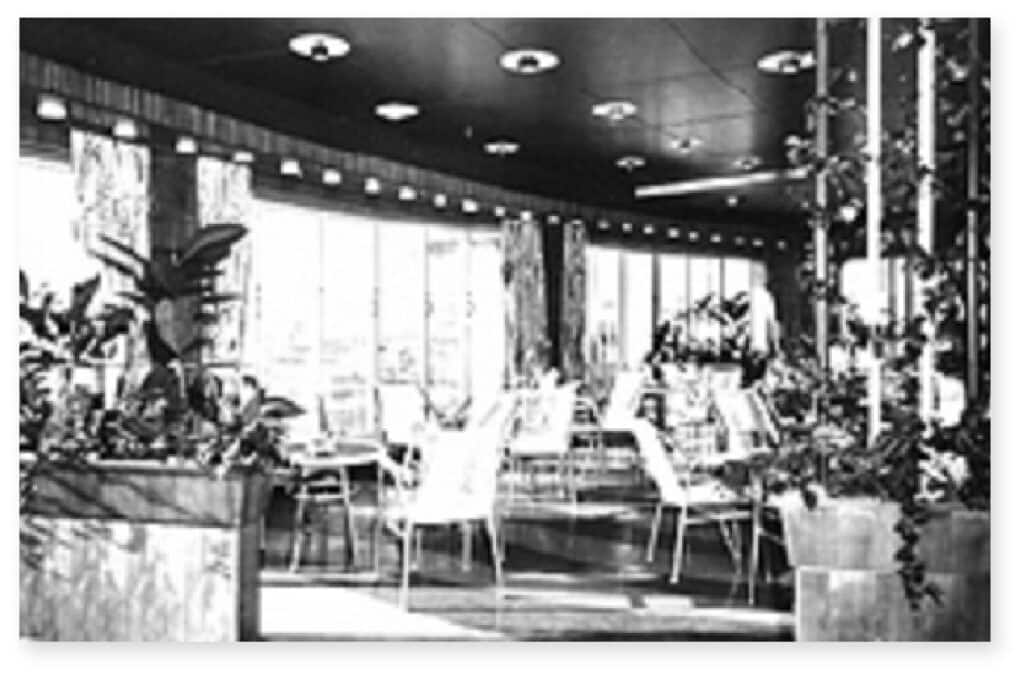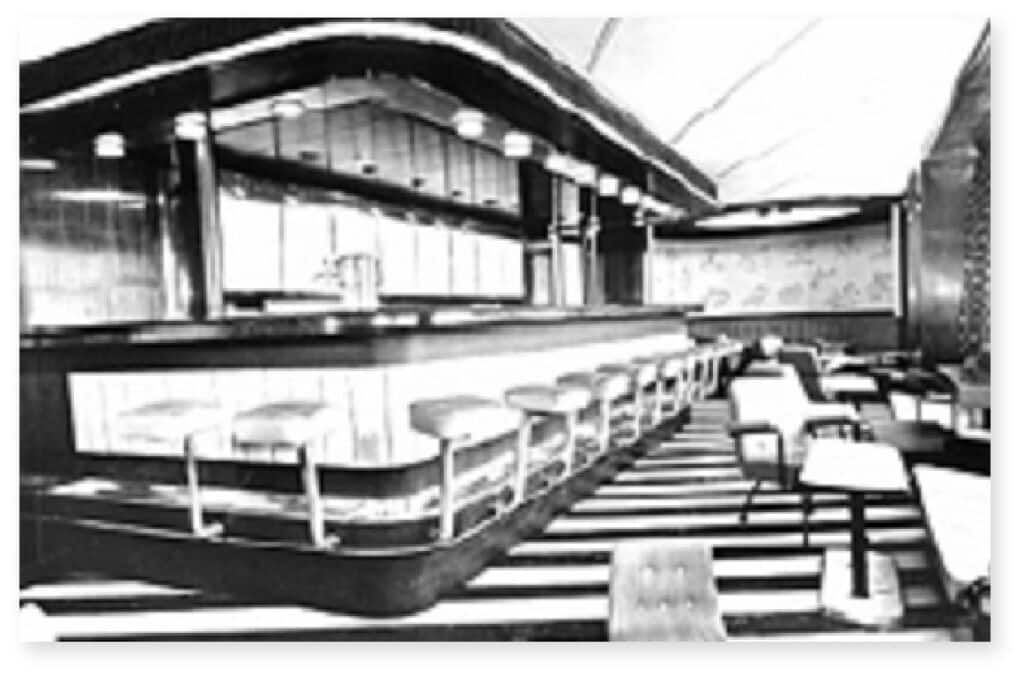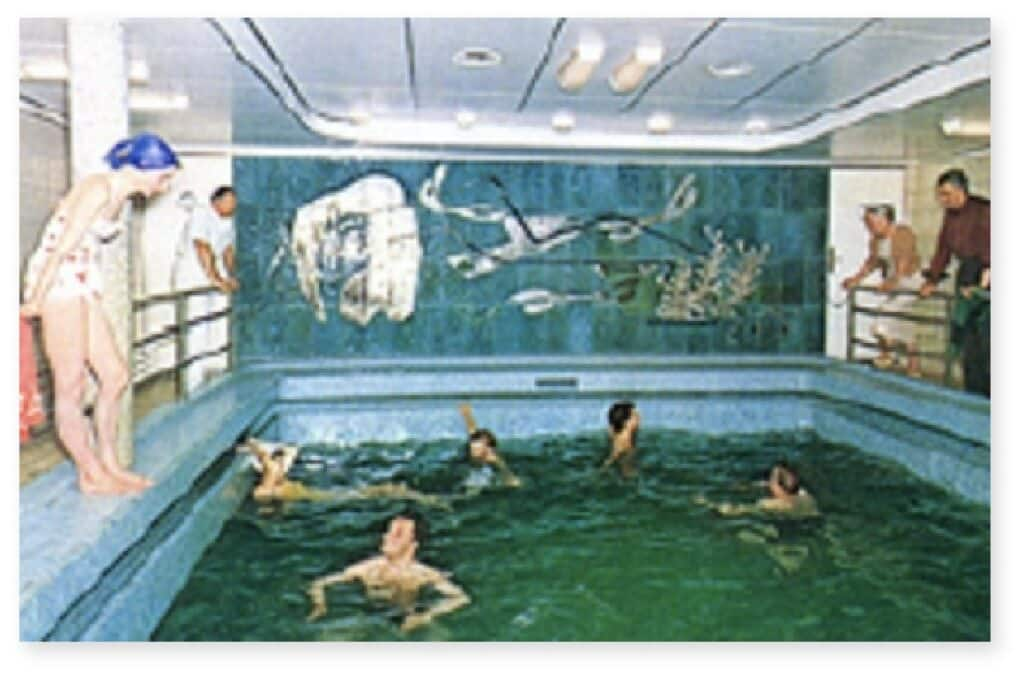 1959
Ship of State
Launched on September 13, 1958, by Queen Juliana of the Netherlands, the grand new Rotterdam (V)  enters service as the company's new flagship in 1959.
The modern profile was initially considered ugly, due to the lack of traditional funnels.
Designed as a "Ship of State," Rotterdam (V) was partly financed by a loan from the Dutch government over a period of 25 years.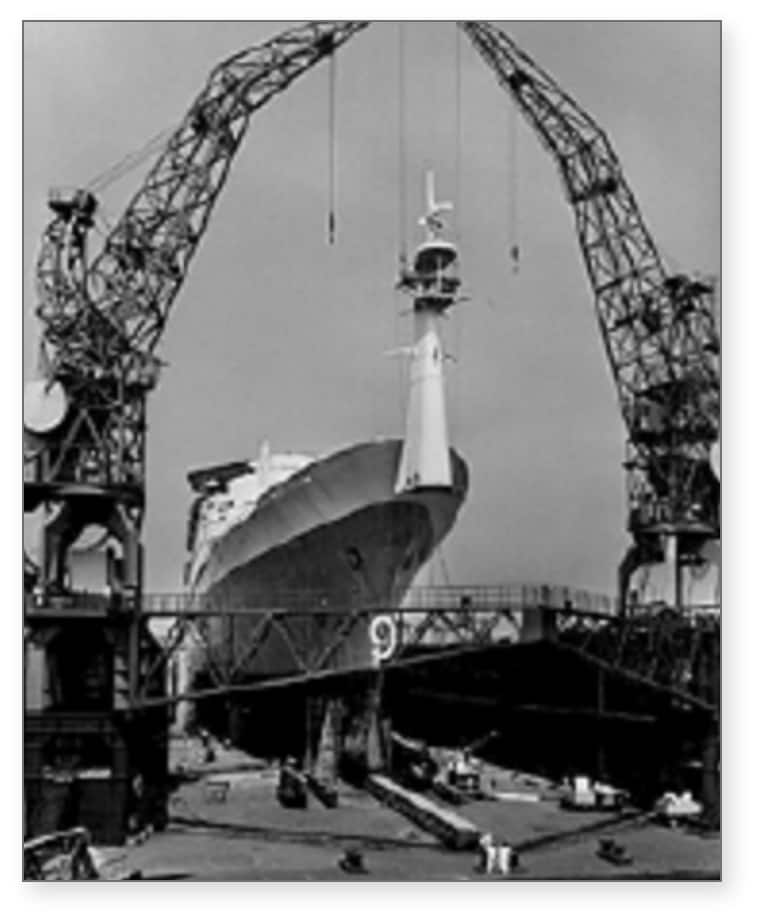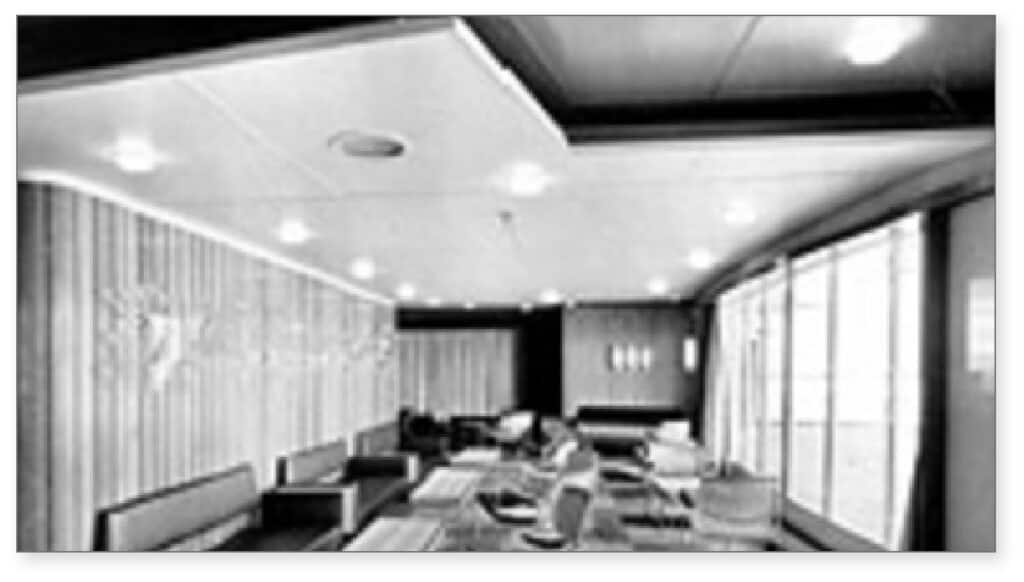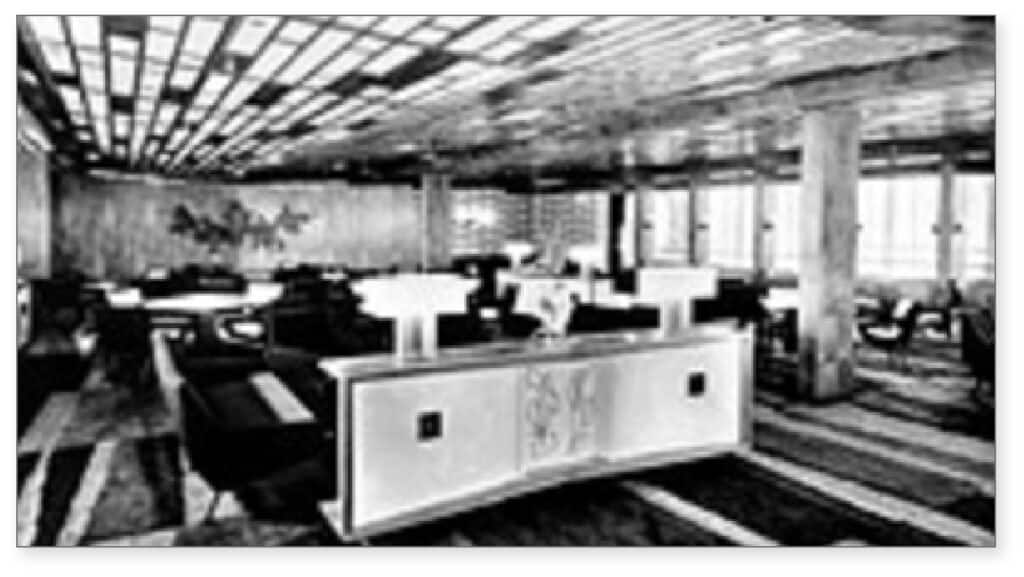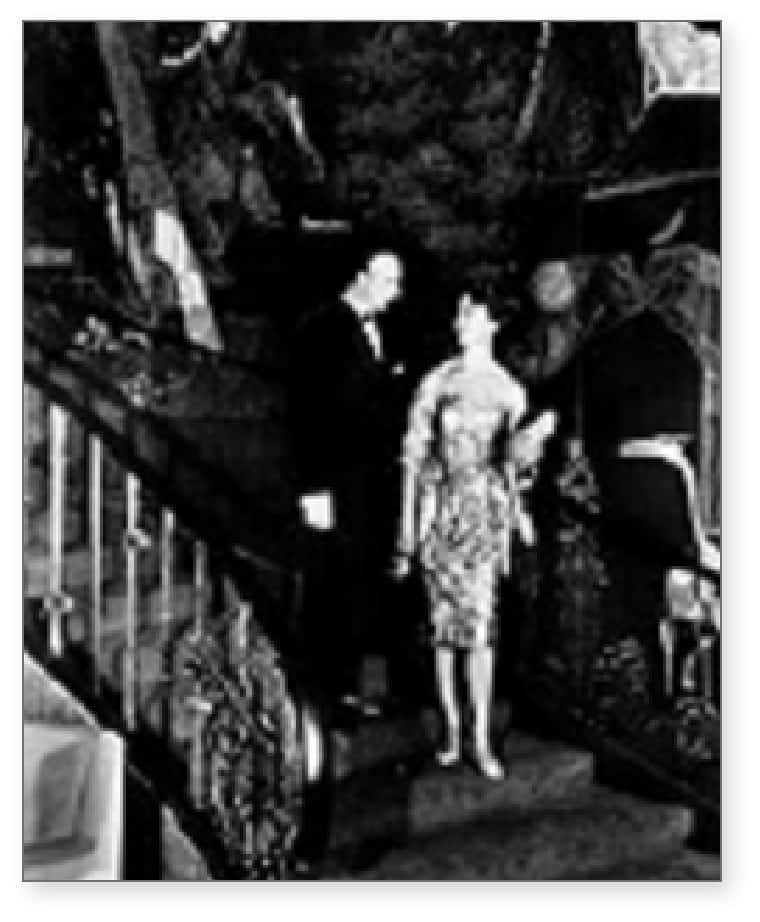 1960
Expansion
Holland America Line's transatlantic passenger service is still fruitfully expanding. The company sells over 100 thousand tickets.
1963: Holland America Lines's new terminal at Pier 40 in New York opens for operation with ample space to handle freighters and larger liners.
Between 1963 and 1966, Holland America Line operates the Seven Seas, owned by Holland America Line's German subsidiary, Europa Canada Line. Ryndam (II) is operated between 1966 and 1971 on world-wide cruises for students by the California-based "University of the Seven Seas." Ryndam (II) continues worldwide student cruises with Chapman College of Orange, CA, until the ship is sold in 1971.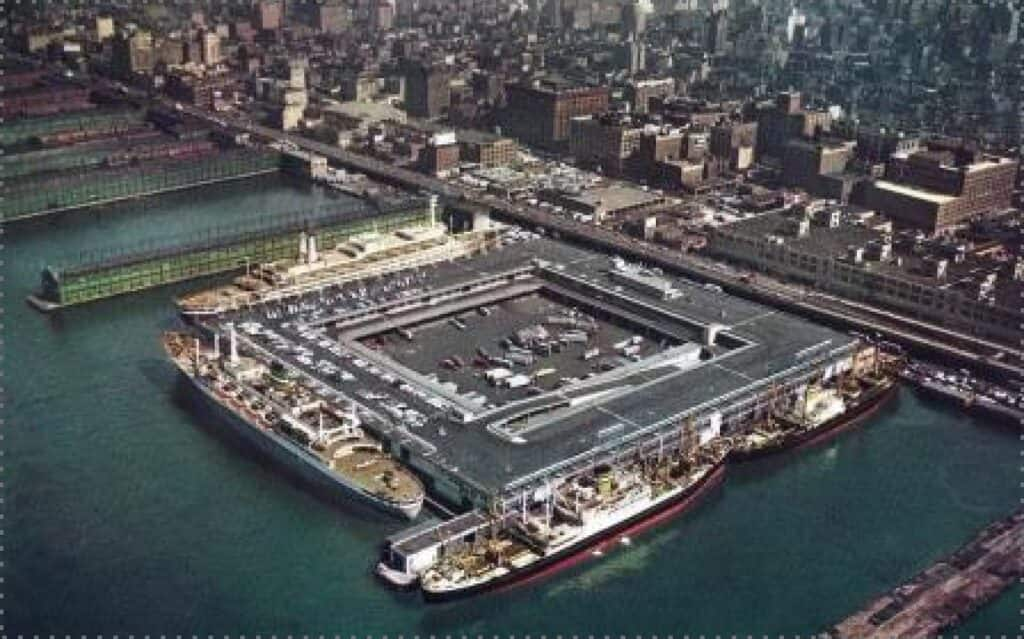 1964
The Jet Age and the Decline of Transatlantic Travel
The "Jet Age" presents challenges for Holland America Line. The majority of the company's business is in transatlantic voyages; the advent of the Boeing 707 jet transforms the journey from days to hours. As a result, Holland America Line faces a daunting financial environment. Again, harsh decisions need to be made to survive. Refitting the fleet for vacation cruising versus Atlantic crossings is the only answer.
1964: 61 transatlantic voyages made, a figure never again to be reached.
1968: Only 21 crossings made; cruising now dominates Holland America Line's passenger business.
1969: Holland America Line further reduces transatlantic sailings to only thirteen.
1972: Holland America Line ceases all North Atlantic passenger services. The entire passenger fleet is now dedicated to vacation cruising.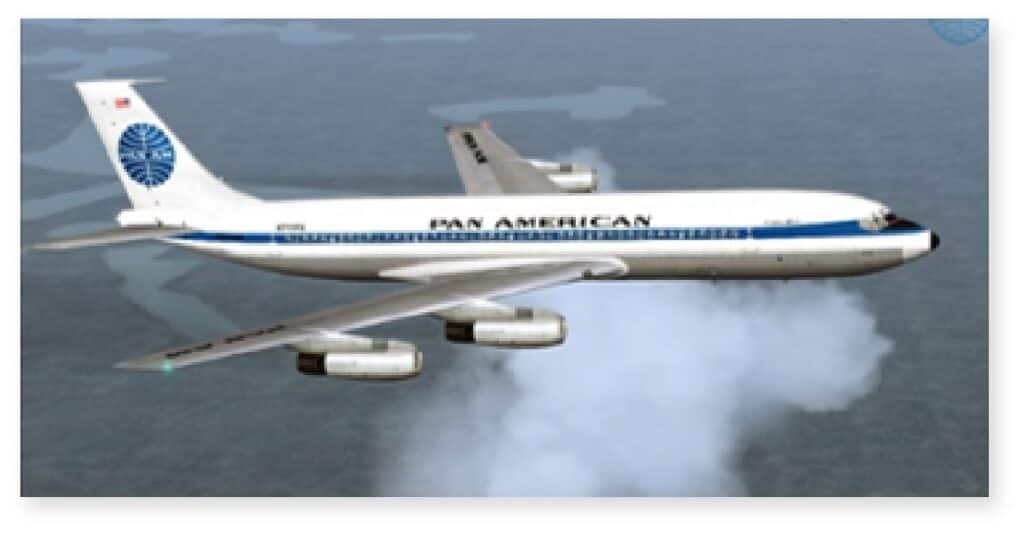 1971
Westours, Alaska and a New Look
1971: Holland America Line acquires 70% of Westours, Inc., an Alaska tour company. In 1973, another 15% is acquired and the remaining 15% is acquired in 1977.
Holland America Line replaces the original house flag with the "NASM" letters on the green-and-white-green striped Rotterdam city flag with an orange flag inset with three waves of aqua and white and aqua again.
1972: Holland America Line introduces the midnight-blue livery to the hulls of its passenger ships. Statendam (IV) is the first ship to be repainted. Passenger ships change from Rotterdam registration to Willemstad Netherlands Antilles.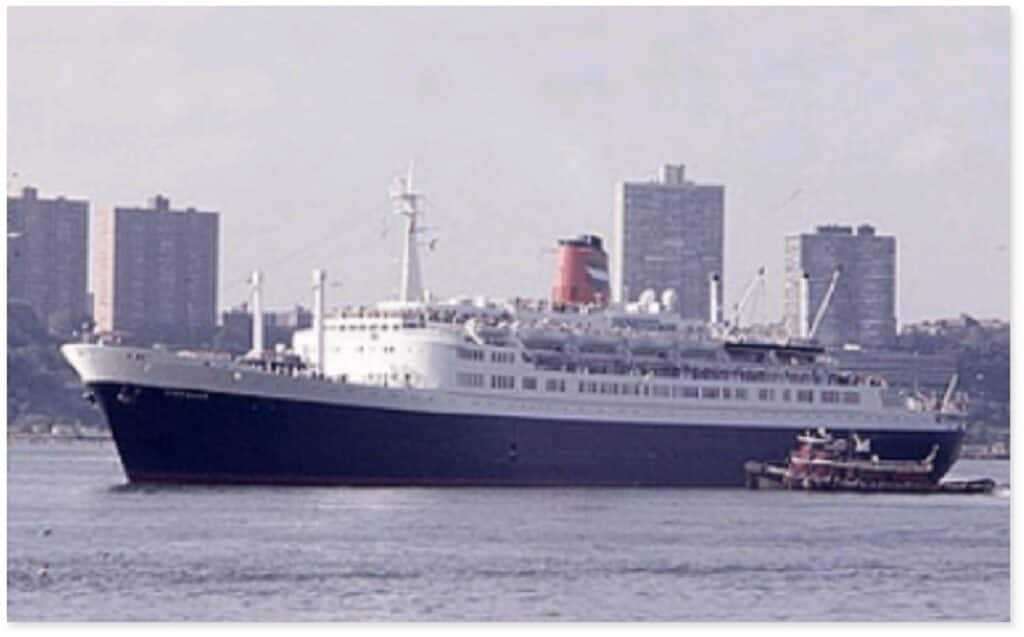 1973
One Hundred Years Young
1973: Holland America Line celebrates the company's 100th Anniversary while saying goodbye to the grand Nieuw Amsterdam (II) of 1938, the "Darling of the Dutch."
1973: Holland America Line 's first purpose-built cruise liner, the 8,566-ton, 452-passenger Prinsendam (I), enters service, sailing Indonesian cruises from Singapore.
Prinsendam conducts Holland America Line's Alaska cruise on the Inside Passage itinerary. The ship sails Alaska in the summer, Indonesia in the fall, winter and spring. Other Holland America Line ships cruise to the Caribbean and Bermuda, with Rotterdam (V) also conducting an annual world cruise.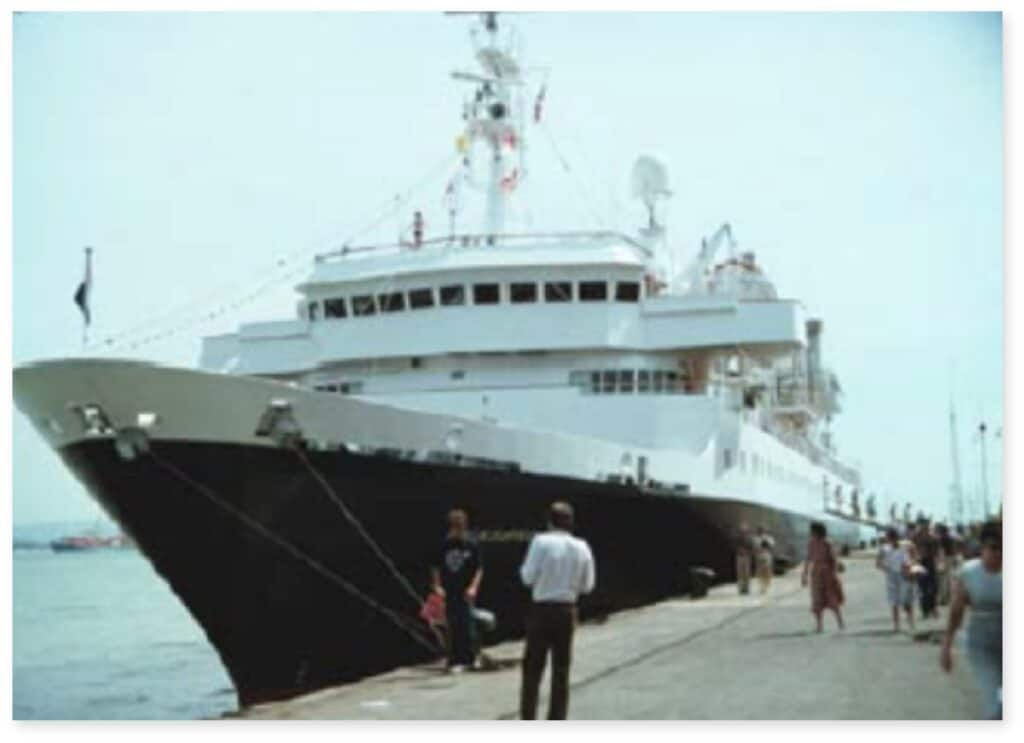 1975
Monarch Cruises Acquired by Holland America Line
1975: Veendam (III) and Volendam (I) return to service after layup due to the oil crisis, but not for Holland America Line. Instead, they sail for a subsidiary called Monarch Cruises with trips to the Caribbean from Miami.
1978: Monarch Cruises is absorbed into a new company called Holland America Tours. Investments are made in Alaska, buying more hotels, a day boat for the Lynn Canal, and more coaches.
1981
Jakarta
Holland America Line's service staff training school, ms Nieuw Jakarta, is established in Jakarta, Indonesia. It is later expanded and renamed ms Nieuw Jakarta in 1983.
1983
Seattle
Holland America Line moves west to Seattle to consolidate operations with Westours and becomes known as Holland America Line-Westours Inc.
The Nieuw Amsterdam (III), carrying 1,214 guests, joins the fleet.
1983
The "N" Ships
Nieuw Amsterdam (III) (1983) and Noordam (III) (1984) replace the aging Veendam (III) and Volendam (III). They will successfully carry forward the older ships' tradition through the 1980s.
Nieuw Amsterdam (III) and Noordam (III) encompass the larger design of the 1970's Prinsendam and cruise primarily in Alaska in the summer and the Caribbean in the winter months.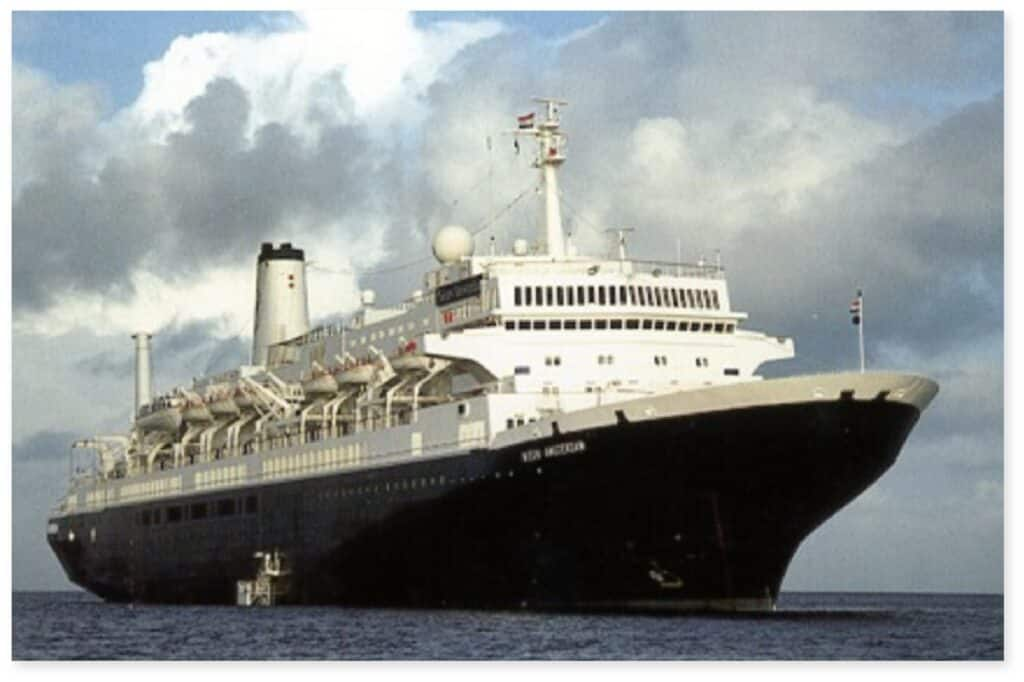 1987
Expanding the Tradition
In 1986, the first female Filipina crew members join the Holland America Line fleet.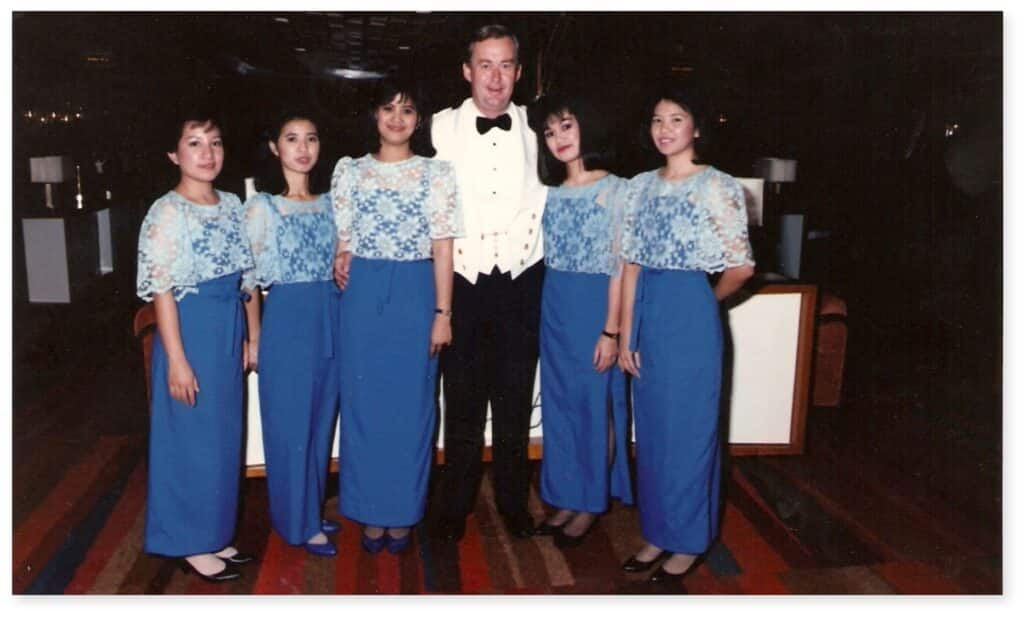 1987
Windstar Cruises
Rotterdam (V) makes her last world cruise as the revenue on the shorter cruises proves much higher. Holland America Line invests 50% share in Windstar Sail Cruises in 1987; the remaining 50% is acquired one year later in 1988.
Windstar vessels, known as the "Motor Sailing Yachts" (MSY), with poetic names (Wind Star, Wind Song, and Wind Spirit), are sailing yachts with auxiliary motor capacity.
1988
Home Lines / Westerdam
In March of 1988, Holland America Line acquires Home Lines.
In November 1988, the Homeric is quickly transformed into Westerdam (II); in 1989, the ship's length is increased by 130 feet.
This ship introduces new features to Holland America Line, including the magrodome or sliding glass roof over the central pool.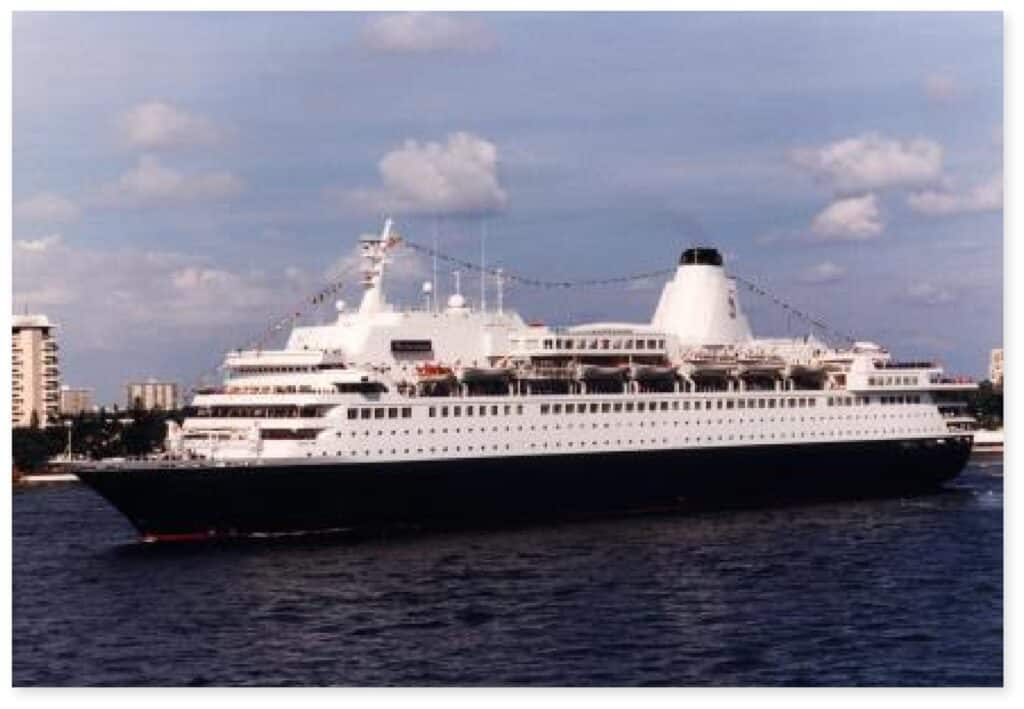 1989
Carnival
Carnival purchases Holland America Line-Westours Inc. for $625 million.
1990
New Ships and an Anniversary
The 1990s: From 1992 to 2000, Holland America Line introduces eight new ships — almost one per year — all exclusively built by the Fincantieri Shipyard near Venice (Montefalcone and Marghera), Italy.
1996: All Holland America Line ships are registered in Rotterdam, Holland the Netherlands once again.
1998: Holland America Line celebrates 125th anniversary.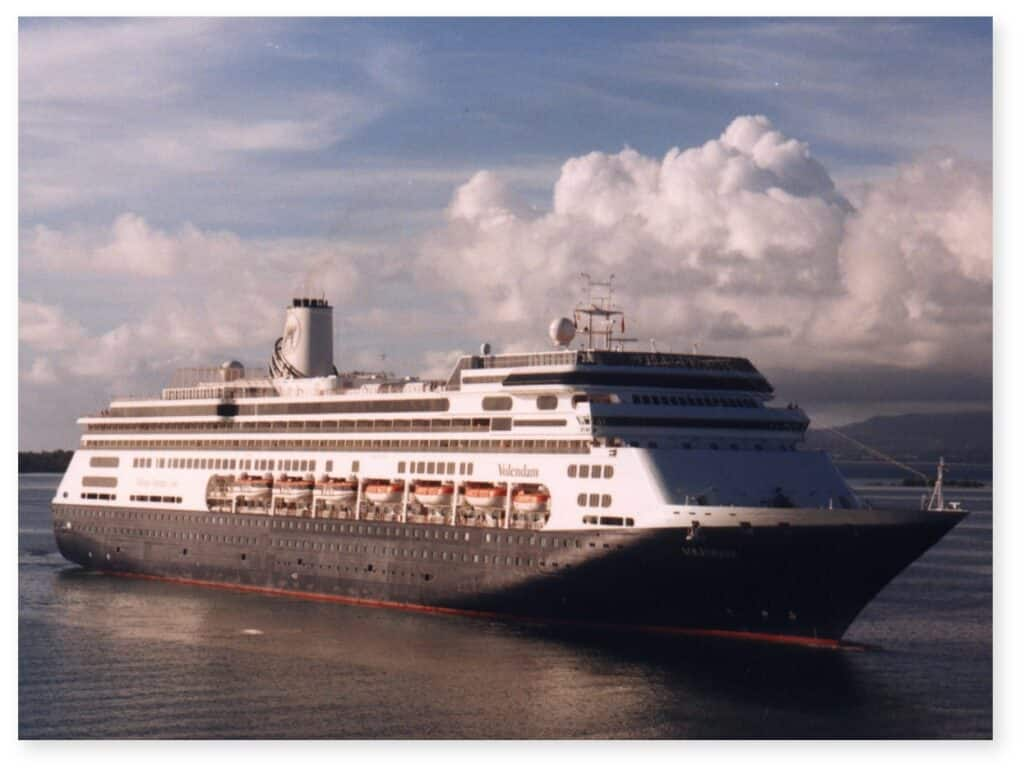 1990
The "Tiffany Project" or "S" Class
Holland America begins aggressive growth plan, beginning with four sisterships:
• Statendam (V) in 1992
• Maasdam (V) in 1993
• Ryndam (III) in 1994
• Veendam (IV) in 1996
1993
Expanding the Fleet
1993: Statendam (V) enters service and that summer conducts Holland America Line's first European cruise season in approximately twenty years.
1994: Holland America Line's Alaska fleet grows to five ships, with the addition of the new Maasdam (V), which holds as many as 1,266 guests.
1996: The addition of Veendam (IV) permits Holland America Line to deploy Westerdam (II) nearly year-round in the Caribbean with fall Canada and New England cruises. Holland America Line's Alaska fleet grows to eight ships.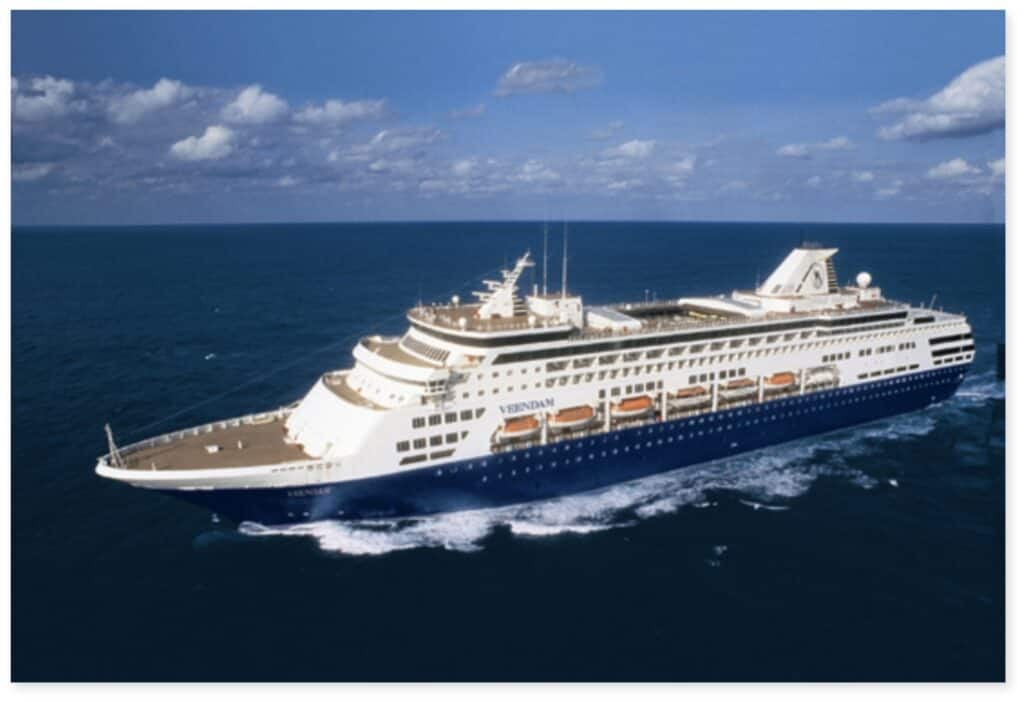 1997
Welcome to Half Moon Cay
Holland America Line obtains a lifetime lease of Little San Salvador Island in the late 80s from the Bahamian Government and rename it Half Moon Cay (after Henry Hudson's schooner, de Halve Maen).
This beautiful island features 9.5 miles of white sand beaches and has remained a favorite destination for many of Holland America Line's guests.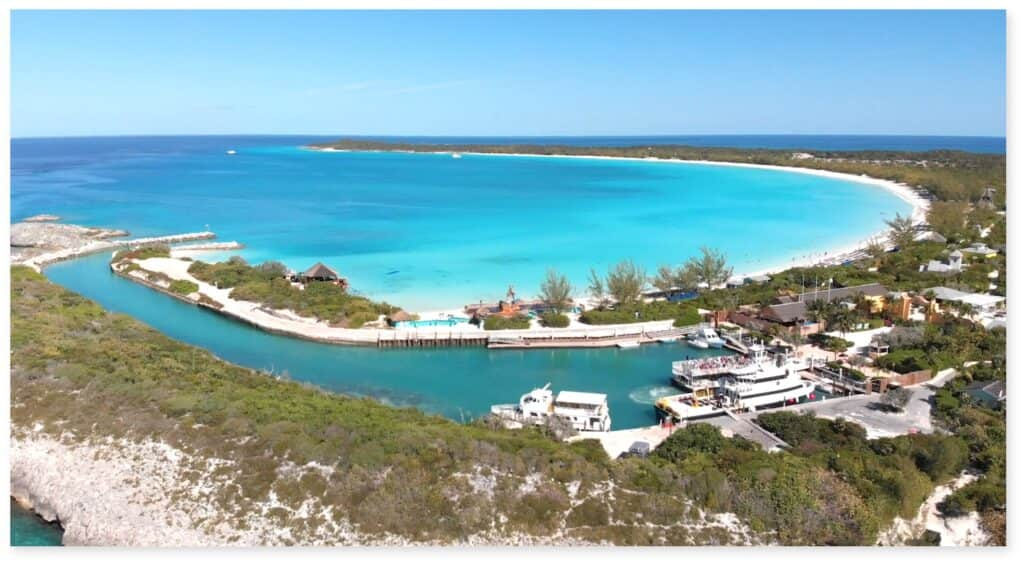 1997
Farewell, Grande Dame
In September of 1997, Rotterdam (V) makes her final cruise under Holland America Line — a Trans Canal crossing ending in Ft. Lauderdale.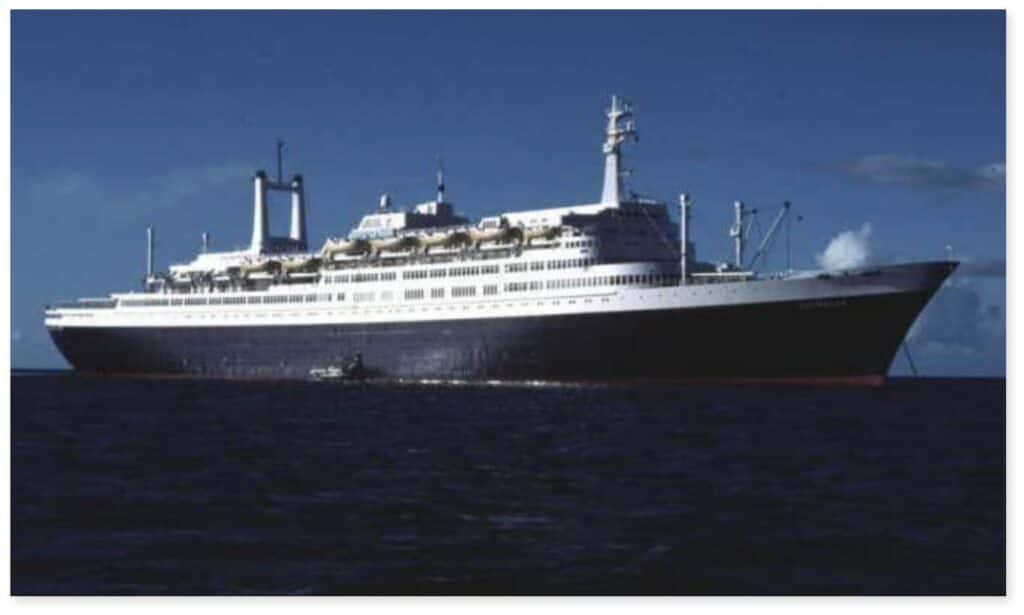 2002
"Elegant Explorer"
The start of the new millennium brings a bevy of new ships.
In 2002, Prinsendam (II) (formerly the Royal Viking Sun) joins Holland America Line's fleet. Transferred by Carnival Corporation from Seabourn / Cunard to Holland America Line, Prinsendam (II) is 38,000 tons and carries 834 guests.
Prinsendam (II) is designed for elegant, small-ship cruising, featuring longer, unique worldwide itineraries. Her size also enables her to effortlessly enter smaller ports.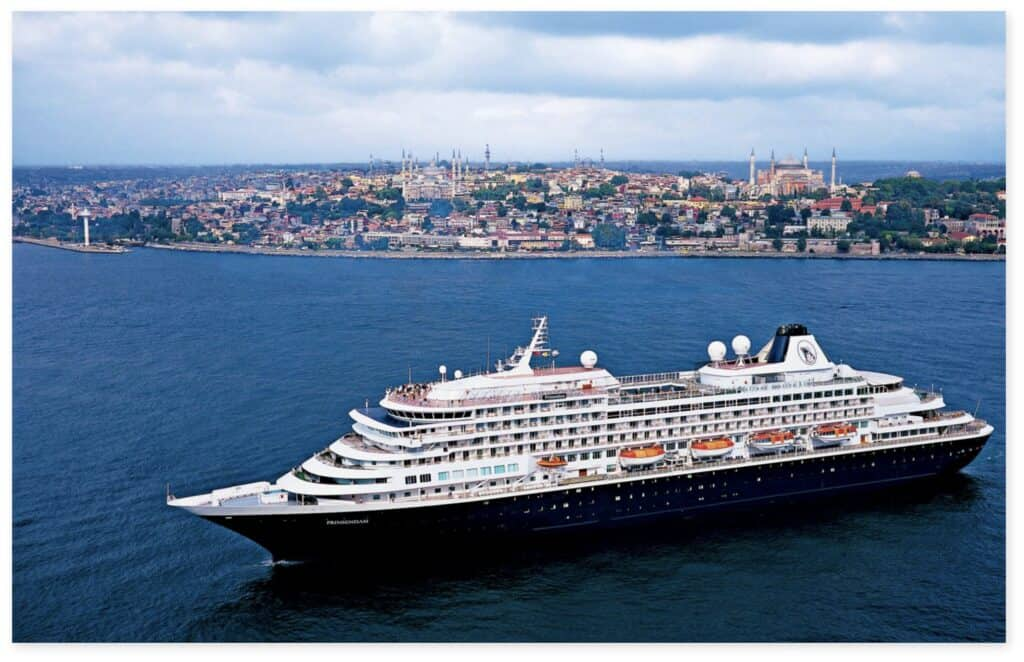 2002
The Vista Series
In 2002, Holland America Line introduces four new sister ships. Each measures 82,000 tons and has a capacity for 1,848 guests. Holland America Line steps up the luxury quotient — two-thirds of the staterooms feature private verandahs.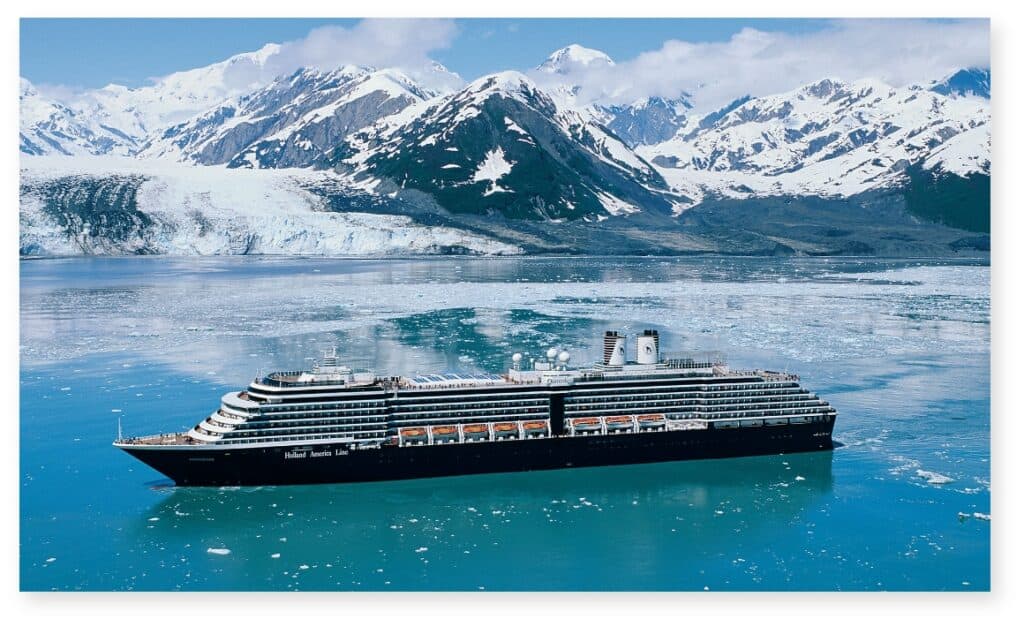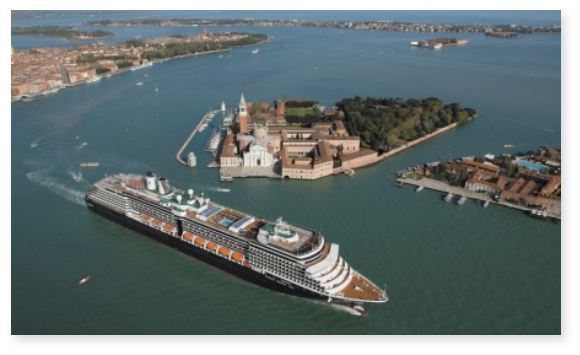 2003
Signature of Excellence
Holland America Line announces a $225-million Signature of Excellence® initiative to provide unparalleled product and service enhancements to its fleet of five-star ships.
Signature of Excellence® raises the standard in premium cruising with enhancements such as plush Euro-top mattresses and large, fluffy towels in staterooms, The Culinary Arts Center, presented by Food & Wine magazine, and Explorations Café, and powered by The New York Times. The initiative expands and to date tops enhancement of more than $560 million.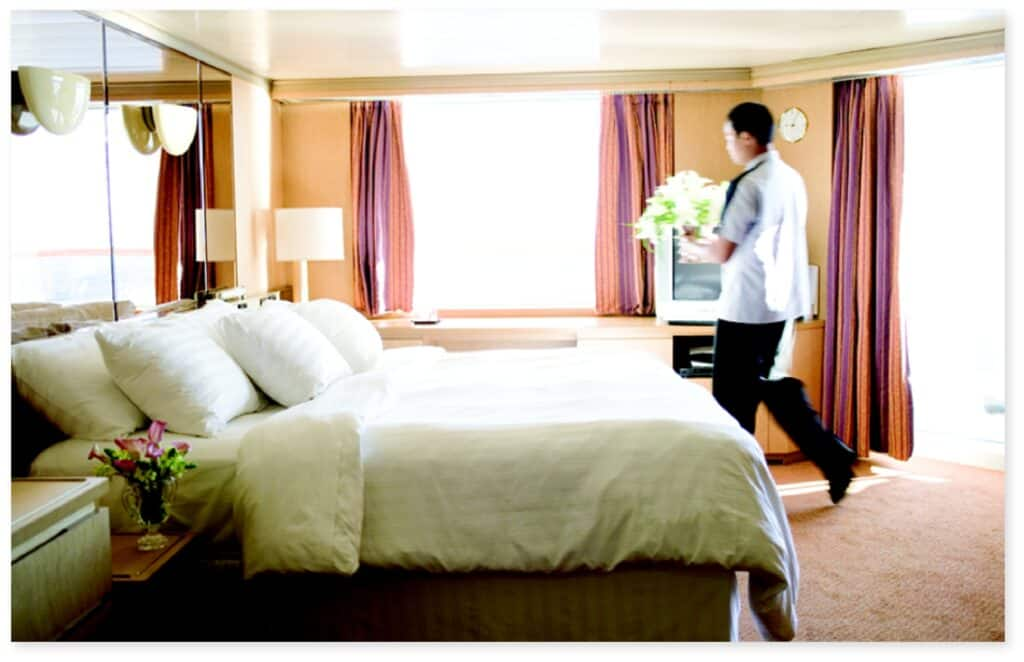 2003
130th Anniversary
Holland America Line celebrates its 130th anniversary year in Rotterdam. The festivities include the launch and naming of the new Vista-class Oosterdam by Her Royal Highness Princess Margriet of the Netherlands. Rotterdam (VI) joins Oosterdam for events that include past guests and past employees, as well as World War II veterans and local dignitaries.
2004
Amazon River
Prinsendam (II) is the first Holland America Line ship to cruise up the Amazon River.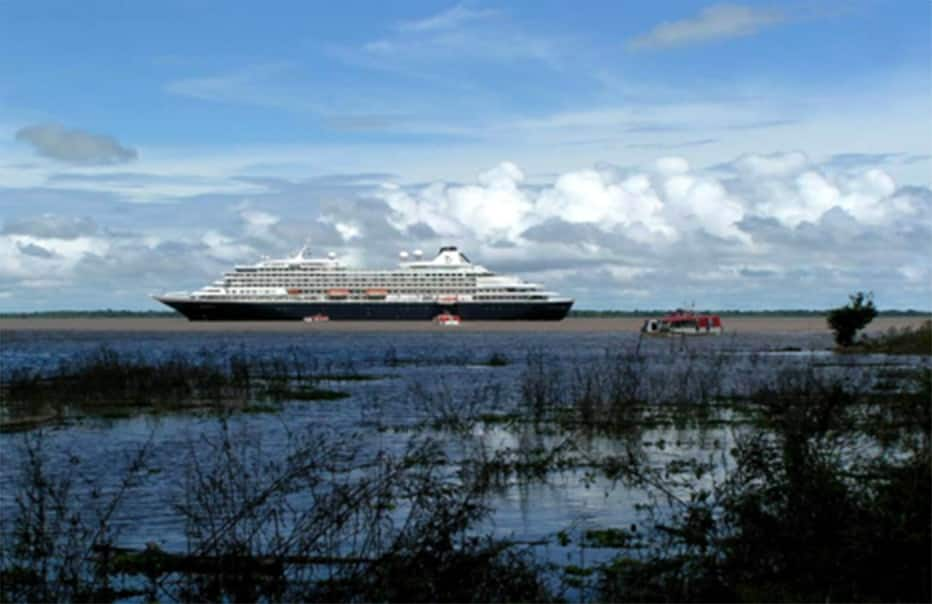 2008
135th Anniversary Celebration in Rotterdam
Her Majesty Queen Beatrix of the Netherlands names Eurodam in a ceremony in Rotterdam in front of the Company's original headquarters at the Wilhelminakade and the ship sails its maiden voyage on July 5th.
2010
137th Anniversary
2010 marks the 137th Anniversary of Holland America Line. Nieuw Amsterdam (IV) joins the fleet on July 04, 2010. Her Royal Highness, Princess Maxima of the Netherlands, names Nieuw Amsterdam (IV) in a ceremony in Venice, Italy. Nieuw Amsterdam IV, which can carry 2,106 guests, sails her maiden voyage on a 10-day Mediterranean cruise.
Holland America Line also launches the Culinary Council.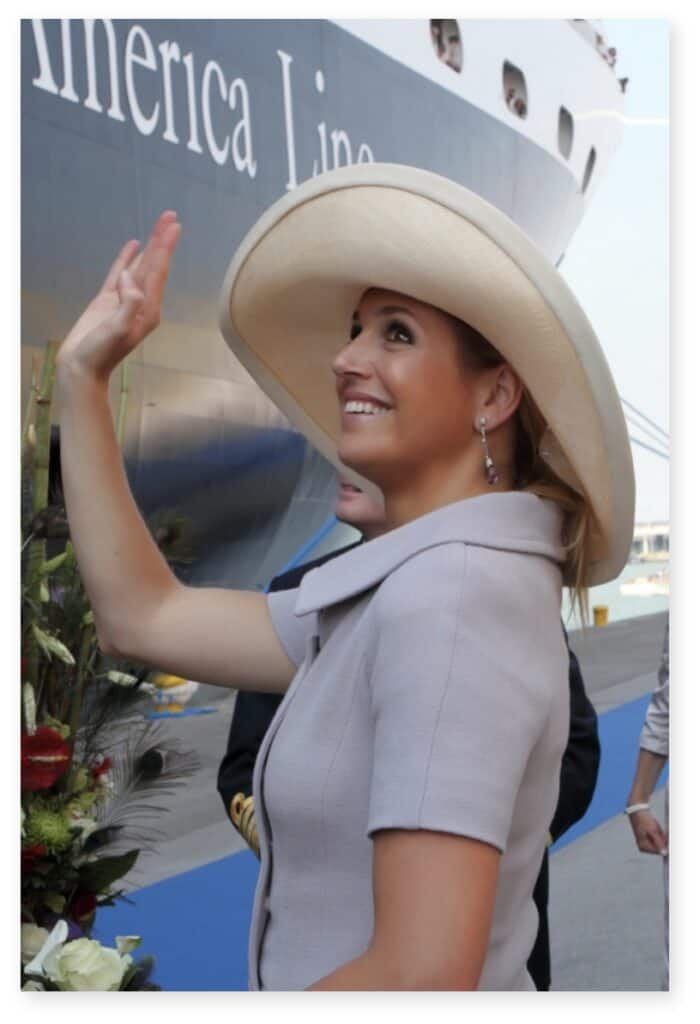 2012
A Fond Farewell
As Holland America Line's fleet expands, adding many enhancements and innovative features, a heartfelt farewell is bid to two sisterships: Statendam (V) and Ryndam (III).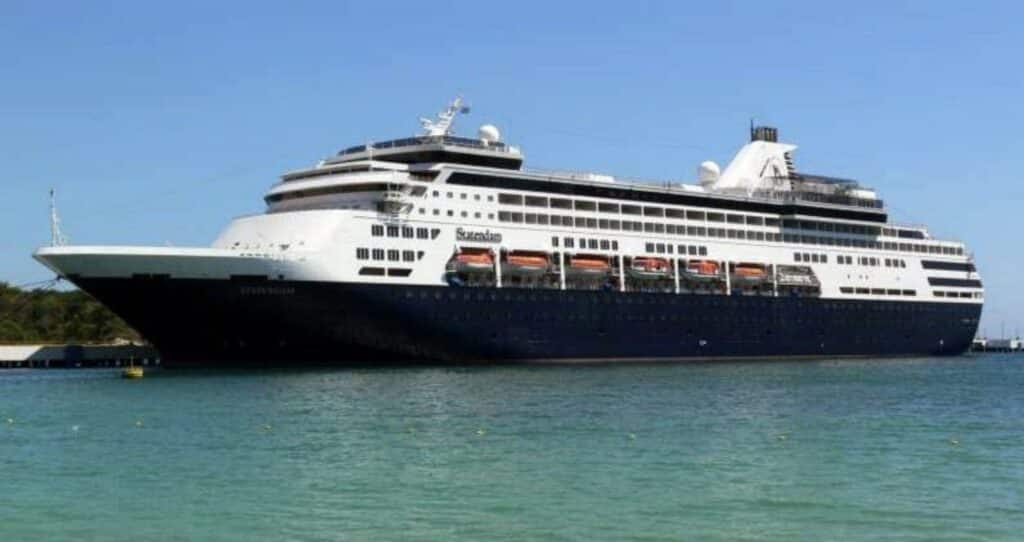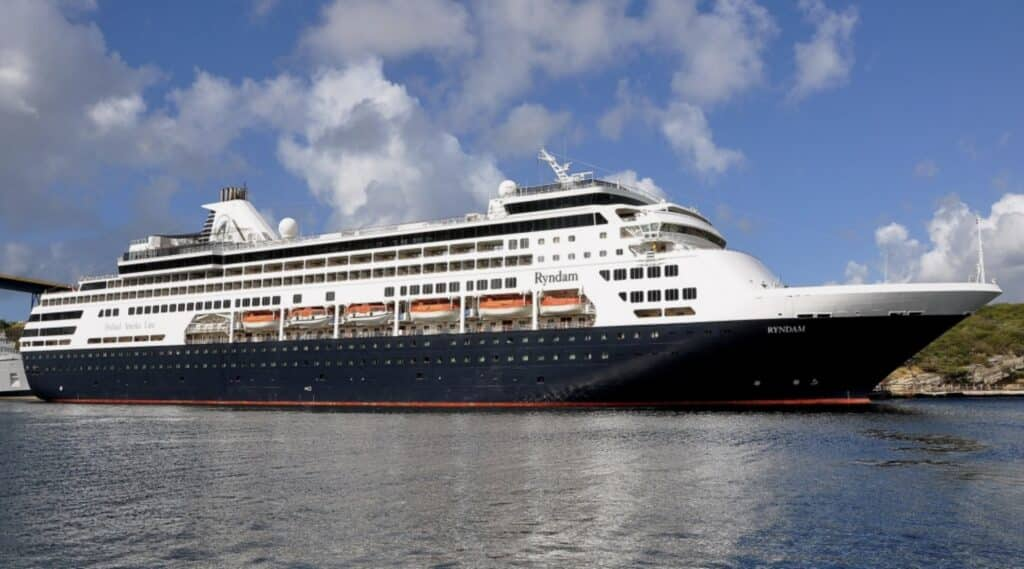 2016
143rd Anniversary
2016 marks the 143rd Anniversary of Holland America Line.
Koningsdam Joins the fleet on May 20, 2016, and is christened by Her Royal Majesty Queen Maxima of The Netherlands.
In 2016, Holland America Line's fleet is 14 ships strong.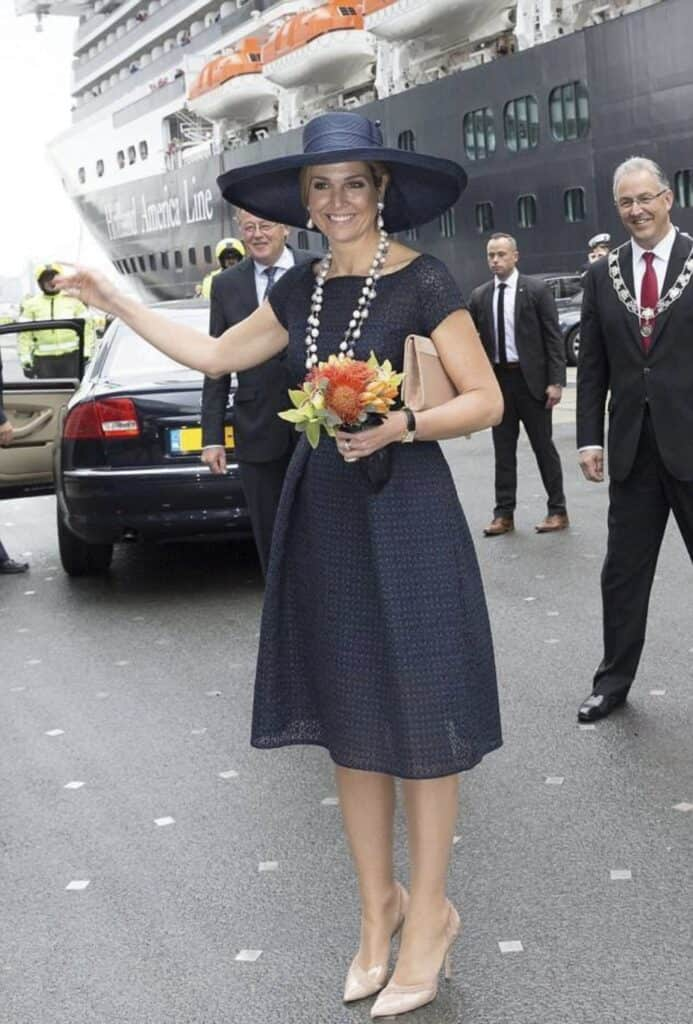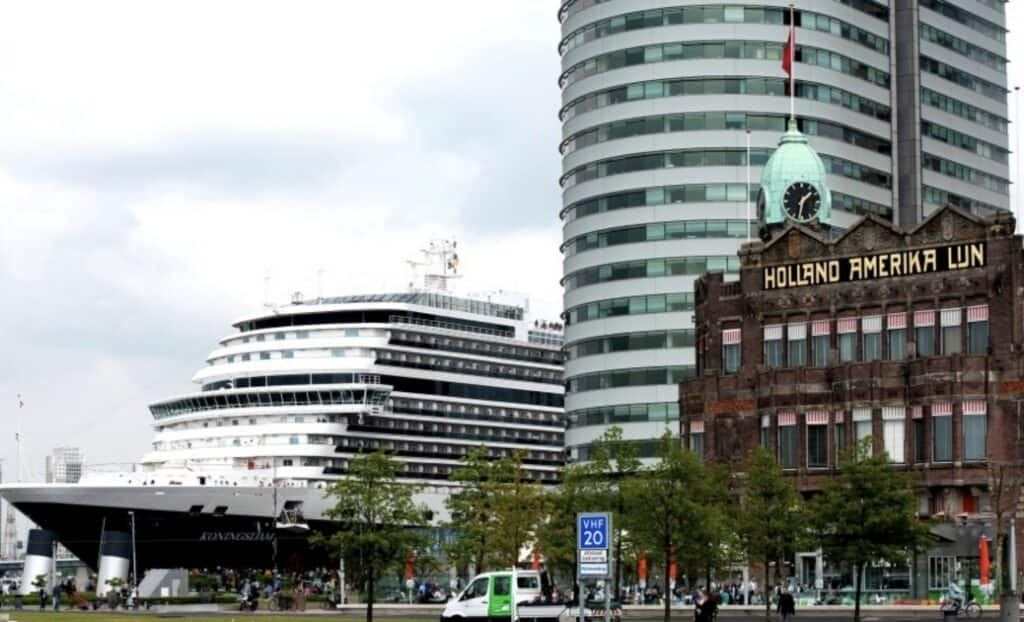 2018
Investing in Alaska
Holland America Line continues to invest in Alaska by expanding its McKinley Chalet Resort hotel in Denali Park with an extra 99-room wing.
Nieuw Statendam (VI) enters service in December. The ship is christened in February 2019 by Oprah Winfrey.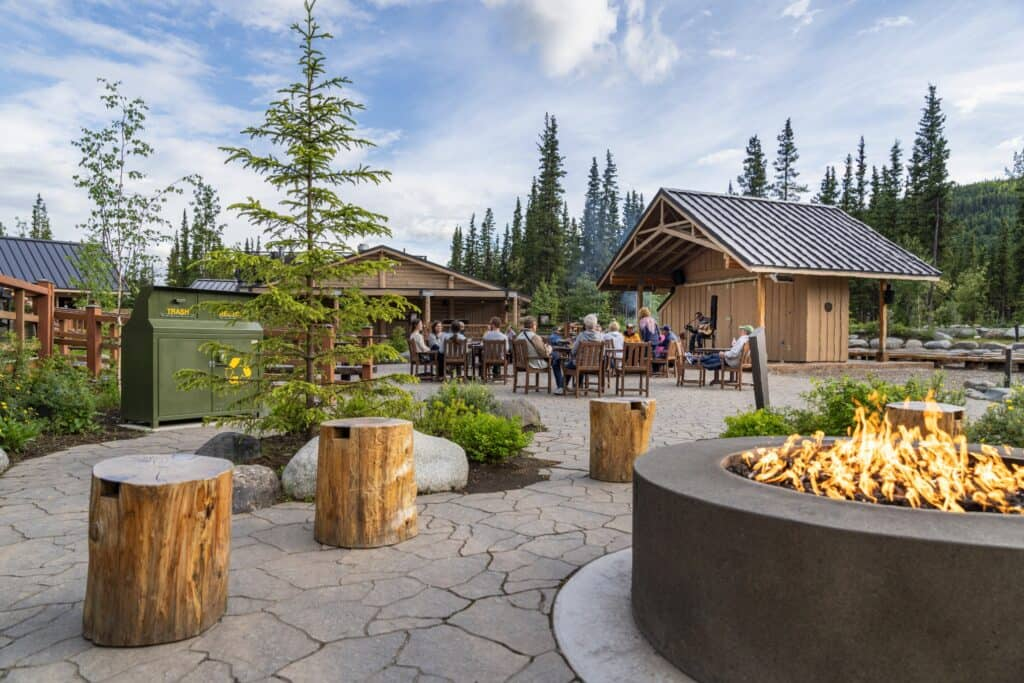 2019
Heineken and Holland America
Holland America Line designs a commemorative collectors bottle of Heineken premium lager to celebrate King's Day, April 27, 2019.
King's Day is celebrated on April 27 in the Netherlands to mark the birthday of His Majesty King Willem-Alexander. Holland America Line featured the premium beer on board all 15 ships to celebrate the shared Dutch lineage and connection between the two companies.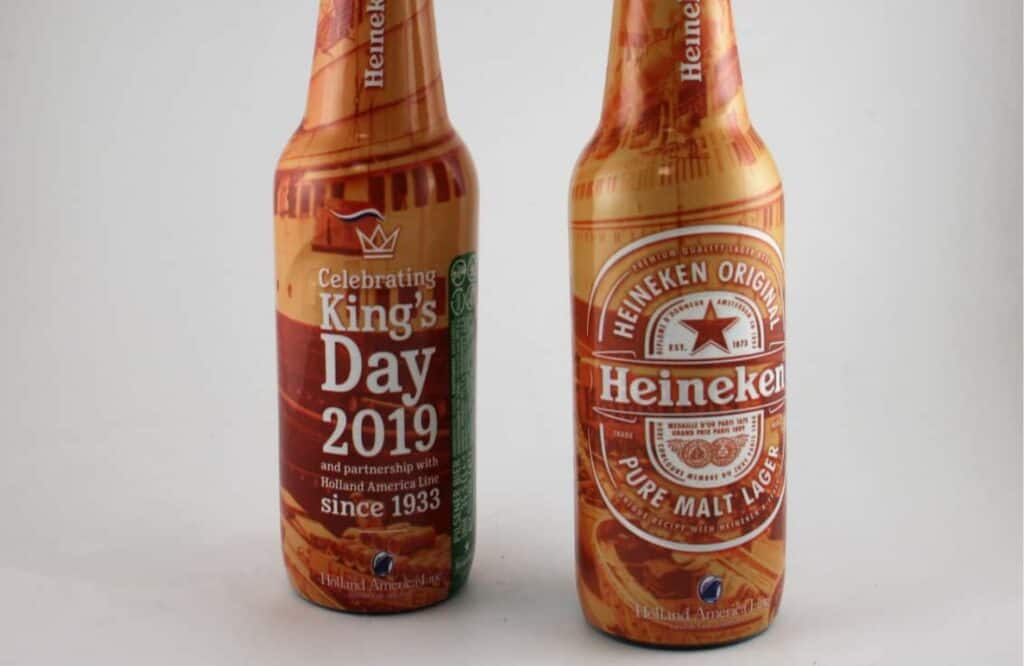 2020
COVID-19: The Emerging Pandemic
On March 14, 2020, Holland America Line orders a cessation to all cruise operations due to the Covid-19 pandemic. All ships are ordered to disembark their guests.
The ships go into warm lay-up, where vessel crew and routine maintenance is reduced, while essential machinery is kept in operation.
Four ships are sold to other operators. On July 20, it's announced that Ryndam (IV) (whose keel was laid in November 2019) will enter service as the Pinnacle Class Rotterdam (VII).
2021
Rotterdam VII
The Pinnacle-class Rotterdam VII enters into service in October 2021. Originally named Ryndam, she is renamed Rotterdam, paying homage to her six predecessors.
Rotterdam (VII) is the third Holland America Line Pinnacle-class ship in the fleet, built by Italian shipbuilder Fincantieri.
Known for extensive art collections, a vast array of dining venues, elegant furnishings, and music and entertainment designed to suit almost every taste, Rotterdam (VII) has much to offer even the most discerning traveler.
2022
Ukrainian Refugees aboard Volendam (III)
Holland America Line responds to the Ukraine crisis by offering Volendam (III) as a safe haven for refugees. Since the beginning of April, approximately 12,000 refugees have been housed safely, including being provided three meals a day. The partnership is part of a larger commitment from the Netherlands to accommodate 50,000 people who fleeing the war.
Gus Antorcha, Holland America's president, stated: "We are in a unique position to accommodate the immediate need for food and housing, so we felt it was very important to work with the city of Rotterdam and charter this ship. Our company was founded in Rotterdam around the mission of helping immigrants find a better life. So today we're proud to be a small part of a similar mission for Ukrainians who have tragically been displaced."