Vegetarian Recipe: America's Test Kitchen Black Bean Burger Makes #FoodieFriday Fabulous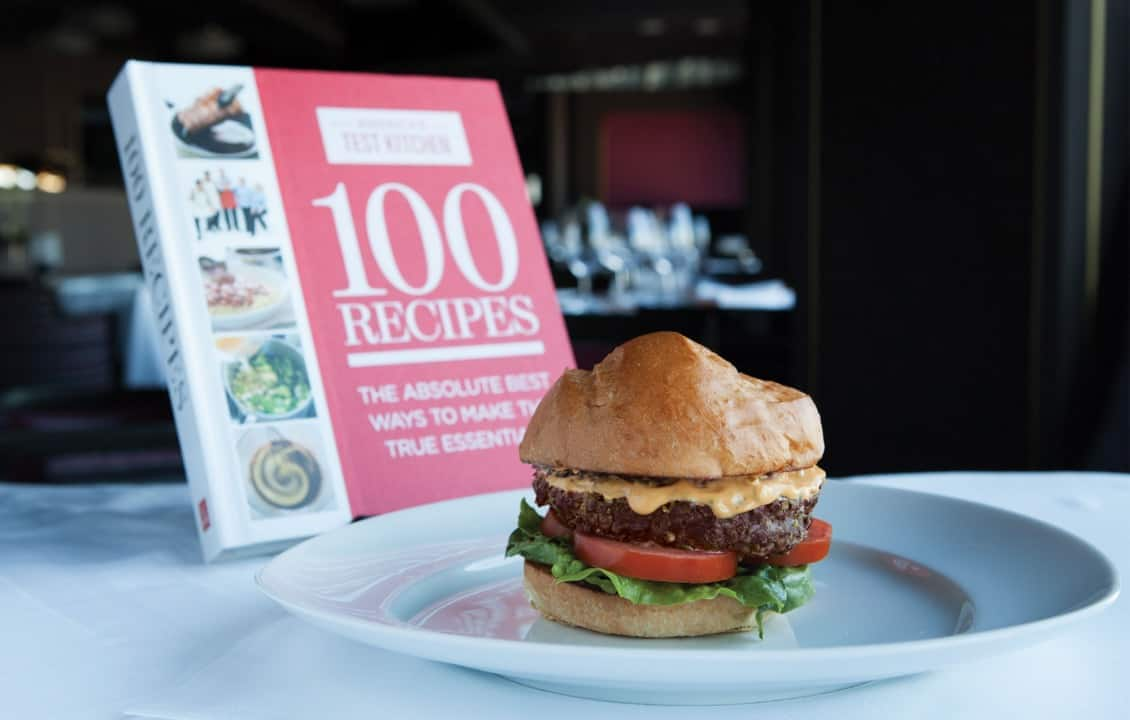 Holland America Line guests can now experience America's Test Kitchen's enticing selection of live onboard cooking shows and hands-on workshops where guests learn proven techniques for making delectable dishes with confidence. For more than 20 years, America's Test Kitchen has inspired home cooks with their unique, science-based approach to creating delicious, foolproof recipes, and now our guests can learn from the best.
From the moment guests take a seat, they'll feel as if they're on the set of an America's Test Kitchen TV show. The live cooking shows feature everything from tempting chocolate desserts to delicious meatless main dishes like a Vegetarian Black Bean Burger. Now you can make the recipe at home!
TIPS: The black bean mixture needs to be refrigerated for at least 1 hour or up to 24 hours prior to cooking. When forming the patties, it is important to pack them firmly together. Our favorite canned black beans are Bush's Best. Serve the burgers with your favorite toppings or with our Chipotle Mayonnaise.
INGREDIENTS:
2 (15-ounce) cans black beans, rinsed 2 large eggs
2 tablespoons all-purpose our
4 scallions, minced
3 tablespoons minced fresh cilantro 2 garlic cloves, minced
1 teaspoon ground cumin
1 teaspoon hot sauce (optional)
1/2 teaspoon ground coriander
1/2 teaspoon salt
1/4 teaspoon pepper
1 ounce tortilla chips, crushed coarse (1/2 cup)
8 teaspoons vegetable oil
6 hamburger buns
DIRECTIONS:
1. Line rimmed baking sheet with triple layer of paper towels and spread beans over towels. Let stand for 15 minutes.
2. Whisk eggs and our together in large bowl until uniform paste forms. Stir in scallions; cilantro; garlic; cumin; hot sauce, if using; coriander; salt; and pepper until well combined.
3. Process tortilla chips in food processor until finely ground, about 30 seconds. Add black beans and pulse until beans are roughly broken down, about 5 pulses. Transfer black bean mixture to bowl with egg mixture and mix until well combined. Cover and refrigerate for at least 1 hour or up to 24 hours.
4. Adjust oven rack to middle position and heat oven to 200 degrees. Divide bean mixture into
6 equal portions. Firmly pack each portion into tight ball, then flatten to 31⁄2-inch-diameter patty. (Patties can be wrapped individually in plastic wrap, placed in a zipper-lock bag, and frozen for up to 2 weeks. Thaw patties before cooking.)
5. Heat 2 teaspoons oil in 10-inch nonstick skillet over medium heat until shimmering. Carefully place 3 patties in skillet and cook until bottoms are well browned and crisp, about 5 minutes. Flip patties, add 2 teaspoons oil, and cook second side until well browned and crisp, 3 to 5 minutes. Transfer burgers to wire rack set in rimmed baking sheet and place in oven to keep warm. Repeat with remaining 3 patties and 4 teaspoons oil. Transfer burgers to buns and serve.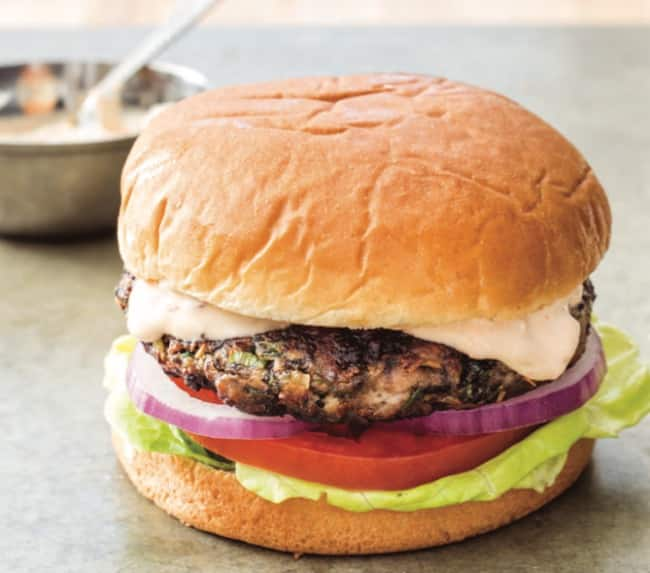 CHIPOTLE MAYONNAISE
Makes about 1/3 cup
INGREDIENTS:
To give the flavors time to blend, we let the mixture sit for an hour before serving.
3 tablespoons mayonnaise
3 tablespoons sour cream
2 teaspoons minced canned chipotle chile in adobo sauce
1 garlic clove, minced
1/8 teaspoon salt
DIRECTIONS:
Combine all ingredients. Cover and refrigerate for at least 1 hour.