Ramping Up to Rotterdam: May Edition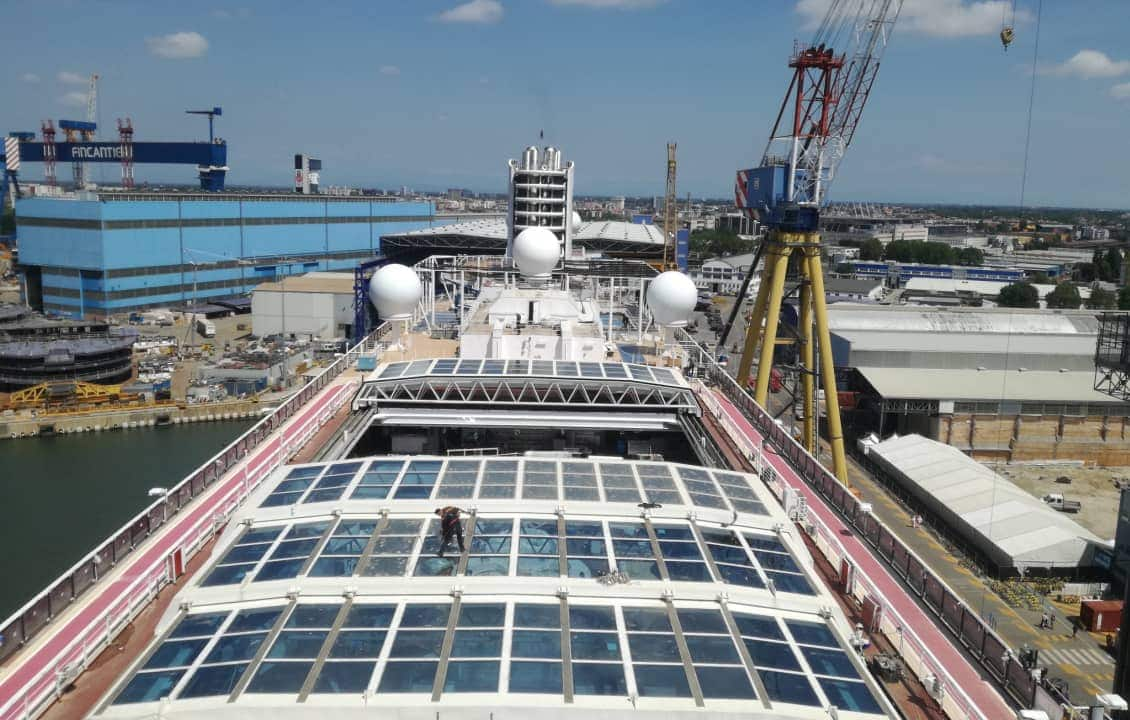 Did you tune in to Holland America Line Brand Ambassador Seth Wayne's "Ramping Up to Rotterdam" update this week on our Facebook page? Once again he spoke with Stan Kuppens, new builds projects, hotel, who offered insight into where the ship is at in the building process. Here are some photos shared by Stan and Seth, plus a few more to show you the progress of the ship in several areas.
Following a very successful sea trials, the ship is back in Marghera. There are only two months left in the building process, and it looks promising for an on-time delivery. At the moment, crew cabins are being delivered. Most of the items like carpets and ceilings are all done. Now, outfitters come in to the various spaces and finish them off. Most of the items are prepared in the factories ashore, and they are shipped to the yard and installed.
Once every area is inspected, it's recovered. About three to four days before delivery, all coverings are removed and from one day to the next it turns from a construction site to a ship ready to welcome guests!
DINING ROOM:
This is the entrance to the Dining Room. After we inspect and accept the space from Fincantieri, they cover the carpet so it doesn't get damaged and dirty. Here we are on Deck 2 looking aft, and you can see the maitre d' podium to the right. The light fixtures are in, the tables and flooring are protected, steward stations are in and we already did a preliminary inspection.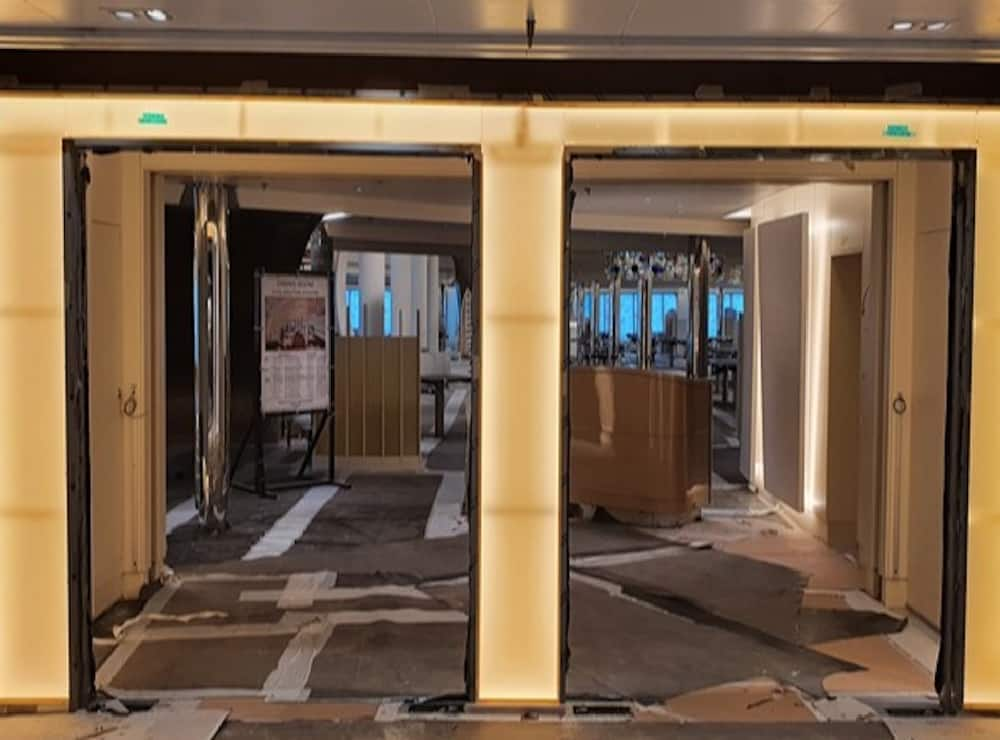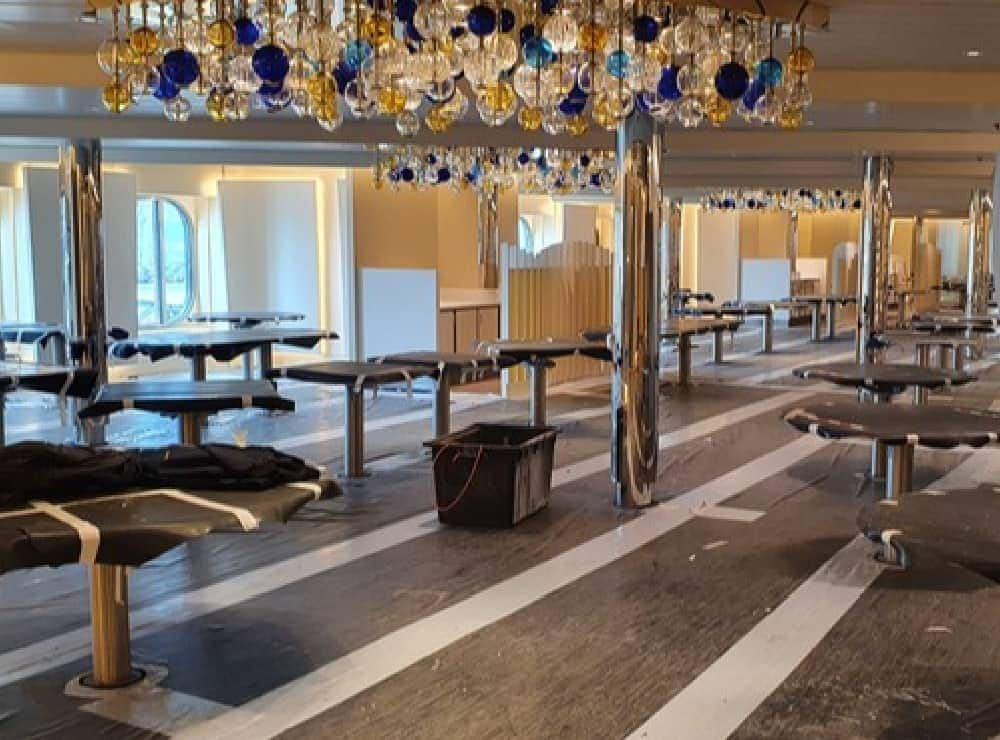 CLUB ORANGE:
For Rotterdam, the space was purpose-built to be Club Orange, conceptualized by architectural designer Adam Tihany. It has a buffet that will be accessible to guests, yet there also will be sit-down service. Another difference is that the entrance is in the middle, not the forward area.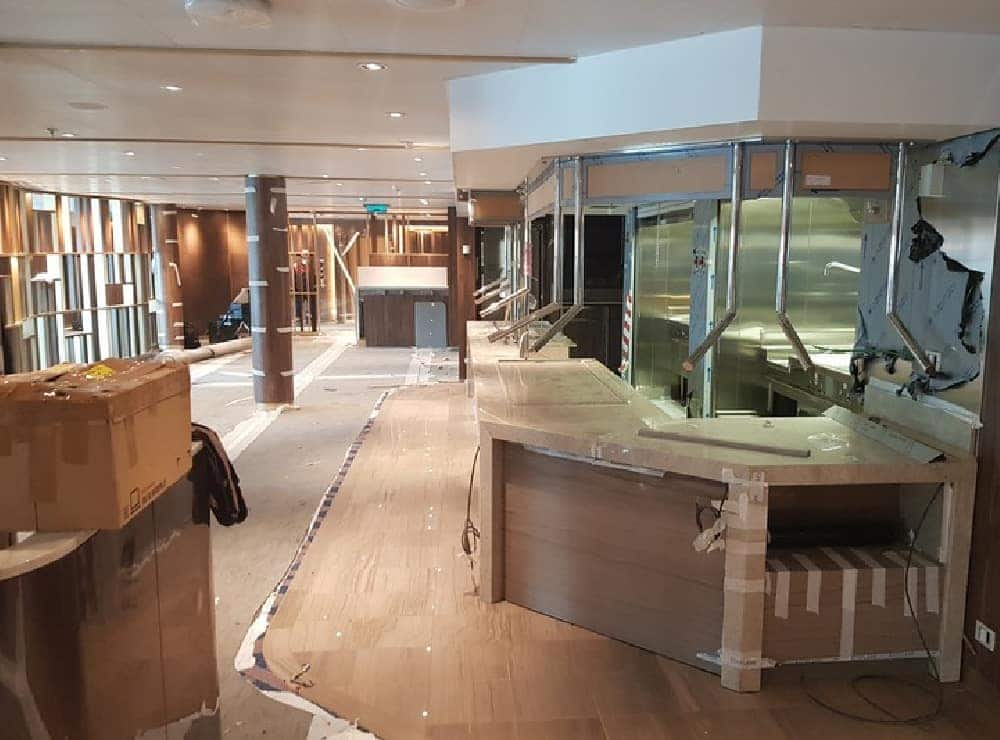 HALF MOON BAR:
A new feature on Rotterdam, Half Moon Bar is outside of Club Orange. It primarily will be used as a service bar for Club Orange, but Half Moon Bar will have stools for guests to enjoy a cocktail, or they can sit along the windows and enjoy the view. Things are moving fast, and we already had a preliminary inspection of this space.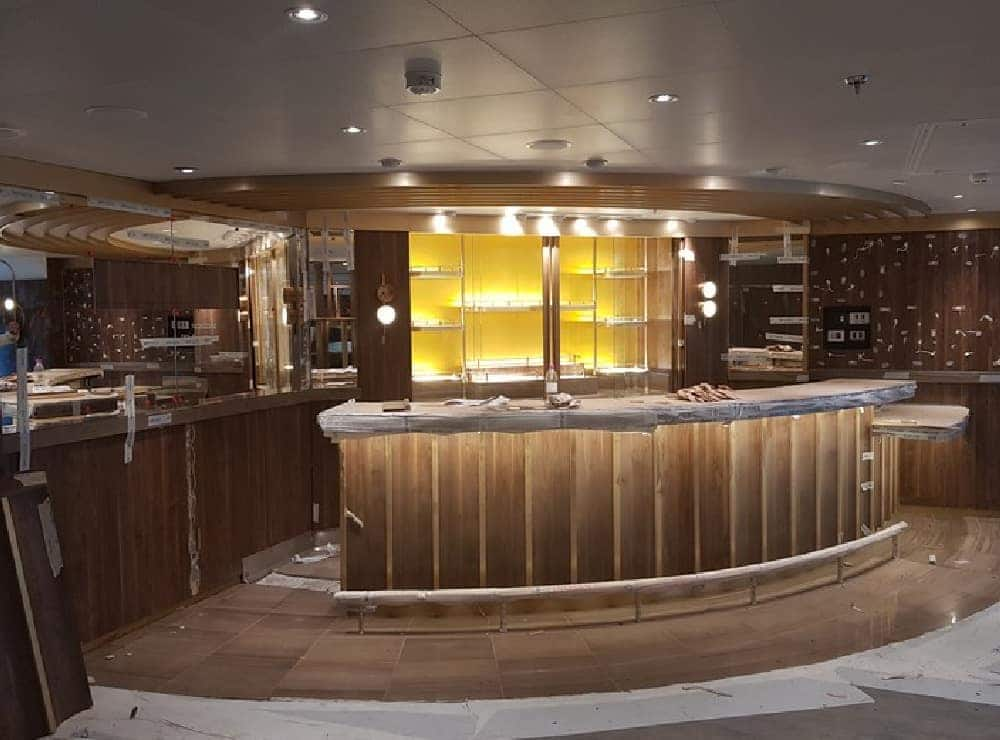 QUEEN'S LOUNGE:
The Queen's Lounge is similar to its sisterships, but some lighting corrections were made. Like other areas of the ship, things are covered and protected so they don't get damaged.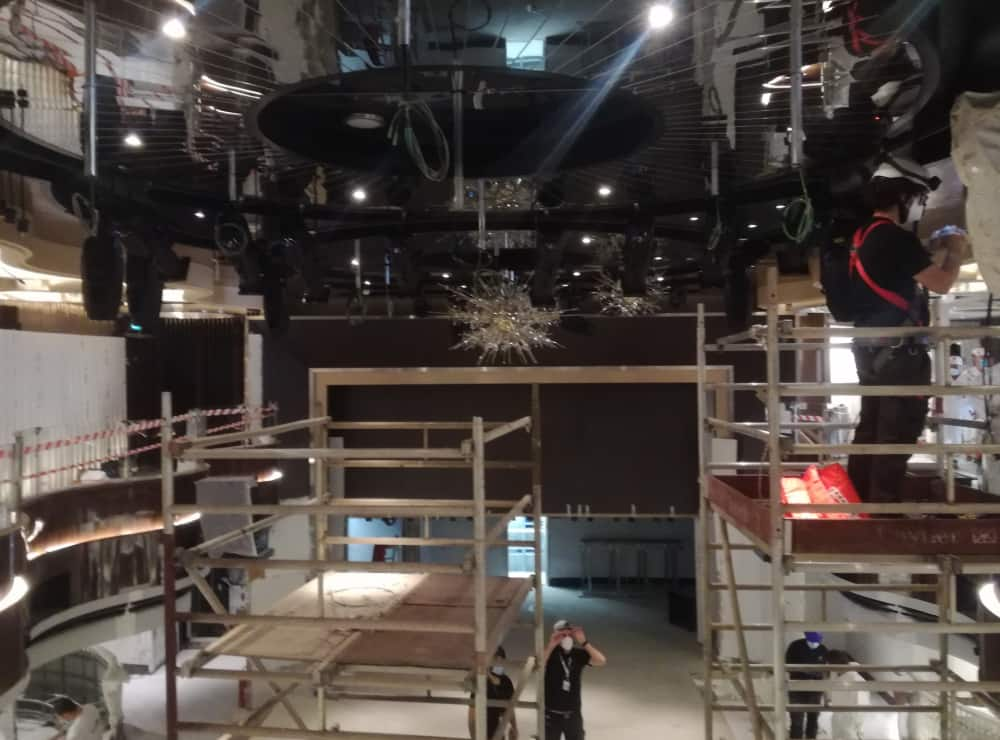 WORLD STAGE:
For World Stage, we received the LED panels in the last month and they are being installed. The wall will be up and tested by the end of June. All seats, carpet, steps, lighting, railings … everything is installed but covered for protection.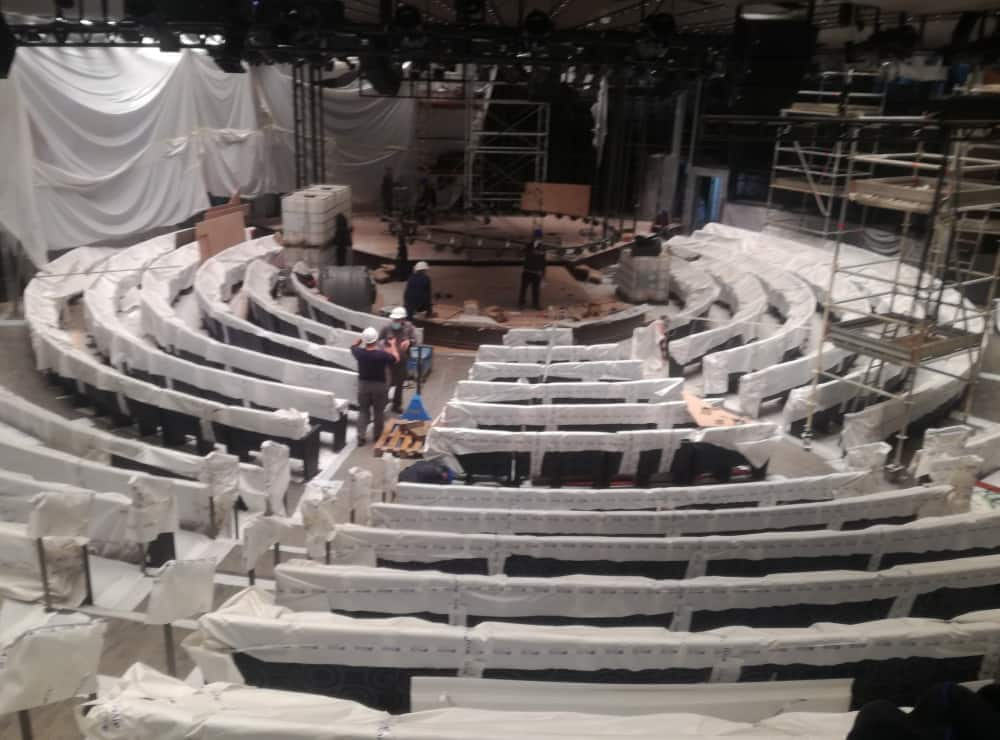 GRAND DUTCH CAFÉ:
Our beautiful Grand Dutch Cafe is pretty much done, but covered up. Heineken is scheduled to come for their installation, the company that makes the delft blue houses also will be here soon. We are adding the final touches, then it will be complete.
LIDO POOL:
With any ship, we start building from the bottom up, so the higher decks are further behind than lower decks. But they will be complete for delivery! All of the deck furniture, loose tables, sun loungers, etc. are arriving in the next couple of weeks. Instillation will take place up to delivery.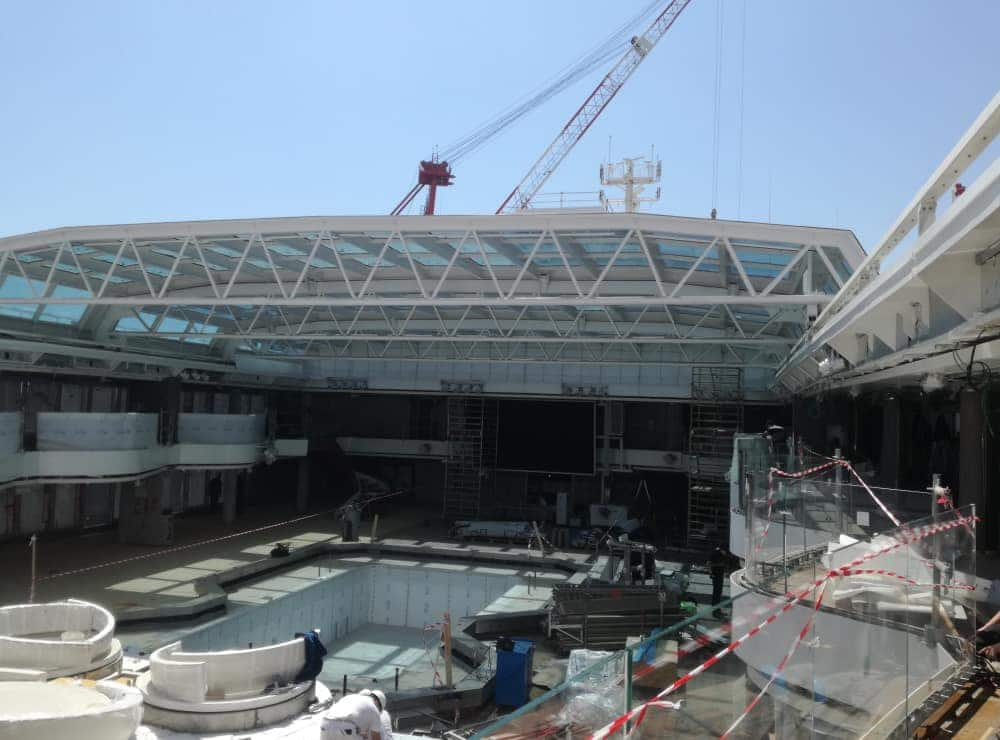 OTHER AREAS:
What's next? On July 10, crew members move on board! Stay tuned to see the final stages of the shipbuilding process in June and July, just before delivery!