Ramping up to Rotterdam: June – One Month to Go!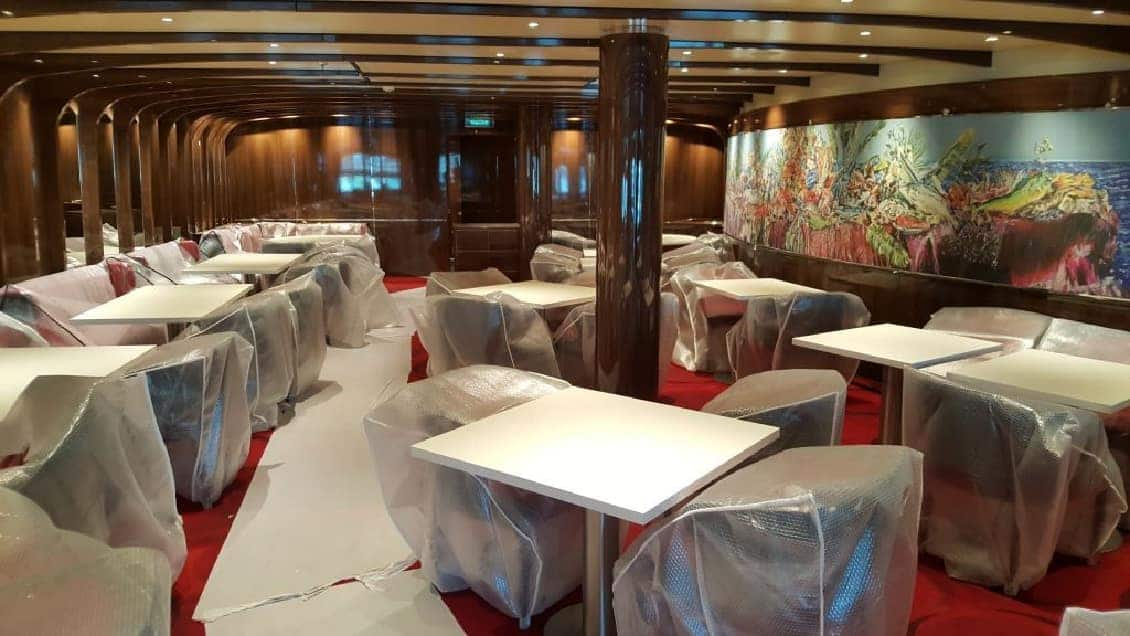 In less than a month, Holland America Line will welcome Rotterdam to our fleet! Did you tune in to Holland America Line Brand Ambassador Seth Wayne's "Ramping Up to Rotterdam" update this week on our Facebook page to see the progress of the ship? Once again he spoke with Stan Kuppens, new builds projects, hotel, who was live at the yard and offered insight into how closer we are to delivery. Here are some photos shared by Stan and Seth, plus a few more to show you the progress of the ship in several areas.
Stan relayed that right now they are busy with ship inspections and that the outfitters are doing great with the progress. Catering areas, public areas, deck and engine, staterooms … it's ramping up! The lights are on and the paint is shining. All of the areas are prepped for the outfitters, and now they can come in with pre-fabricated items to install. Then they add the last touches to make it custom, things that can't be done in the factory. As you will see in the photos, everything is covered up after preliminary inspections to keep the areas protected and clean.
"From the moment I started in March at the shipyard, I have not had a doubt for one second that ship wouldn't be finished on time. They are getting these areas ready like no tomorrow. It's incredible," said Stan.
ELEVATORS: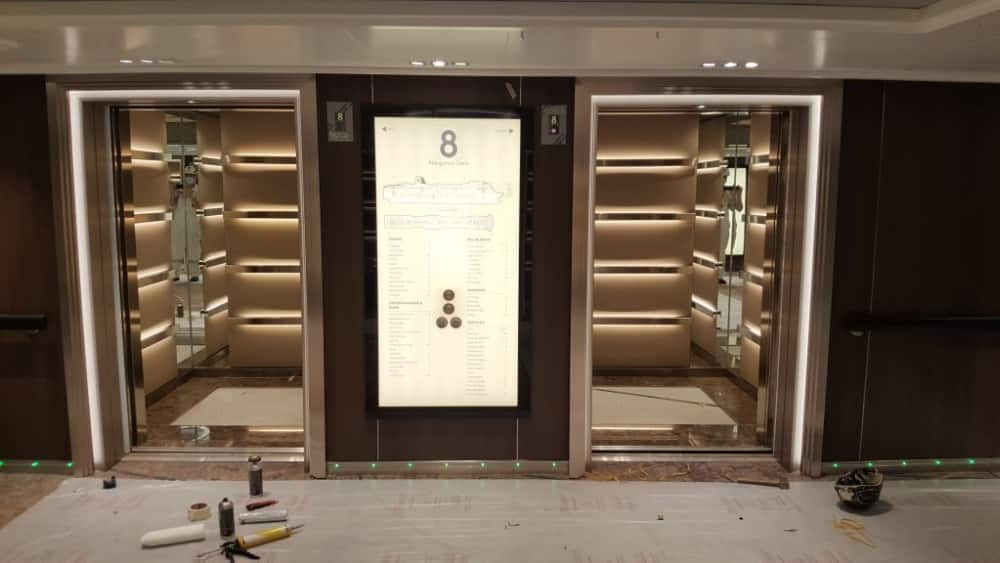 The elevators are in and pretty much done, and the whole elevator landing is complete. On Tuesday we had two pages of areas that will be delivered to the ship. The team inspects every bit of the deliverables, and they inspect them several times and make remarks. Then the outfitters work on their remarks and deliver the entire space to Holland America Line.
GRAND DUTCH CAFE: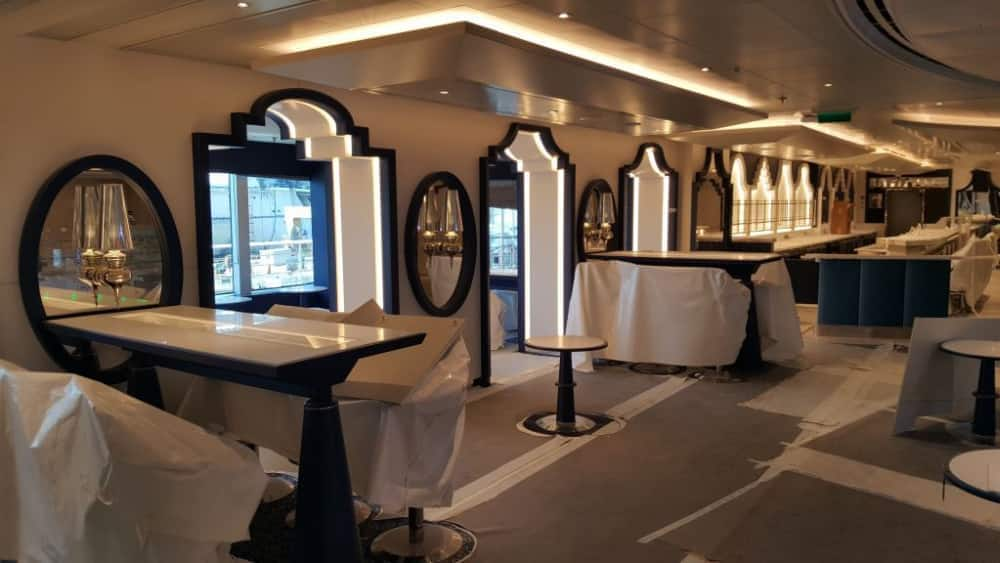 There are a few differences in Grand Dutch Cafe on Rotterdam than with its Pinnacle Class sisters. The bar has been so popular that we added another coffee machine! In addition, there are now high and low tables to make it more ADA friendly, including a lower section of the bar.
DINING ROOM: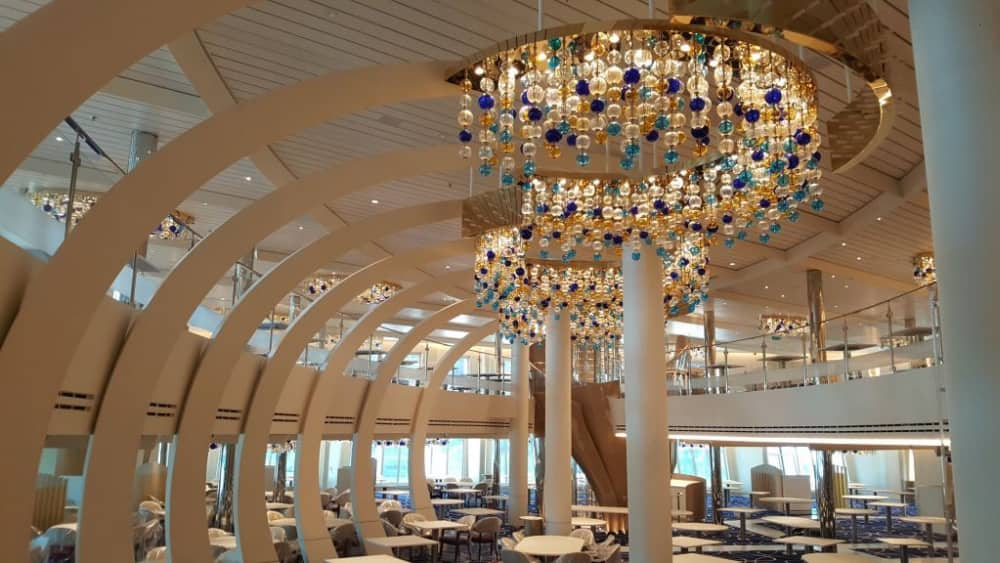 The Dining Room looks pretty much done. We had prelim inspections and they have a few things to fix, but we can now load owner-supply furniture. Deck 2 starboard already has chairs. We just keep moving in the chairs and supply furniture until it's complete.
WORLD STAGE: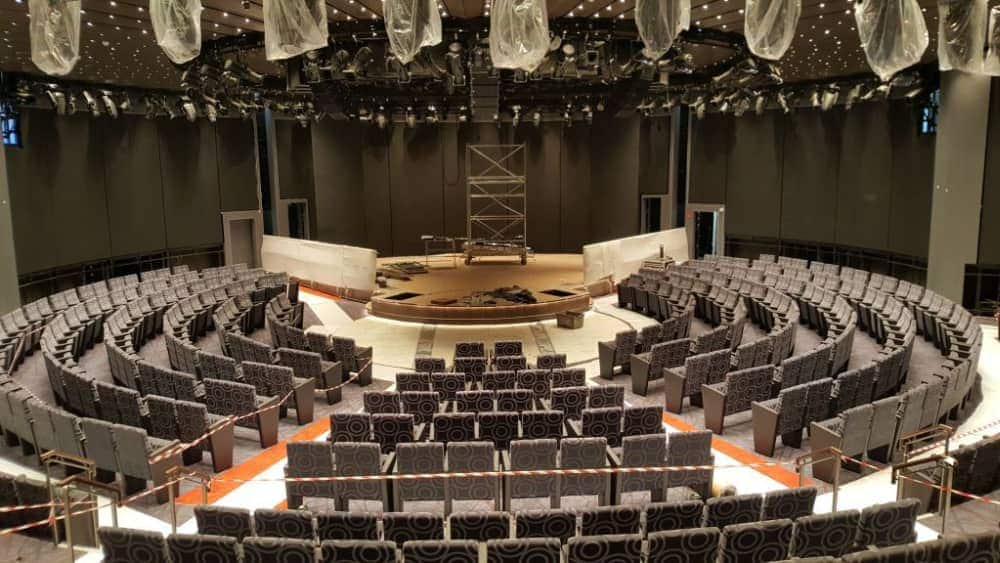 All of the LED screens are installed and World Stage is complete. All of the chairs are in and we've had a preliminary inspection. Screen are being tested and we're minutes away from delivery of these kinds of spaces.
TAMARIND: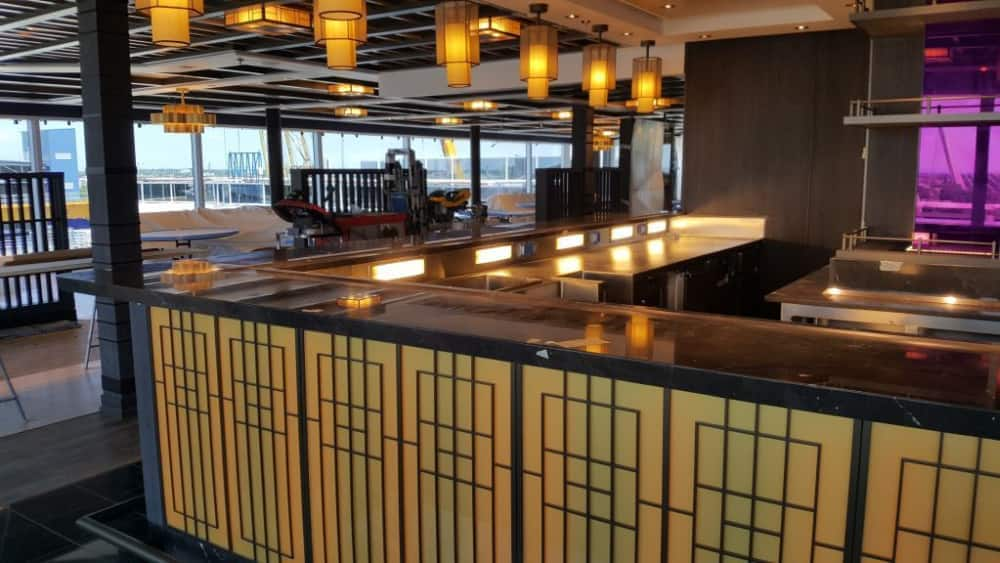 The restaurant is a little different on Rotterdam than the sisters. On this ship, Tamarind is more ADA friendly. There is an ADA area at the bar, and the bar you see has been brought around the corner. Tamarind is on Deck 10 further up in the ship. The yard has more time to start at bottom and work up. Even now we are in pre-inspection on Deck 10!
MORE AREAS:
*The main photo of this post is Rudi's Sel de Mer, with another beautiful painting by artist Magnus Sodamin.
We will have one final "Ramping Up to Rotterdam" in July just before delivery! Come back to see how the ship looks as she's ready to join the fleet.