Recipe: Learn How to Prepare the Perfect Salmon Dish from America's Test Kitchen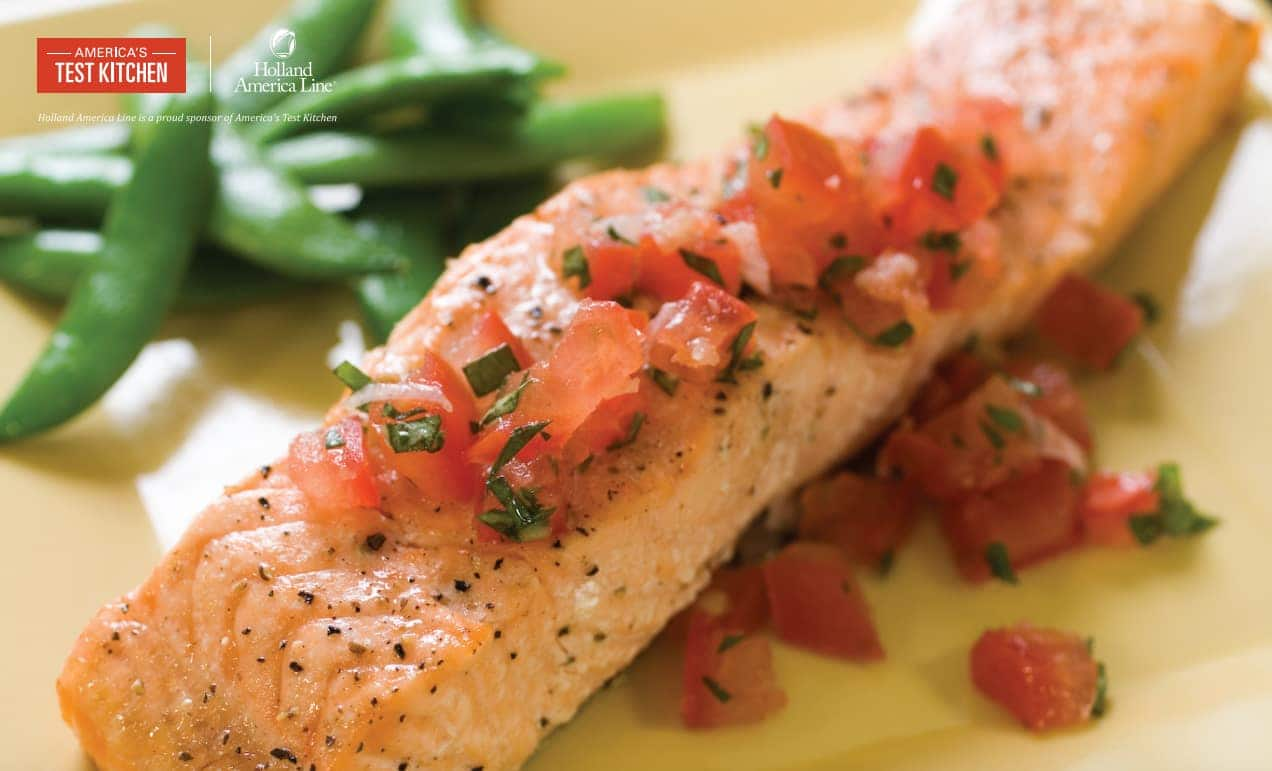 Reminiscing about a past cruise? One of the easiest ways to relive a Holland America Line vacation is by recreating a meal from your cruise that will awaken your taste buds and spark memories from a recent getaway.
With Holland America Line's America's Test Kitchen partnership, it's even easier to create a culinary staycation in your own home. During ATK's onboard presentations and shows, guests learn kitchen tips and tricks, along with a simplified approach to making delectable dishes. Plus, after each presentation cruisers get to keep recipe cards and tip sheets from the onboard cooking show.
If you're hungry for a hands-on cooking experience, join editors, authors and special guest experts aboard one of our culinary-themed America's Test Kitchen Feature Cruises to get in on cooking shows, recipe development presentations, culinary trivia (with prizes!), intimate Q&A sessions and book signings. There are two more cruises in 2018, so check them out:
14-day Northern Isles, sailing July 7-21, 2018, on Zuiderdam
7-day Canada & NE Discovery, sailing Sept. 22-29, 2018, on Veendam
For those who can't get onboard, we've brought one of America's Test Kitchen's favorites to you! Love Salmon? Bring an Alaska or a northern European cruise to your kitchen with this recipes from the America's Test Kitchen "Everything Salmon" onboard cooking show.
SALMON PREP 101
The foundation of any salmon dish is, of course, the salmon itself. In order to create the perfect salmon dinner, you must take care to prep your cut of fish properly.
Remove Pinbones
When a fish is filleted, the flesh is removed from the backbone and ribs, but the relatively soft, thin, needle-like pin bones, also known as intermuscular bones, are not attached to the main skeleton and thus must be removed in a second step. While most fish are sold with the pin bones removed, they are difficult to see and are sometimes missed by the fishmonger. When preparing recipes like the Oven-Roasted Salmon or Poached Salmon with Herb Vinaigrette, it's always a good idea to check for bones before cooking.
1. Drape fillet over an inverted mixing bowl to help any pin bones protrude. Then, working from head end to tail end, locate pin bones by running your fingers along length of fillet.
2. Use tweezers to grasp the tip of bone. To avoid tearing flesh, pull slowly but firmly at a slight angle in direction bone is naturally pointing rather than straight up. Repeat until all pin bones are removed.
To Skin or not to Skin?
We use skin-on salmon fillets in our Oven-Roasted Salmon recipe; the skin helps shield the flesh from the high heat environment. But for the more gentle, even cooking of our Poached Salmon recipe, skinned salmon works best. You can ask your fishmonger to do the skinning for you, or you can follow these steps to do it yourself.
1. Using the tip of a boning knife (or sharp chef's knife), begin to cut skin away from fish at corner of fillet.
2. When enough skin is exposed, grasp skin firmly with piece of paper towel, hold taut, and carefully slice flesh off skin.
Get Ready to Roast
After trimming any belly fat and portioning the salmon into individual fillets, we score the skin to allow the ample fat between the skin and flesh to render, or melt, as it roasts.
1. Hold a sharp knife at a slight downward angle to the flesh and cut off the whitish, fatty portion of the belly.
2. Cut the salmon fillet into four pieces of equal size to help ensure that they cook at the same rate.
3. Make four or five shallow slashes along the skin side of each piece of fish, being careful not to cut into the flesh.
RECIPE: OVEN-ROASTED SALMON
Serves 4
It is important to keep the skin on during cooking; remove it afterward if you choose not to serve it. An easy relish with ample acidity and bright flavors balances the richness of the fish.
Ingredients
1 skin-on salmon fillet (1 ¾ to 2 pounds), about 1 ½ inches at thickest part
2 teaspoons olive oil
Salt and pepper
1. Adjust oven rack to lowest position, place rimmed baking sheet on rack, and heat oven to 500 degrees. Use sharp knife to remove any whitish fat from the belly of fillet and cut into 4 equal pieces. Make 4 or 5 shallow slashes about an inch apart along skin side of each piece, being careful not to cut into flesh.
2. Pat salmon dry with paper towels. Rub fillets evenly with oil and season liberally with salt and pepper. Reduce oven temperature to 275 degrees and remove baking sheet. Carefully place salmon skin-side down on baking sheet. Roast until centers of thickest part of fillets are still translucent when cut into with paring knife or fillets register 125 degrees, 9 to 13 minutes. Top with relish and serve.
Spicy Cucumber Relish
Makes about 2 cups
1 cucumber, peeled, seeded, and cut into ¼-inch dice (2 cups)
½ small shallot, minced (1 tablespoon)
1 serrano chile, seeds and ribs removed, minced (1 tablespoon)
2 tablespoons chopped fresh mint
1-2 tablespoons lime juice
Salt
Combine cucumber, shallot, chile, mint, 1 tablespoon lime juice, and ¼ teaspoon salt in medium bowl. Let stand at room temperature to blend flavors, 15 minutes. Adjust seasoning with additional lime juice and salt.
Enjoy! If you make the recipe, let us know what you think in the comments!