Oosterdam and Zaandam Return to Service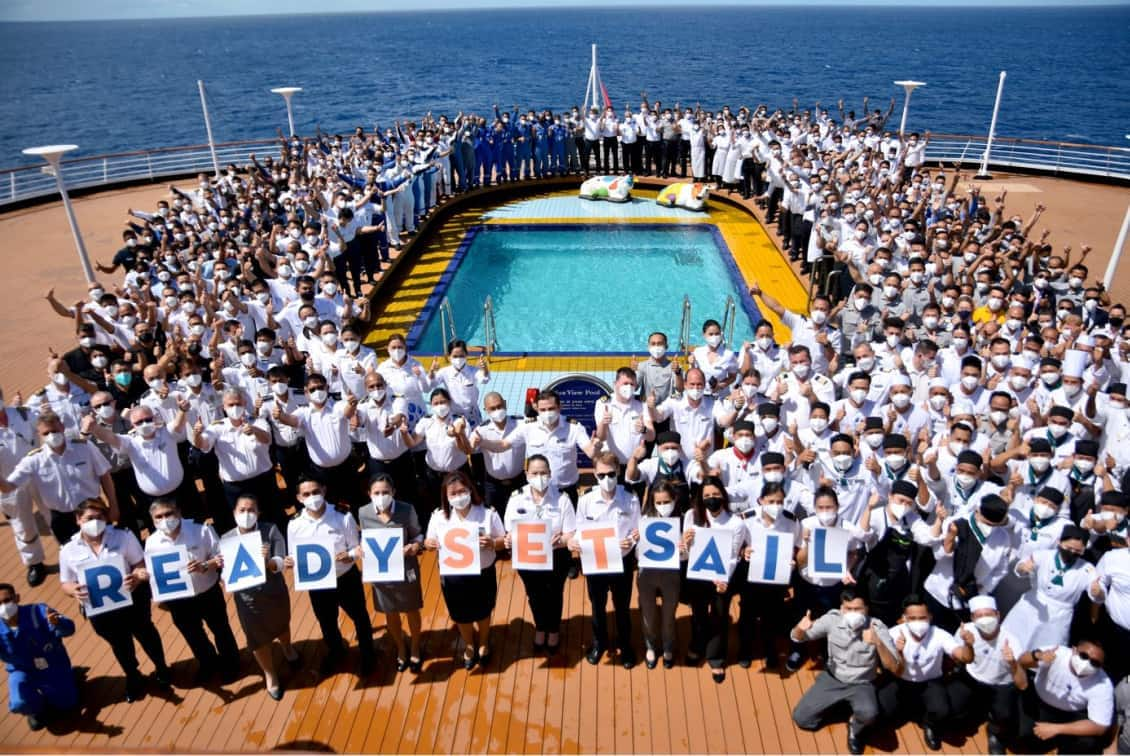 It's been a busy and exciting week for Holland America Line. Two more ships are back in service, with Oosterdam restarting in Trieste (Venice), Italy, and Zaandam setting sail from Port Everglades in Fort Lauderdale, Florida.
To commemorate both occasions, Holland America Line held a ribbon-cutting ceremony in the terminal to open embarkation, attended by the ship's captain and senior officers, with flag-waving fanfare from team members lined up to greet guests as they boarded the ship.
OOSTERDAM
Following its first cruise back in service, Oosterdam will spend the summer in the Mediterranean, offering seven- to 19-day itineraries roundtrip from Trieste (Venice), and between Trieste and Piraeus (Athens), Greece; Civitavecchia (Rome), Italy; or Barcelona, Spain. The ship will explore the entire region with ports in Spain, France, Italy, Greece, Turkey, Israel, Montenegro, Croatia, Albania and Malta.
After the Mediterranean season, Oosterdam departs on a transatlantic crossing to Fort Lauderdale before heading through the Panama Canal and down the western coast of South America to position for a winter season of cruises around the tip of the continent between San Antonio (Santiago), Chile, and Buenos Aires, Argentina. The 14-day itinerary will journey to ports in Chile and Argentina, including the coveted Falkland Islands, along with cruising in the Strait of Magellan, Glacier Alley and Cape Horn. Three 22-day itineraries add four memorable days of scenic cruising in Antarctica.
ZAANDAM
Following Zaandam's repositioning cruise along the east coast of North America to Montreal, Canada, Zaandam will spend the summer and early fall offering Canada and New England cruises between Boston, Massachusetts, and Montreal.
On July 9, Zaandam sets sail on the popular 35-day Voyage of the Vikings itinerary roundtrip from Boston that retraces the routes of past explorers with ports in Canada, Greenland, Iceland, Ireland, Norway and the Netherlands. Following fall foliage cruises between Boston and Montreal, Zaandam embarks guests Oct. 10 for the 71-day Grand Africa Voyage that sails roundtrip from Fort Lauderdale and includes 25 ports of call, four overnights and countless safari opportunities to throughout the African continent.
After the Grand Africa Voyage, Zaandam will spend the holidays in the Caribbean and then offer a series of Panama Canal transits between San Diego, California, and Fort Lauderdale, with two Mexico options roundtrip from San Diego in March. The ship will return to Canada/New England next spring.
Since Holland America Line restarted cruising in July 2021, Eurodam, Koningsdam, Nieuw Amsterdam, Nieuw Statendam, Noordam, Oosterdam, Rotterdam and Zuiderdam have returned to service with cruises in Alaska, the Caribbean, Europe, Mexico, California Coast and South Pacific. Volendam currently is under charter by the government of the Netherlands, positioned alongside in Rotterdam accommodating Ukrainian families.
Holland America Line will complete the restart of the fleet June 12 with Westerdam in Seattle, Washington.