#BaconLoversDay Culinary Council Recipe: David Burke's Clothesline Candied Bacon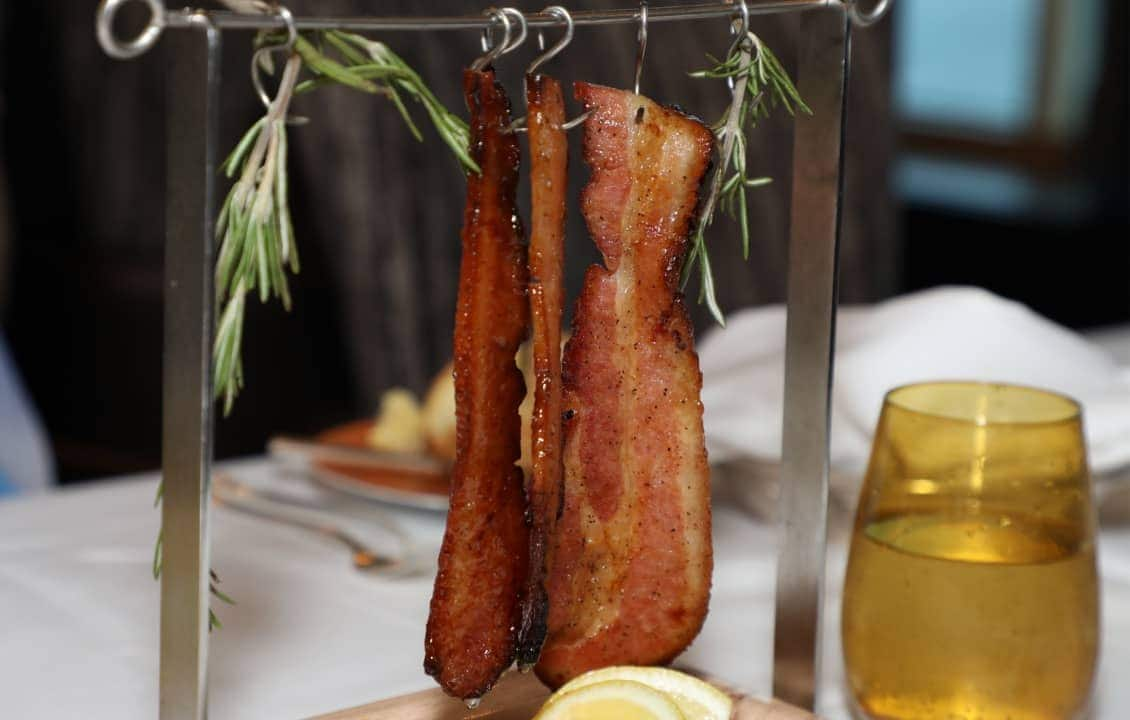 It's Bacon Lovers Day, and there's no other way to celebrate than by making Culinary Council Member Chef David Burke's famous Clothesline Candied Bacon that we serve in Pinnacle Grill. From the moment you smell the aroma of the bacon and see the delicious candied strips hanging from the clothesline, you'll know you're in bacon heaven! Don't worry if you don't have a mini-clothesline at home … you can just serve on a plate and enjoy!
Serves 4, 3 strips each
INGREDIENTS:
Bacon slab – skin removed and cut lengthwise in 12 strips at 1/4 inch each
Marinade:
1 1/4 cup Maple syrup
3 tablespoons Dijon mustard
1 tablespoon Mustard powder
1 tablespoon Orange zest
3 tablespoons Coarse black pepper
Garnish:
Lemons – sliced into wedges
Pickles — cut into long wedges, one per portion
Rosemary — small bunches for garnish
DIRECTIONS:
Remove the skin from the bacon slab and slice the bacon lengthwise into strips.
Place all marinade ingredients in a pot and simmer until they are combined and the dry ingredients have dissolved. Allow the mixture to cool down.
Dip each slice in the marinade to fully coat both sides and let it rest to flavor in the refrigerator for one day.
Remove bacon slices from marinade, place them on wire racks with sheet pan underneath to catch any drippings and bake in a preheated oven at 350F until caramelized, around 12 minutes. If more color is needed, bacon can be finished on a flat top grill.
Use the clothesline pins to hold the bacon upright. Place a pickle wedge under the bacon and torch the bacon as needed. Garnish with rosemary, lemon wedges and serve.