Better Together: Savor the Perks of a Group Cruise With Holland America Line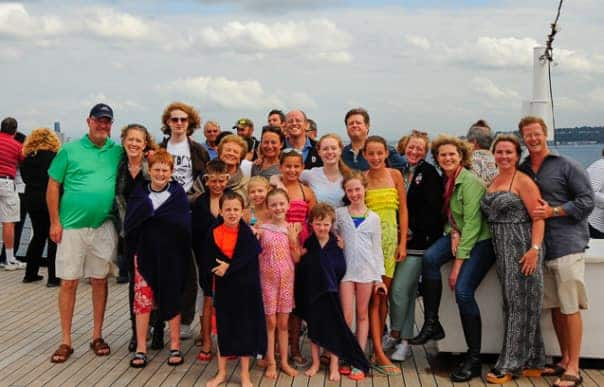 At Holland America Line we believe cruising is better together, and a group cruise is the perfect way to elevate your time onboard. Whether it's a group of friends, family or coworkers, and whether you call them your crew, your squad or your entourage, there are plenty of perks to traveling with them … and you can start to enjoy those perks anytime you book eight staterooms or more.
Guest Cynthia Berg loved having her family together:
"We had a group of twelve family members. We were in a bank of six verandah suites… They opened the partitions between the balconies so we had our very own lido deck! It was marvelous hanging out after daily excursions for cocktails before dinner… And the kids had a great time walking in and out of the cousins rooms… We did the eastern med cruise… Simply amazing!"
Holland America Line's dedicated group specialist takes care of every detail — from planning through debarkation and beyond. They work with the group planner to help craft the perfect cruise and make sure each wedding, reunion, getaway or conference exceeds everyone's expectations.
Guest Jan Kilgore organized a group cruise to Alaska:
"Took a group of about 24 from our 55+ group at church to Alaska a couple of years ago aboard the Westerdam. We had a blast. I have traveled with Holland for about 18 cruises. Love Holland America and have never had a bad experience. The crew is always A+."
With the Group Advantage Program (GAP), the travel agent partner or group specialist will be able to customize a group. Each departure has a number of points that can be used toward perks. Whether the group wants to try out the award-winning Pinnacle Grill, have a special cocktail party or some extra Internet minutes, there's something appealing for everyone. Groups also can select a themed package with specific benefits in lieu of the GAP program. Additionally, the group leader can earn Tour Conductor credits to reduce the cost of their booking, based on the number of guests who travel with them. Holland America Line understands no two groups are the same and you're sure to find a package suited to your needs.
Guest Sharon Masse was already hoping for another group cruise after the first one finished:
"Group of 25 people went, it was the best cruise I had ever been on. Food and entertainment was top notch. The staff was the friendliest. Hoping to go on one of your cruises next year."
Here are some of the packages Holland America Line offers in lieu of GAP points. For more information, contact your travel agent partner or our Groups Department at 888-425-9477.
Family Reunion Package
Nothing brings a family together like a cruise, and on a Holland America Line vacation there is something for everyone so multi-generational groups especially enjoy the experience.
The head of the family receives a complimentary "best available" upgrade and the other family members receive a "best available" upgrade within their type of stateroom (for example, oceanview to better oceanview stateroom). In addition to the stateroom upgrades, all guests will enjoy a lunch in the Pinnacle Grill, a $50-value fountain soda card per stateroom and a $50-value beverage card per stateroom.
Private Wine and Cooking Demonstration Package
If the theme of your group involves food or wine, you'd be hard-pressed to find a better host than Holland America Line. Our cuisine is five-star and our elegant dining venues are the perfect setting for every meal. Not to mention activities abound. At the Culinary Arts Center presented by Food & Wine magazine, guests can enjoy cooking demonstrations, presentations and hands-on classes on topics ranging from cooking to plating.
You can build a group cruise around a celebrity chef or wine expert and we'll take care of the rest. With this package guests enjoy a private premium wine tasting with the ship's cellar master, two one-hour demonstration sessions in the Culinary Arts Center with the group-provided chef and a bottle of sparkling wine in each stateroom.
Winemaker's Package
This package offers wine enthusiasts an opportunity to learn more about the complex world of wine. Partner with a winemaker, sommelier or local restaurant to create a memorable group cruise experience. Groups can choose from two options:
1. Groups bring their own wine onboard — the perfect solution for wineries who wish to serve their own wines with dinner. (Corkage fee applies.)
2. Create a group focusing on the fine wines that Holland America Line serves onboard, enjoying wine tastings with our knowledgeable cellar masters and sommeliers.
All groups receive two one-hour wine tastings in either the main Dining Room or Pinnacle Grill, a Winemaker's Lunch in the Pinnacle Grill including a pairing of three wines, and a plate of chocolate-dipped strawberries or the Holland America Line commemorative bottle of wine per stateroom.
Wedding Package
Who says the happiest day of your life should only be a day? Take all the stress out of planning a wedding and let Holland America Line handle it. Our onboard wedding coordinators manage all of the details — from ensuring the cake is decorated to perfection to making sure champagne is available.
Guests can customize their wedding package by adding extra services such as photography, videography, live music, receptions and spa appointments. Ceremonies are performed on the day of sailing prior to departure or in select ports of call.
The wedding couple receives a complimentary "best available" upgrade and wedding cake for up to 16 guests. All guests get to enjoy a Pinnacle Grill lunch and a private wine tasting plus chocolate-dipped strawberries and a bottle of sparkling wine in each stateroom.
Vegas at Sea Package
Whether you're an experienced gambler or rolling the dice for the first time, onboard casinos offer gaming for all levels and complimentary lessons. Your group can enjoy a little of its own Las Vegas with a package that includes a $25 casino credit per stateroom, $25 beverage card per stateroom and a Pinnacle Grill lunch for all guests.
Destination Discovery Package
Your group can explore exciting ports of call with a $50 per stateroom shore excursion discount. Reminisce afterwards over a complimentary cocktail party and we'll include a group keepsake.
Wellness and Fitness Package
Increase your physical fitness, rejuvenate your spirit, relax your body and improve your lifestyle with this special package. Guests receive a Hydrotherapy Pool Soak, three-pack of Vitamin Water, and private low-impact aerobics, yoga or pilates instruction that is scheduled onboard.
Popular Destinations
Holland America Line's seven-day cruises are the most popular for groups. With weeklong cruises to multiple destinations, it is easy to find the perfect fit. Traveling with a lot of kids? The Caribbean is great for fun in the sun. Are you with a group of adventure seekers? Than Alaska is a must-do! History buffs love Canada & New England or enjoy a mix of ruins and tequila in spicy Mexico! Holland America Line offers seven-day cruises to all of these destinations.
So what are you waiting for? Grab your confidantes, classmates, colleagues or cronies and start planning your group cruise!