Our Cruisers Offer Their Best Advice for Experiencing Alaska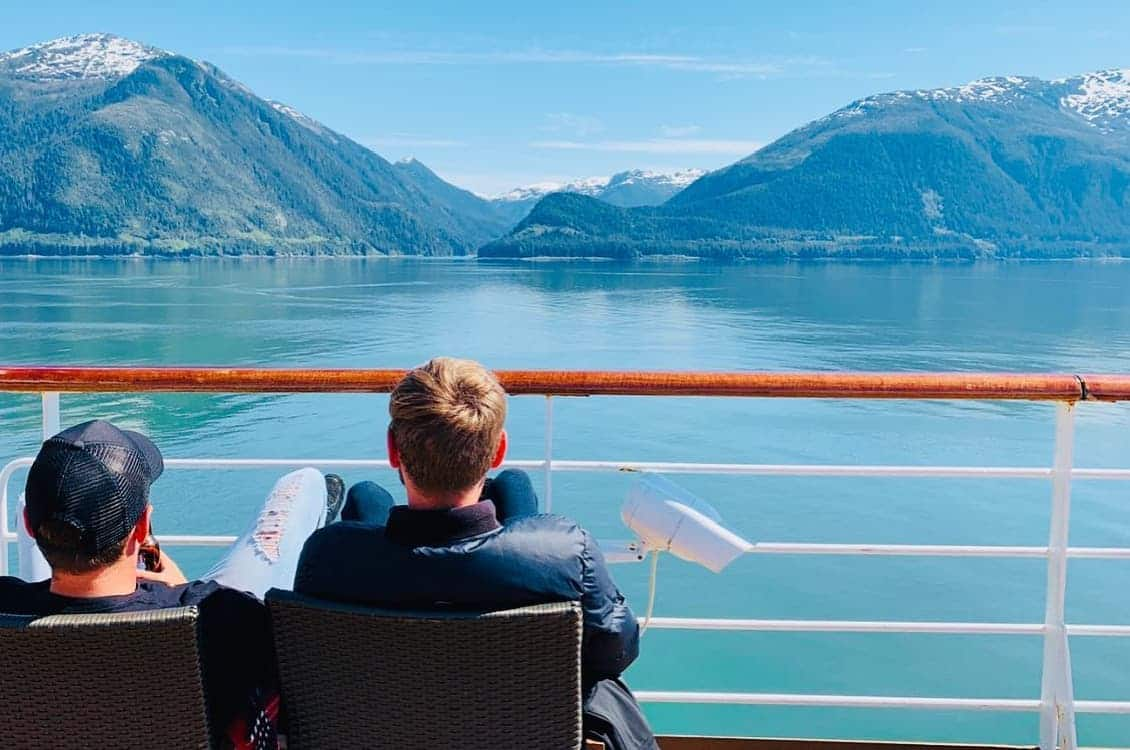 No one knows the ins and outs of Alaska better than our guests who have been there, done that … many more than once! As we look to celebrate our 75th year exploring Alaska in 2022, we have an exciting season of cruises and Cruisetours that take you to the must-see places and hidden gems of this most gorgeous region.
While we put our decades of experience and expertise into every itinerary, shore excursion, menu, cultural encounter and overland adventure, sometimes a little guidance from your fellow travelers is the best advice! We reached out to our community on social media to ask for insider tips for first-time Alaska cruisers, and here are the themes that received the most comments. Let us know if you agree!
BOOK A VERANDAH:
Lynne Mac Lean
We spent our glacier day on the balcony, room service spread and mimosas. It was a memorable day. Incredible colors and beauty.
Ellie Bencio
Definitely get balcony or verandah! Take as many excursions as you can. The whole Alaska is beautiful and don't want to miss anything! Take pictures, lots of them, print them in one of those books so you can look at them again later. I'd love to do it again, I NEED to do it again!
Linda Bartlette Hamelin
We traveled with friends and had side by side rooms with balconies…had the porter open the dividers so we could have one long porch. Take the inside passage and leave the drapes open, beautiful scenery in the early morning mist.
Neoma Wisdom
Get a balcony! Nothing like sitting back with a warm blanket and cup of mocha while the Captain twirls the ship dancing to the Tracy Arm waltz.
Debi Hughey Russell
We paid extra (a lot) to have a cabin with balcony at the rear of the boat. It was so awesome because we could see in 3 directions. It was worth it. We've been on 3 HAL Alaskan cruises and the weather was different each time. Our last one was warmer and we sat outside in a light jacket. Our first one was wet and cold and we bundled up like Eskimos! So be prepared for all kinds of temps but most likely cold and wet.
TAKE A CRUISETOUR:
Janice Smigel Dreeke
If you have the time and can afford it, plan on a cruise/land tour. See interior and northern Alaska. Every place is so different, beautiful and unforgettable!
Diane Holcomb Toplikar
The land-sea trip gives you the best of everything, showcasing the waterfalls, wildlife, terrain and rugged beauty of a still wild frontier. Alaska's beauty is on display at every turn and you won't want to miss anything.
Steve Bowden
I highly recommend a land/cruise tour starting in Alaska and cruising southbound. Start in Fairbanks, spend 3 nights at the denali lodge, and take the train south! Try something new at each port! In Juneau, enjoy the Mendenhall glacier, Mt Roberts tram, and get some halibut fish and chips at the Red Dog Saloon. In Skagway, take the White Pass Train. In Ketchikan, the Misty Fjords tour is awesome. We've been to AK 5 times, and can't wait to go back!
Tori Everhart
I highly recommend doing one of their land and cruise tours, the experience is amazing. Our land guide was so knowledgeable. I would also suggest doing the land first and then the cruise. The relaxation and pampering of the cruise was just what was needed. Take as many excursions as possible!!
ENJOY ALL THE NATURE:
Michael Berryhill
Be adventurous and do those cool looking excursions! Whale watching in Juneau, white water rafting the Nenana in Denali National park, or zip lining in Skagway… have a little adventure off the boat to make your trip all the more memorable.
Shirley Napper
We went in the last week of May and the whales were everywhere. You will need to do as many excursions as you can afford. We saw some spectacular scenery and many different wildlife. The only regret is not going on train ride into Canada. Would love to go back.
@wilde_ventures
Do NOT sleep in the first morning going through Stephen's passage. Wake up before sunrise, get a coffee, and watch the sunrise on the peaks welcoming you to Alaska. One of the best moments of my life!
Diane L Paterson
If your itinerary includes Skagway, be sure to take the White Pass Railroad – Unforgettable scenery ?
GEAR AND GADGETS:
Denise Goessele
Don't forget binoculars! Fortunately we had a Neptune Suite and they were in there!!! Never even thought about them! I bought my husband a pair for Christmas for our May cruise!
Debrah Ann Spinella
Take sun screen. We got our worst sun burn cruising to Alaska during the summer… Best cruise in my book.. Just don't forget your sunscreen ?
Sue Swenson
Alaska is very casual so dress in layers: windbreaker, sweater, flannel shirt, gloves & hat. Temp depends on what month you go. May/first of June is still cool & still may snow. End of June – mid August has the best weather and beautiful flowers. Afternoons can get to the 80's. Late Sept. is end of cruise season. The usual 20 hours of sunshine drops to about 12 hours or less. Alaska is peaceful, serene, gorgeous, and my happy place. I've been 6 times and can't wait to return.
Claudia Perney
Take clothing layers. We were told it would be cold and rainy and even watched the forecast before our cruise. It ended up being 62 and sunny the entire week!?
A LITTLE BIT OF EVERYTHING
Spencer Erman
When cruising Glacier Bay, set up on deck, as far aft as possible, so you can see both sides. Take lots of pictures. Keep camera ready. If you see a pod of whales, keep watching and follow them-they occasionally breach. Watch for glaciers calving—makes great photos.
Mary Nucci
Great to have a balcony but if you can't afford it there are plenty of chairs outside. Get outside every chance you get. Stay up late to experience LONG days of sun. Bring binoculars. Talk to Alaskans. Take time to just walk around the towns. Layer your clothing. Do things that are outside your comfort zone. Spend as much time outside as possible — this experience will stay with you forever.
@oneoldsage
I've been on 4 Alaska cruises (my wife 6 but who's counting) with HAL and as noted above, Glacier Bay is a must. If you can afford it, take a trip by helicopter and land on the Mendenhall glacier. The trip from Vancouver is different than the one from Seattle. From Seattle you take the outer passage around Vancouver Island which can be quite rough. The Inside Passage from Vancouver takes you through the islands and passages along the coast. Watch for whales and dolphins for pretty much the entire route. I have some great videos. Don't be afraid to just walk around places like Ketchikan, Juneau, and Skagway. You don't need to spend a lot of money on tours to have a good time. Try the totem museum in Ketchikan. Most of all, enjoy the experience. We like it so much, we're booked for another trip in September.
Cammie Essad Lynch
Don't miss the wonderful split pea soup HAL served on deck while looking at the glaciers!! I'll never forget laying on the deck chair covered with their blanket, eating soup and looking at the gorgeous glaciers!!! A forever memory!!!❤️
@dl819cruiser
With an Alaska cruise there is always so much to see and do. Make sure to take some time to sit back and simply be so you can enjoy the beauty of the destination.
Patti Taylor
We've been to Alaska 5 times and always find something new to see! Bring clothing you can layer–it could be cold/rainy or it could be a balmy 80 degrees. Take a backpack to put the stripped off layers into, carry snacks and water, as well as souvenirs. The tours offered by the ship are great introductions to each area especially if you are only spending a few hours. The smaller towns like Ketchican, Skagway and Haines are easy to explore on foot but other options like Green Jeep and rental cars allow you to explore further. Definitely do a float plane tour over Denali if you can! It's spectacular. Eat dinner in the main dining room –it's a great way to try new foods and meet new friends. And check out all the on board offerings–craft classes, lectures, music programs and shows–the crew does a great job putting these together. You are only as bored as you choose to be! Relax, enjoy and take lots of pictures!!
Sharon Larsen
Make sure you can hear the National Park Rangers as you enter and tour Glacier Bay. Attend all talks given by the National Park service. You won't regret it.
Brad Willey
If you're only going to go once:
Glacier you must see: Glacier Bay National Park
Port you must see: Sitka if your focus is wildlife or Skagway if your focus is Alaska/gold rush history
What are you top Alaska tips for first-time cruises? Let us know in the comments!
(Hero photo courtesy of @joshsamg.)