Cruise Diary: McKinley Explorer Train Delights Holland America Line Guests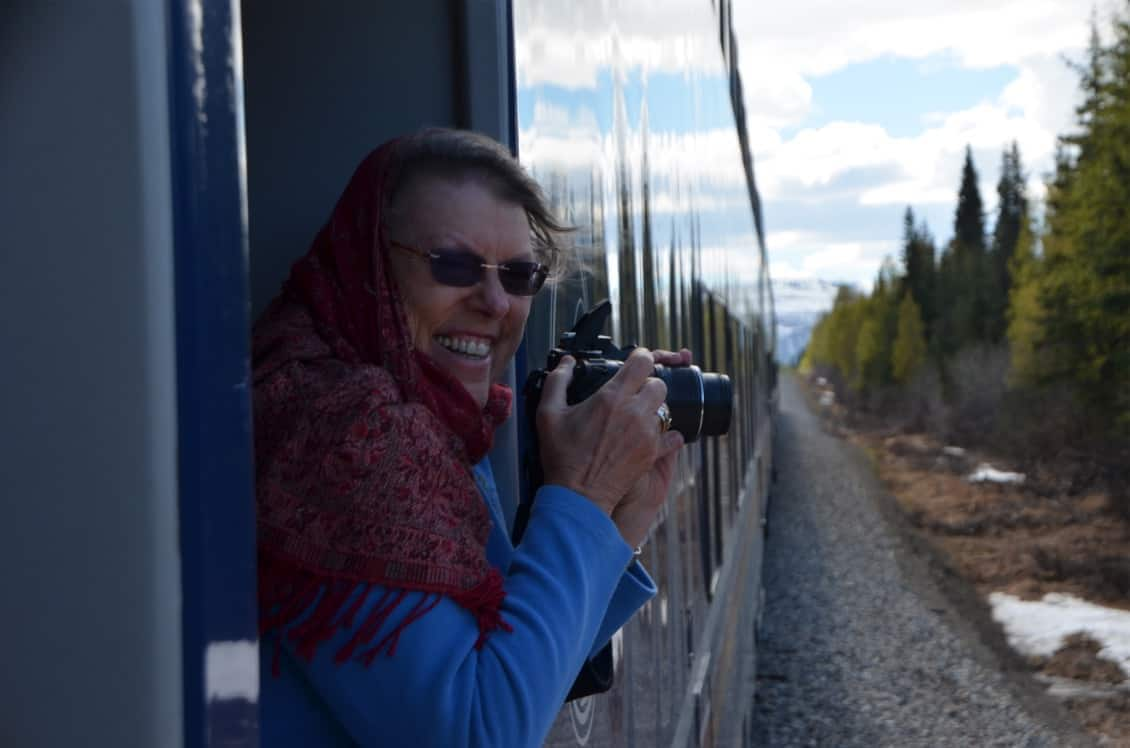 By Journalists Kathy M. Newbern and J.S. Fletcher
For many choosing an Alaska cruise, the word Denali is at the heart of their anticipation – us included.
Much like boarding the Belmond Hiram Bingham luxury train to Machu Picchu, stepping aboard Holland America Line's McKinley Explorer train from Anchorage to just outside Denali National Park was a thrilling beginning to a day-long journey. The excursion took us past rivers, lakes, valleys and massive peaks, some snow-covered — all an exciting prelude to our two-night stay at McKinley Chalet Resort followed by a seven-night cruise from Seward to Vancouver aboard Westerdam.
The nearly eight-hour ride covers 233 miles.
Soon after settling into our seats in the upper, dome-view level, we quickly came to appreciate fourth-year rail guide Rose Kiernan, who was assigned to our car. "I love it. It's my favorite job I've ever had," she later confided in a short interview. "That's why I keep coming back."
Taking a break from her running commentary, she explained, "Passengers love the dome cars because they get to see all the scenery around them, so it's always a really positive response."
Truly a highlight, we saw much Alaska landscape that remains unviewed by countless world travelers.
"My favorite spots," said Kiernan, "are Hurricane Gulch, the Indian River Valley and Broad Pass. Broad Pass is incredibly beautiful."
As the talk, an incredible snowy view emerged just over her shoulder. "We're starting to come through the Broad Pass area, once completely filled with the glacier," she noted. "We can see the areas of the mountain that were underneath the glacier or above the glacier. This really jagged, rugged area was up above the glacier … and the more rounded spots they were rounded by the glacier."
Earlier when the much-anticipated Mt. Denali was clearly visible, Kiernan point it out, explaining it and the two mountains alongside are nicknamed the dad, the mom and the baby: Denali at 20,310 feet, Mt. Foraker at 17,300, and Mt. Hunter at 14,573.
Like all those on board, she was wowed by the clear view, because that's often not the case due to weather. "It's usually 30 percent of the people who come up to Denali will get to see the mountain like we did today, so we really had a great day." With an expansive blue sky behind it, the mountain dominates not only the horizon but also the mood on the train. Everyone is in awe of how grandiose nature can be.
Part of the excitement of riding the rails is the chance to see what many passengers choose Alaska for: wildlife. Spotting animals, in fact, is encouraged as riders are told to shout out if they sight anything. The train will actually slow down if safe to do so, which gave us the chance to see moose with calves as well as deer and eagles, but no bears on our journey.
The Explorer does one northbound and one southbound trip every day from the end of April through the end of September.
Train riders rotate through the dining car for lunch, as we did, or other meals depending on the schedule. Lunch entrée selections included signature dishes of Alaska Fish Tacos, Seared Wild Salmon with Quinoa Summer Salad and award-winning Reindeer Chili plus a wide range of salads and sandwiches. Featured desserts were Salted Caramel Brownie Sundae, Carrot Cake and Triple Vanilla Bean Cheesecake plus Fruits of the Forest Pie. Soft drinks, coffee, tea and cocktails are available throughout the trip, with beverages delivered to the seats.
A favorite pastime is hanging out on the small, open-air platforms between the rail cars to feel the brisk wind, shoot scenic photos and take in the fresh air. There is plenty of elbow room to get great photos and video, and passengers share the space respectfully. Be sure to bring hat, gloves and toboggans as it gets very windy and chilly on these small outer spaces, but the view is remarkable, especially when the train curves around a bend, and the sound of wheels on the track is exhilarating and relaxing at the same time. Not to mention the romantic train whistle squeal.
Once guests arrive at the park, there's about a 10-minute motor coach ride to the lodgings, and there are a "ton of wonderful excursions to go on," promises Kiernan, who grew up in Alaska. Though her next stop is graduate school, she adds, "I love Alaska, so I'll probably be back."
Kathy M. Newbern and J.S. Fletcher of Raleigh, NC, are award-winning freelance travel writers and photographers specializing in cruising, spas and luxury destinations. This sailing was their 72nd cruise, and with the addition of Greenland and Iceland, they've now reported on 76 countries and each continent. They've written often about Holland America, including the Koningsdam and Nieuw Amsterdam most recently. Their travel writing also inspires their other venture, YourNovel.com, where they put any couple in their own personalized romance novel.