How to Make the Most of Your Nine Hours in Juneau
On Holland America Line cruises to Alaska, guests have an extended evening stay in Juneau to enjoy some of the adventures that are best experienced later in the day. The ships arrive at 1 p.m. and stay until 10 p.m. With the sun setting well into the evening, you can certainly pack your day full of amazing explorations that allow you to fully discover Alaska's capital. How can you spend the day and get a lot in?
There's so much to do in Alaska for every level of activity, from whitewater rafting and zipling to a salmon bake and dogsledding. With dozens of tours to choose from, you can make your day just perfect for you.
START WITH:
Historic Gold Panning Adventure
Start your day with a quintessential Alaska activity – gold panning! The year was 1880 and two prospectors, Joe Juneau and Richard Harris, found 'large pieces of quartz, of black sulfite and galena all spangled over with gold' in Gold Creek. Thus began Alaska's first gold rush, 16 years before the Klondike version. It set the stage for a colorful period in Alaskan history and for your very own opportunity to catch gold fever.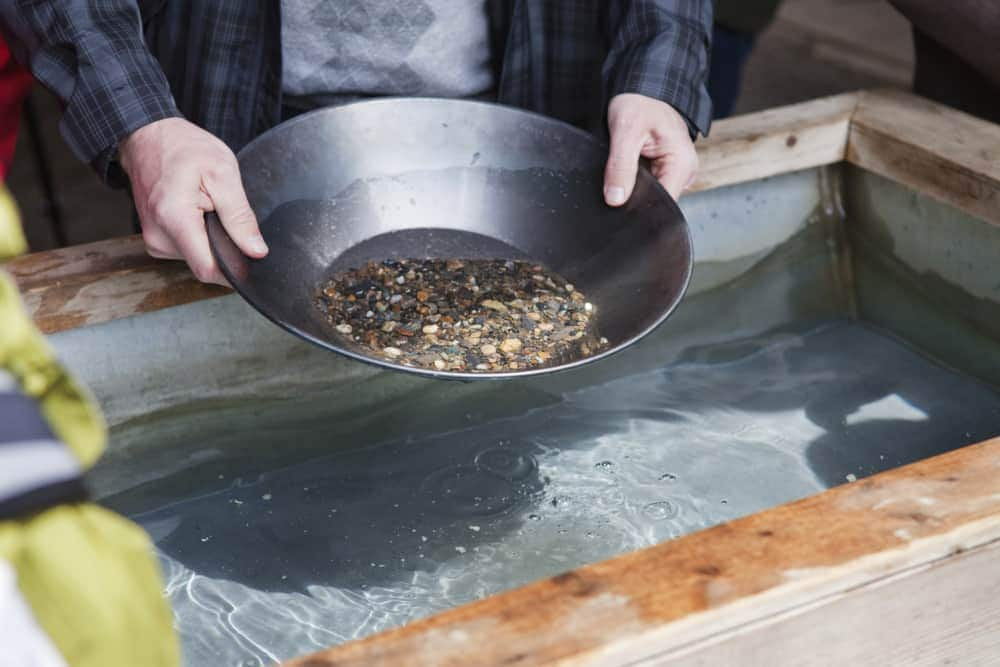 A costumed prospector guide will escort you on the scenic and entertaining 20-minute ride to Last Chance Basin. Feel the thrill of discovery as, with expert instruction and a little luck of your own, you find guaranteed gold in the bottom of your pan. Not only will you keep what you find, you'll also receive a Gold Claim Certificate as a fun memento.
OR YOU COULD…
Pilot's Choice Glacier Explorer by Helicopter
Marvel at vistas seen by few — high alpine lakes, 'icefalls' hanging from sheer cliffs, and some of the most remote peaks and glaciers on the Juneau Icefield. Your pilot will create the best possible flightseeing based on the weather and glacier conditions.
You'll land in two different locations, where you will continue the tour on foot. During these two landings, you will learn about the environmental and geological processes at work, creating moraines, crevasses, seracs, and the amazing glaciers themselves.
MOVE ON TO:
Tracy's King Crab Shack
If you don't have a ton of time to do a culinary tour, come back to the ship then make the short walk to an Alaska culinary landmark: Tracy's King Crab Shack. Food & Wine has named Tracy's one of the 10 best crab shacks in America. Featured on the show Top Chef, this is one of Juneau's most famous restaurants, known for its crab-based menu and relaxed dining vibe. Participate in a tasting of several popular dishes with the original king crab combo: a giant leg of king crab, Tracy's king crab bisque, and mini crab-cakes. Plenty of butter, garlic rolls and a non-alcoholic beverage round out your meal. You'll have time to relax in a private and scenic outdoor setting — a must-do in Alaska's capital.
OR YOU COULD…
Juneau Culinary Walk: In Partnership with Food & Wine Magazine
If you have more time … foodies unite! This is your golden opportunity to discover a side of Alaska that is a feast for both the eyes and the stomach. America's last frontier is home to a wealth of fresh seafood and other delicacies, which you'll discover on this guided walking tour. Much of the best food in this compact town is within easy distance of the pier.
From Fisherman's Memorial, set off to explore a variety of eating establishments in the downtown area, each chosen to highlight the edible specialties of Southeast Alaska. Easily Juneau's most famous restaurant, Tracy's King Crab Shack — firmly in the casual-dining orbit — welcomes you with its award-winning crab bisque. This popular spot is known for its iconic crab-based menu and relaxed dining vibe. Next, you'll head to Deckhand Dave's — a taco truck with an Alaska twist. You'll be treated to locally-sourced panko-crusted salmon and the famous house-made tartar sauce.
At McGivney's, you'll dine on hog wings: bone-in smoked pork shank tossed in house-made barbecue sauce. Pair your wings with a hard cider from the Pacific Northwest. SALT, locally feted for its creative cuisine, resides at the far reaches of Juneau's fine-dining scene. Ever evolving, SALT's menus reflects fresh Alaskan seafood, butcher-cut steaks and local produce. Beer selections from a local brewery wrap up your experience at The Alaskan — a turn-of-the-century bar set within the oldest operating hotel in Southeast Alaska.
NEXT TRY:
Juneau Tram On Your Own
You've already booked your helicopter, sightseeing, or outdoor adventure in Juneau; now, how about a great introduction to Alaska's capital, or a fond farewell, with a ride on the Goldbelt Juneau Tram? After lunch, you'll have a bit of time before your next adventure so take time for this ride to the clouds. Buy your ticket in advance through Holland America Line to avoid the lines. Because this is on your own, you can fit it in any time.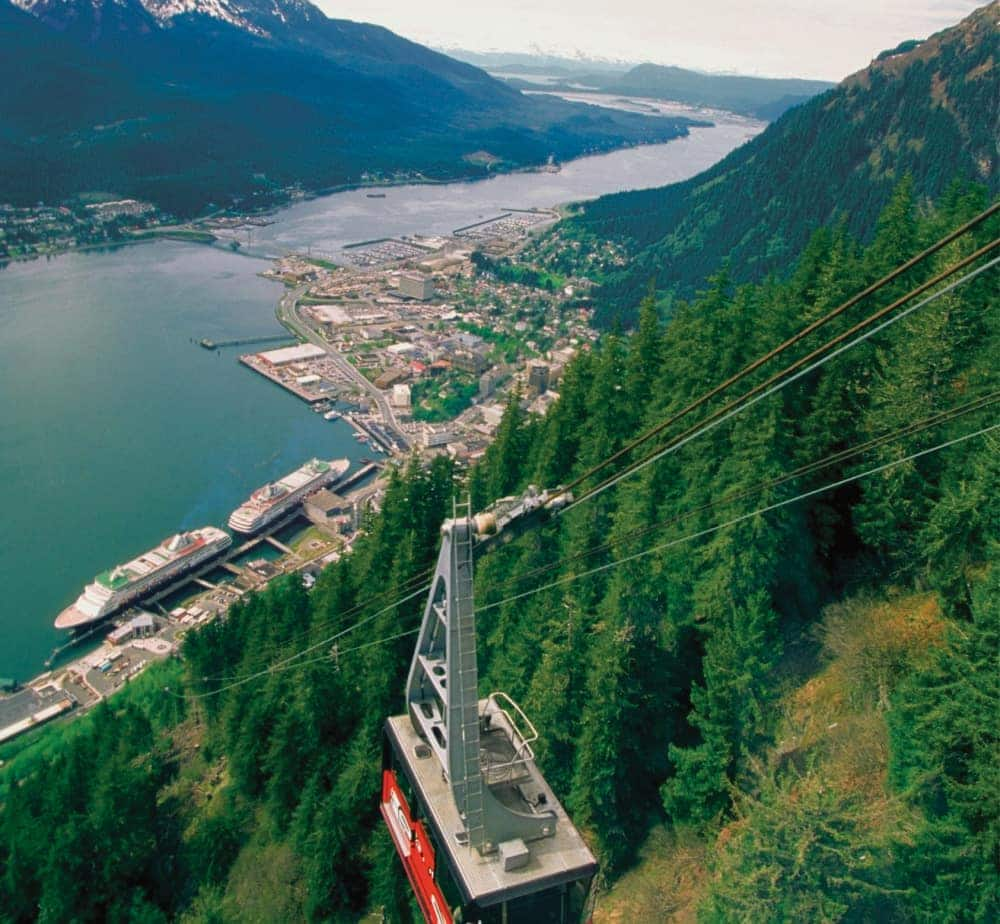 Enjoy an exhilarating tramway ride through the Alaska rain forest up Mount Roberts to 1,800 feet above Juneau. Take in the beautiful views with the Chilkat Mountains to the north, Stephens Passage to the south, Douglas Island to the west and, in the east, Silver Bow Basin where gold was discovered in 1880. Watch for wildlife and birds on your way to the bear-viewing platforms.
THEN END THE DAY:
Mendenhall Glacier & Evening Whale Quest with Meal
With a 10 p.m. port departure, an evening tour is the perfect way to end your visit. First you head to photograph Alaska's most famous river of ice — Mendenhall Glacier. At the Visitor Center you'll have the opportunity to visit with Forest Service interpreters and, through interactive exhibits, appreciate the landscape-carving force of glacial ice.
Continue to Auke Bay to board a deluxe catamaran specially designed for wildlife viewing. Relax in the warm, spacious main cabin as you set out to explore Stephens Passage — a pristine marine wilderness that is world-renowned as a favored summer feeding ground for humpback whales. As whales are sighted, your skilled captain will gently maneuver the vessel to allow exceptional viewing opportunities. An on-board naturalist will explain the behavior and habitat of the humpback whale, and other wildlife you may encounter, including killer whales, sea lions, porpoise, harbor seals, bald eagles and more.
Throughout the voyage you'll be treated to a delicious variety of appetizers including a baron of beef, reindeer sausage, smoked salmon, cheese and vegetable trays, hot shrimp dip, dessert bars and pastries.
OR YOU COULD…
Alaska Salmon Bake
This excursion has been grilled to perfection for nearly 40 years. Listen to Alaska-style folk music while you dine under translucent, heated domes shielding you from the elements. Enjoy an all-you-can-eat salmon bake feast. Savor Alaskan-caught wild salmon barbecued over an open alderwood fire served with a tasty secret sauce and accompanied by parmesan chicken, cheesy au gratin potatoes, baked beans with reindeer sausage, wild rice pilaf, a variety of salads, cornbread, lemonade, coffee, tea, hot apple cider, hot chocolate as well as blueberry cake for dessert.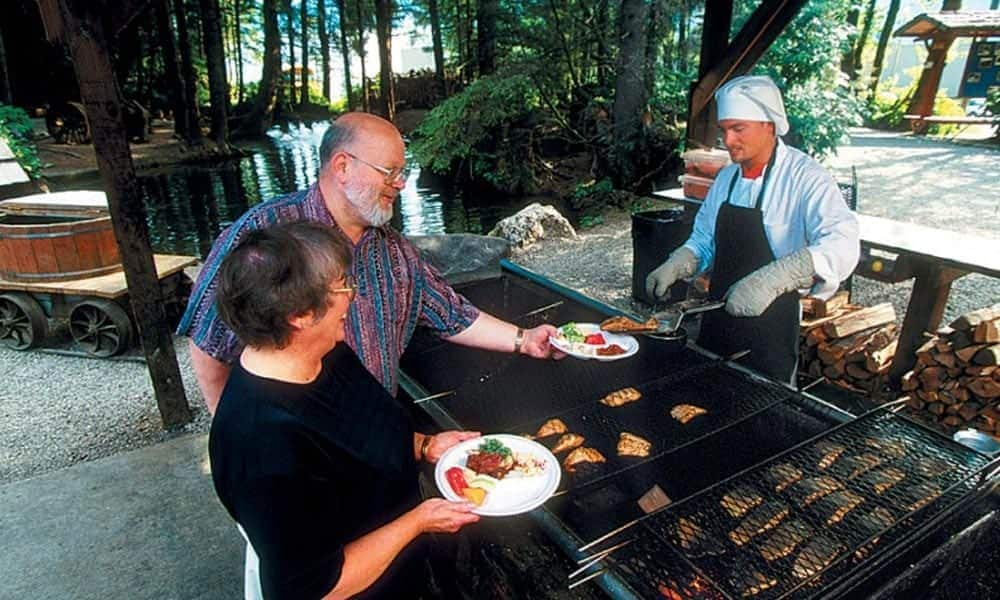 Stroll through the woods and roast marshmallows over the campfire after your meal. Take the short walk along Salmon Creek — a salmon spawning stream — to a waterfall where you can also explore the remains of the historic Wagner Mine and try your hand at gold panning. Shuttle buses run regularly; return to the pier at your leisure.
Tell us, if you had the whole day in Juneau, how would you spend it?