Journeys Ashore Spotlight: 'Cabo San Lucas Ziplining Adventure' Truly Is an Adventure
Holland America Line asked Guest Roland if he would send in an article about his recent Journeys Ashore experience in Cabo San Lucas, Mexico, on his recent Westerdam cruise, and he was more than happy to oblige! Roland took the "Cabo San Lucas Ziplining Adventure" and it certainly is a great option for guests who like an adrenaline rush in a safe and exciting environment.
——
The Cabo San Lucas Ziplining Adventure is listed as a very active excursion — it carries the three-hiker symbol on the Holland America Line website and shore excursion brochure — and it is not for the faint of heart. The tour is for someone who is relatively physically fit, as it requires hiking, climbing and hanging on for dear life. OK, that might be a little exaggerated, but from my experience and the comments of my fellow zipliners, this was more active than most Holland America Line shore excursions. Sign me up!
The tour begins with a 13-minute tender ride from the ship to the dock in Cabo San Lucas. From there, we climbed into an air-conditioned van, but only after being weighed to ensure we didn't exceed the tour's 260-pound weight limit. We then drove 70 minutes up into the Sierra Madre mountains through an arid, largely uninhabited region populated mainly by saguaro cactus and mesquite scrub.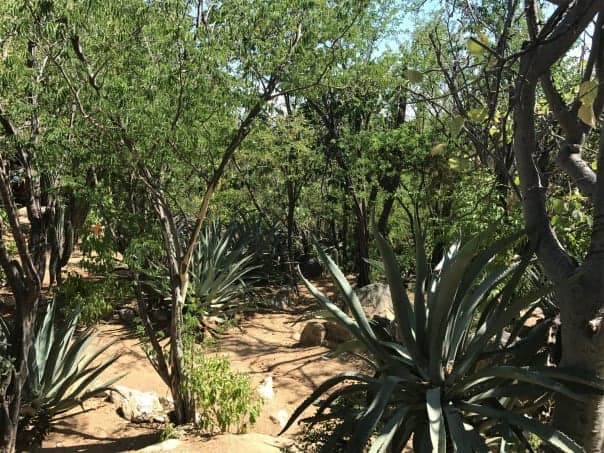 Upon arrival at our destination, we mounted a Unimog truck. These German-built 1962-model yellow trucks are ubiquitous on excursions run by Cabo Adventures and sister company Vallarta Adventures. They are made for climbing and descending steep inclines, rolling over rocks and through rivers.
Which was handy, as we jounced off on a 45-degree incline down one side of a valley through a shallow river bed and up the other side to the base camp. Our driver Alvaro characterized the jostling ride as a "Mexican back massage," the first of many self-deprecating and amusing descriptions we were to encounter over the course of the day.
Once at base camp, we were all outfitted with gloves, harnesses and helmets, and given a thorough safety briefing.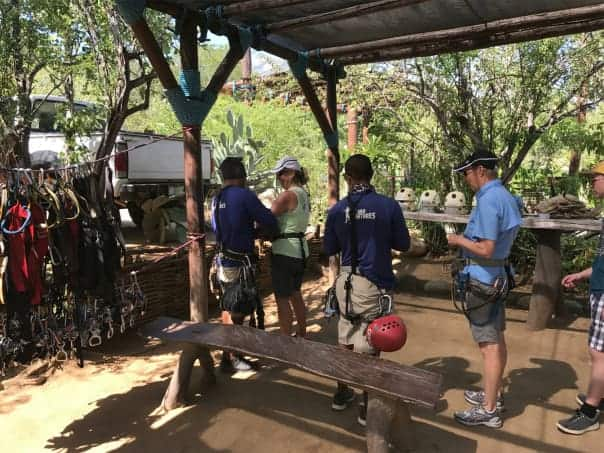 We were told to only hold the lower rope or we would go home with a rope burn, or "Mexican tattoo," on our arm, and to keep our digits away from the rope guide. In fact, it was a very thorough safety briefing that helped allay the nervousness of several first-timers in the group. Indeed, throughout the entire day, our guides clearly kept our safety their chief focus.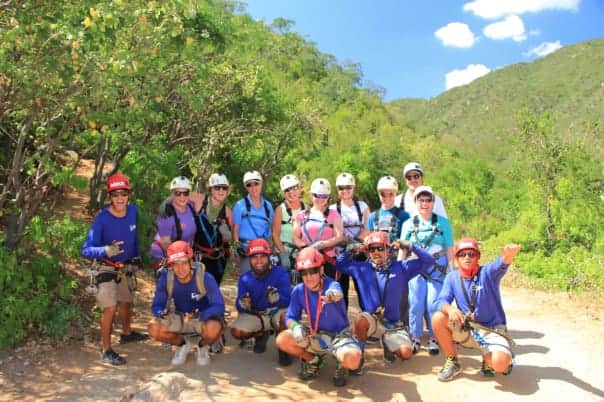 Following another Unimog ride and a group photo, we hiked a bit farther up the mountain to the first zip — a relatively short run of about 100 yards — to get the hang of the equipment and ensure everyone was comfortable and following instructions.
In all, there are seven zip runs totaling about a mile in length, according to Jonathan Jimenez, the tour supervisor. He said overall, the tour covers about 1,500 feet of altitude from the first run to the final 1,640-foot run — the last and longest of the day.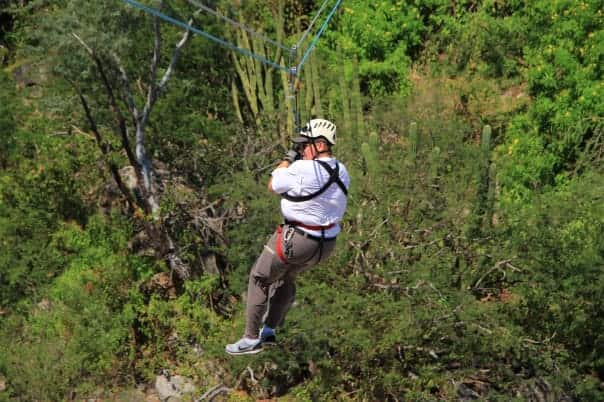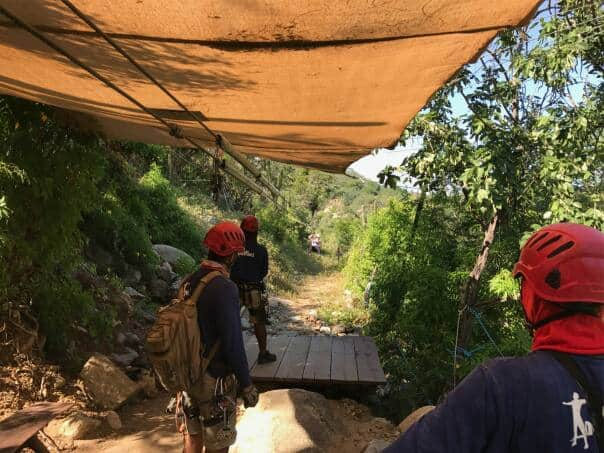 In the middle, there was an exciting (and I mean that in the sense of terrifying) walk across a single-rope bridge followed by a climb up a rock face using ladder handles and toe-holds set in the rock.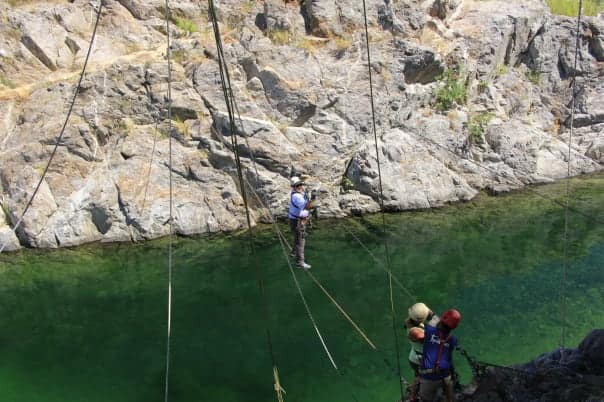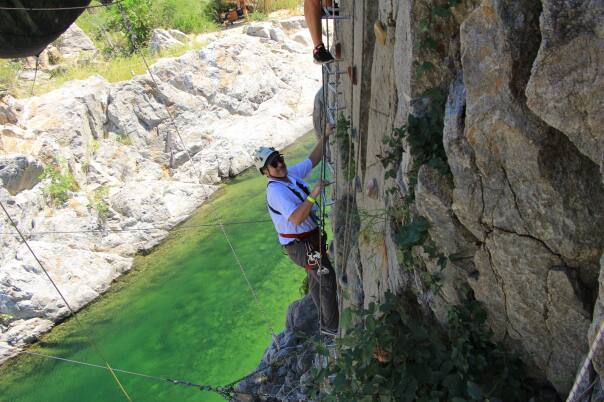 The final zipline run of nearly 1,700 feet was over a valley with a river at the bottom and several uninterested cows who didn't seem fazed at all by humans whizzing by overhead. The views were incredible, if short-lived because it's a ZIP line. There was an additional rappel down the canyon and another ladder climb up the other side, but I and about half the group opted to take the easy way — another zip across the canyon — though those who participated said it was fun.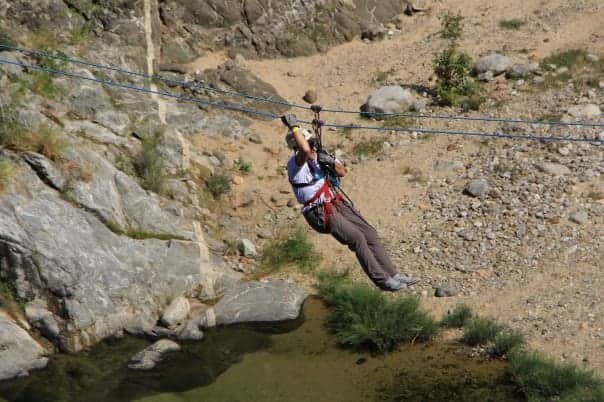 This was my best zipline experience ever — better than similar shore excursions in Costa Rica or the Caribbean. What set it apart, besides the fantastic vistas, was the friendliness and professionalism of the guides.
Note that this is a very active and at times physically demanding excursion. Not too demanding, but it's hot and there's a fair amount of uphill hiking between zip platforms. Water and Gatorade stations are provided at strategic locations along the way, so participants can stay hydrated and sit and rest in shaded stops at several zip platforms.
The shore excursion description says to wear long pants, but I suggest shorts (you do need close-toed shoes), as it would be much cooler and more comfortable.
Back at base camp you'll have the opportunity to sample handmade quesadillas and frijoles, and you can purchase a DVD or thumb drive with photos of yourself in various death-defying poses for $39 to $49. It's worth it because the professional photographers get shots that tour participants could never get — and these are memories one does not want to forget, even if they do bring back the dry mouth and sweaty palms of the day.
——
Remember that Journeys Ashore can be booked pre-cruise so you can avoid the disappointment of your first choice filing up. Once your cruise is booked, click HERE.