Did You Know All of These Activities & Experiences Are Included in Your Cruise?
Holland America Line guests are seekers, doers and wanderers. From trying new activities and learning new things to spending time doing a favorite hobby, we know our guests want to be enriched as well as inspired during their cruise. With that in mind, every day aboard a Holland America Line cruise brings a wealth of onboard events, along with the freedom to partake in as many — or as few — as you please.
There are plenty of entertainment and activity options included in the cruise fare, and countless ways to make each day onboard memorable, enriching and exciting.
Whether you want to learn to cook a regional dish, enlighten your mind on a new subject, discover a local custom, workout in the fitness center, read a book at Explorations Café or learn how to samba during the day and then dance the night away, guests can be certain that there are always things to do that doesn't add extra expenses.
Cook Like a Chef
The Culinary Arts Center combines a love of food and wine with unique and engaging programs. In Holland America Line's theater-style, state-of-the-art demonstration kitchens, guests can join their Culinary Art Center host for hands-on cooking classes, winetastings and regionally inspired workshops featuring everything from the flavors of Alaska to pasta making in the Mediterranean.
In addition to classes hosted by the ship's chef tournant, on select sailings Holland America Line invites special guest chefs, mixologists and culinary experts onboard to host live cooking deonstrations, book signings and add their own special touch to onboard menus. The list of past guests has included everything from award-winning cookbook authors to executive chefs from some of the best restaurants in the world. Discover the list of upcoming Culinary Art Center guests here.
Learn Some Tech
For guests who want to hone their tech skills, the Digital Workshop powered by Windows is available offering free, informative sessions led by a Microsoft-trained Techspert. Sessions feature a variety of relevant topics such as as how to edit, enhance and take better photos and how to upload and share files with friends and family. Everyone at home is eagerly awaiting photos from your trip and with a Digital Workshop class you can make sure the photos they get are high-quality and instantly make them wish they were traveling with you!
Break a Sweat
Each Holland America Line ship features a fully-equipped Fitness Center, making it easy for guests to stay fit throughout their travels. Fitness centers include exercise and weight training equipment, as well as select classes, but the ships also have sports courts with options ranging from tennis and volleyball to basketball, for guests who rather get some friendly competition going. Not to mention ping pong! Walkers and joggers can take a stroll on the teak decks then cool off in the pool afterwords.
Enrich Your Mind
From On Location programming that brings the destination onboard to classes that teach a new skill, Holland America Line knows our guests are looking to enhance their knowledge and have fun doing it.
From steel drum lessons in the Caribbean, Tango lesson in Argentina and a hula class in Hawaii to tai chi with a master in Asia, Celtic fiddlers in the Canadian Maritimes or searching the southern sky with an astronomer in the South Pacific, Holland America Line's On Location program brings local culture to life showcasing unique entertainment and enriching activities as well as the cuisine of each region.
During interesting and informative lectures and presentations, On Location guides impart their knowledge of the destination, while locales come on in select ports to give a true taste of the culture.
If it's something lighter you're looking for, perhaps a non-culinary class in the Culinary Arts Center piques your interest. From cake decorating and towel animal creating to fruit centerpiece art and flower arranging, the onboard party planner has a line-up to keep you busy.
Admire the Art
Holland America Line is known for having extensive art collections on each ship. Prior to cruising (on most ships), guests can download an MP3 file to enjoy a self-guided walking tour for each ship, highlighting the art onboard. Narrated by well-known radio hosts Paul Lasley and Elizabeth Harryman, the 30- to 40-minute tours include walking directions, interviews with artists, background music and thumbnails of some of the artwork. You can download the ship-specific art tour onto your personal iPod or MP3 player.
Indulge in a Show
After dinner, guests can take their seat in the magnificent show lounge for a dazzling show. The performance is different each night, including dynamic concerts and exciting musical productions featuring Broadway veterans and talented illusionists, comedians and musicians.
Holland America Line's new flagship, Koningsdam, features World Stage with a revolutionary, multistory 270-degree LED screen. At two stories tall and 250 feet long, the high-definition screens make World Stage a trend-setting theater at sea that showcases an exciting array of performances and productions. State-of-the-art lighting, projection and sound systems combine to bring guests an incredible performance surrounded by screens that can change to set the scene, from an Italian palazzo for a concert performance to an imaginary world during the innovative production numbers.
Dance the Night Away
In January, the all-new Holland America Line entertainment concept Music Walk, debuted on ms Eurodam, offering an immersive musical showcase on three exciting new stages: Lincoln Center Stage, where guests can watch nightly chamber music in an intimate setting, B.B. King's Blues Club featuring the best of Memphis music at sea, and Billboard Onboard, where guests can enjoy 50 years of chart-topping hits as performed by exceptional piano players and singers. Music Walk is also available on the line's newest flagship ms Koningsdam, which debuted in April, and ms Oosterdam.
There are plenty of other venues for music and dancing on the rest of the line's ships. At the Piano Bar, our pianist invites guests to join in the fun with hits every guest will recognize. At the Ocean Bar, a dance band plays the Great American songbook and at the Crow's Nest guests can partake in Karaoke or enjoy the view as a DJ plays some favorite tunes.
Get Your Game On
Throughout the day a handful of different games and competitions take place in the ship's different lounges and meeting areas. Guests can take a look at their daily program to see all the happenings. Activities include poolside games like Golf Chipping and Bean Bag Tosses and team events like Majority Rules, Name that Tune and Pub Trivia. Guests can also stop by the Explorer's Café and work on a puzzle, play a board game or pick out a book to read.
Take Time for Tea
For Holland America Line, tea time is as much about time as it is about tea — time to sit with friends, time to talk and time to savor. Several types of tea services are offered onboard including daily casual tea, Royal Dutch High Tea, Cupcake Tea and Indonesian Afternoon Tea, and all offer different pastries and tastes.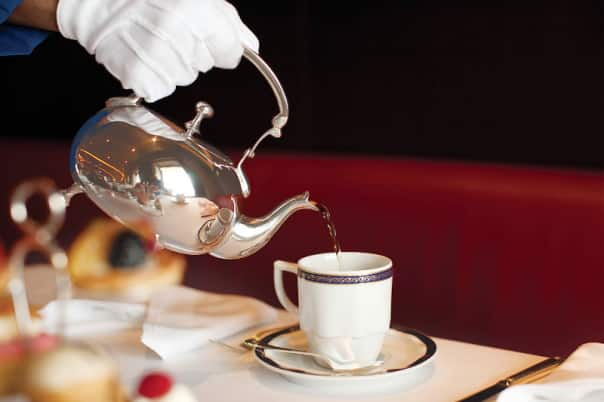 Which is your favorite activity on this list? Tell us in the comments below.